Thumbing through the music videos at Circuit City last week, I was thrilled to find the anniversary DVD release of
Joe Cocker: Mad Dogs & Englishmen
. The original album had fueled my 1970s teen ears; it's a fabulous document of the two-month, one-off Mad Dogs & Englishmen tour from March-May 1970, complete with some of the most balls-out driving music you'll ever hear. Anyway, there's a scene early in the film when the great sax player Bobby Keys is swigging Cuervo tequila straight from the bottle. In his Texas drawl, he says to his Mad Dogs & Englishmen compatriots, "If you'd go get me a lemon and salt, I'd show you
exactly
what to do with this shit."
Well, time passes. Joe Cocker favors movie themes now over "Delta Lady" or "The Letter," and at a recent tequila-themed dinner, there wasn't a salt shaker or wedge of lemon or lime in sight. In case you missed the bulletin, tequila drinking is now a sophisticated enterprise.
To wit, the Sauza "Hornitos" tequila dinner held at Z'Tejas Southwestern Grill in The Gateway earlier this month. Z'Tejas now hosts special quarterly dinners ($75 per person, all-inclusive) where each course is paired with tequila—an interesting variation on the time-tested wine pairing dinner. For Z'Tejas executive chef Todd Gardiner, it gives him a chance to flex his creative culinary muscles and stretch out a bit from the normal Z'Tejas menu.
Following a brief introduction from Gardiner and visiting tequila "master" Jaime Rodriguez, we were treated to a starter course of quesadillas. But %uFFFDay, caramba!, these were not the cheese-oozy quesadillas that 2- to 12-year-olds love. No, these were quesadillas of an entirely new order: homemade tortillas filled with shredded honey-roasted quail, pungent anis-scented epazote and queso fresco. Served in a tall shot glass alongside was a frozen "mini" margarita made with Sauza Hornitos Plata (read more about Sauza's silver tequila and others in Grapevine on p. 40). I glanced over at the table next to us: X96 Radio From Hell's Bill Allred and Kerry Jackson already had happy grins pasted onto their made-for-radio mugs.
With the delivery of the next course, I realized that this wouldn't be any ordinary tequila tasting. By "ordinary," I mean a typical tasting where attendees sip tequila straight, usually working their way up from a basic silver tequila to a fancy, expensive, aged anejo. Instead, at the Sauza Hornitos tequila dinner, we were treated to various tequila cocktails, which probably served the food better than straight tequila would. I loved the idea of a Sauza Hornitos Reposado "Cosmo" in tandem with Gardiner's chile-lime ceviche. The dish was simple but eye-catching: a peeled and seeded fresh avocado "cup" filled with fresh ceviche and drizzled with cilantro oil. It's a dish I'd love to see become a permanent fixture on the Z'Tejas menu.
Next, a Sauza Hornitos Reposado "Hard Day" margarita (Grand Marnier, Cointreau, fresh lime and orange juice) was teamed with Chef Gardiner's clever deconstructed salad of grilled baby bok choy, shredded duck confit (made in house) and thinly sliced Bosc pears with sherry vinaigrette, served on slender, rectangular plates approximately the length of a Dunlop Airhead golf putter. I've gotta believe that this was the first time bok choy had ever seen the inside of a Z'Tejas Southwestern Grill. Over at the X96 table, Allred and Jackson's grins were widening.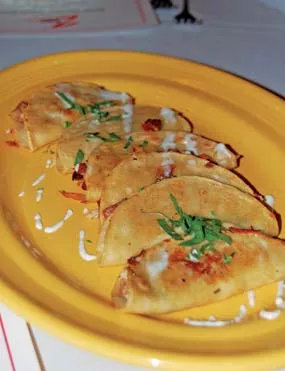 As we took a breather between courses, I chatted with new friends—a Utah County native and her beau, recently transplanted from Atlanta—about the surprisingly high quality of service at Z'Tejas. The dinner service team was impeccable, headed up by general manager David Ramirez, who obviously puts a high value on hiring and training. Our servers were well informed, friendly, prompt and professional. I sensed that they were enjoying a night off from the usual grind as well.

I've eaten plenty of goat, but not a lot of lamb in Mexico, or in the American southwest for that matter. But the main course of tequila and coffee-braised lamb shank taught me that lamb and south-of-the-border flavors and spices make for a harmonious match. The tender lamb was served with white polenta, guajillo chile and Rainbow chard. To sip alongside was a Sauza Hornitos Anejo grand margarita. It occurred to me that, within a few hours, Allred and Jackson would be broadcasting a live, tequila-infused edition of Radio From Hell, while I slept the sleep of the innocent.

Chatting with the tequila master Rodriguez, I asked him if it didn't bug him that his fine Sauza tequilas were being used for cocktails rather than sipped and studied solo. "There is no wrong way to drink tequila," he informed me with a wry smile.

Not quite ready to call it a night, Gardiner unleashed a snazzy dessert on the by-now mostly satiated crowd: Anejo-infused pineapple rice pudding with a crispy cinnamon tortilla and cr%uFFFDme fraíche. It went down beautifully with steaming hot Sauza Hornitos Reposado Mexican coffee.

Although I tend to avoid chain and franchise restaurants in principle, Z'Tejas is an exception. It's a place I've come to appreciate in part due to %uFFFDber-talented chefs like Austin-based Jack Gilmore—Z'Tejas' founding corporate chef, who was hovering in the kitchen during the tequila dinner—and local boy Gardiner, whose credits include Log Haven restaurant and The Wildflower Restaurant at Snowbird. The next Z'Tejas tequila dinner will be held on April 8 at 6 p.m. As Bill Allred and Kerry Jackson would say, "Stay tuned."

Z'TEJAS SOUTHWESTERN GRILL 191 S. Rio Grande, The Gateway, 456-0450, ZTejas.com