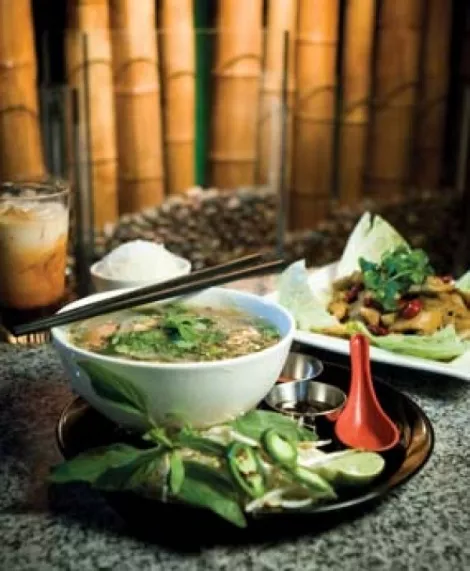 I moved to Utah in 1992, five years after the first
Café Trang
broke ground in Salt Lake City. Recently, the newest Café Trang opened in Clearfield, supplementing those in downtown Salt Lake City, Draper, West Valley City and Park City. Too much of a good thing? Probably.
I've wanted to fancy Café Trang over the years, in part out of respect for longevity and originality: It was one of the first and is one of the oldest restaurants in Utah to specialize in Vietnamese cuisine. I have friends and colleagues who love the place, as well as those who call it "overrated" and "forgettable." My dining experiences at Café Trang fall somewhere in between. I'd call them "wanting." And I've come to the conclusion that the dining issues I have with Café Trang could be fixed, maybe even relatively simply.
Issue No. 1: Looking at a sample Café Trang menu, I tabulated the choices: There were more than 125 items available on the menu, and many—Thai pineapple curry, for example—are permutable (it can be made with your choice of beef, chicken or salmon). Other dishes like hot wok noodles come with pork, beef, chicken, char sil, prawn or tofu as options. Altogether, if my math is correct, this adds up to around 200 different dishes offered at Café Trang, not including any daily specials. Quite simply, there are just too many options and variations for the kitchen to keep up with. Call me a skeptic, but I'm not inclined to believe any kitchen—but particularly Café Trang's, which are not especially large—can produce 200 difference dishes, all of a high quality.
For starters, I'd ditch the yucky cream-cheese wontons ($4.95) and work a bit harder on getting the muc chien tieu (fried calamari) right. Ours was overcooked, rubbery and had a burnt, yet bland, taste. An order of fresh shrimp spring rolls ($4.95) tasted great—cool and refreshing. But the rice-paper rolls were either too wet or not wet enough, and so starchy and sticky that I had to gnaw gummy rice paper off my fingers. On the other hand, the hot-and-sour soup I sampled at the Clearfield Café Trang was as good as any I've ever had in Utah: perfectly spiced, with just a hint of vinegar. That contrasted starkly with the gooey subpar version I ate at the downtown Salt Lake City location. You'd think a restaurant that's been around for more than 20 years would at least have the consistency of its hot-and-sour soup nailed down.
Issue No. 2: Pick a cuisine. As Café Trang has grown through the years, it seems to me that by attempting to please everyone, it fails many. Once a Vietnamese-centered eatery, Café Trang now features Thai, Szechwan, Singapore, Cantonese and Mongolian dishes as well. For a while there, they'd even branched out into sushi. Thankfully, the plug was quickly pulled on that experiment. This attempt at pleasing everyone who walks in the door with a pan-Asian potpourri of flavors results in none of Café Trang's cuisines being very distinct. The spicy Thai basil beef ($10.95) lacked much fragrant basil flavor at all, had way too much sliced green bell pepper going on, and tasted almost identical to many wok-fried beef dishes I've had in mediocre Chinese restaurants. Just what is "Thai" about Café Trang's Thai basil beef—the basil?
But focusing on Vietnamese choices doesn't improve one's odds much either. The Ha-Noi beancurd—a stir-fried dish of tofu slices served with overcooked vermicelli ($8.95)—was oily, gloppy and generally disappointing. And yet, the pho beef noodle soup ($8.95) at Café Trang is delicious, as is the subtle, silky chicken with lemongrass ($10.95) which I would recommend to everyone. Again, ordering from a Café Trang menu—especially for first-timers—is a real crapshoot.
Normally, I advise leaning toward a restaurant's or chef's "signature" dishes. But not so at Café Trang, where the signature dishes range from merely average (pad Thai) to abysmal, which is how I'd describe the signature dish of com suon tom rim I ordered: grilled pork chop and sambal prawn ($11.95). This is a shoe-leather tough and shoe-leather thin piece of pork that was cooked to death and then, apparently, cooked a little more. It's accompanied by surprisingly tender but tiny shrimp, seemingly cooked in sambal chile sauce straight from the jar. The icky and burnt-tasting sauce completely overwhelmed the delicate shrimp. After this particular Café Trang visit, I did something I rarely do: I went out for a second dinner at MacCool's, since I was still famished after my sadly unpleasing meal.
As for ambiance, the Café Trang locations vary greatly, from purely functional (Park City) to pleasingly rich and ritzy (e.g., the red velvet curtains in Clearfield.). That's fine; I wouldn't want the restaurants to be outfitted cookie-cutter style a la P.F. Chang's.
Issue No. 3: Service. Here's where some consistency would be appreciated. Actually, the one consistent feature of Café Trang service I found was a dependable sluggishness. On one visit, a single server and one busboy worked the entire restaurant on a Friday night. At a busy lunch, two servers shared some 20 tables full of patrons who, I'm guessing, probably didn't have a lot of time to linger. My server Sindee was terrific. But since she was working so many tables, it took me nearly as long to get and pay my bill as it did to order and eat my lunch. And my experience was much the same on other visits.
An important trademark of a good restaurant is consistency. Unfortunately, my trips to various Café Trang locations have consistently been marred by a startling unevenness in food and service. My advice: Scale back the extensive menu and hire a few servers.
CAFÉ TRANG Locations in downtown Salt Lake City, Draper, Holladay, Park City, West Valley City, Clearfield. CafeTrangRestaurant.com