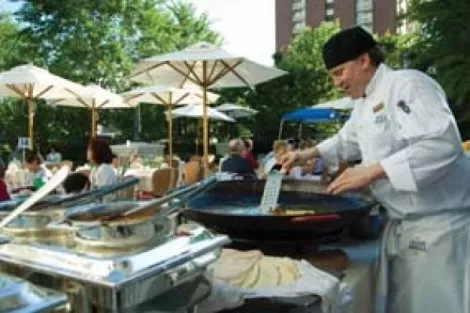 On a recent Saturday, as the late great Rick Nelson used to sing, "I went to a garden party … everyone was there." Well, maybe not
everyone
. But at the kickoff of Summer Saturdays on the Garden Café patio at Grand America, I did see a lot of smiling, happy faces. And why not? If my experience was any indication, the Garden Café's Summer Saturdays program is going to make a lot of people happy.
Following on the great success of the Garden Café's popular Sunday brunch—and considering also that the premier Grand America restaurant has been underperforming on Saturday nights—the G.A. brain trust is luring customers to the Garden Café with a no-holds-barred Saturday night buffet. That's not a bad idea in Utah, where the populace seems to love the all-you-can-eat concept the way that pigs love truffles. But this ain't Chuck-A-Rama.
A major attraction of Summer Saturdays is that although it is centered at Grand America's Garden Café, you don't have to eat in the Garden Café. The Garden Café has never been my favorite dining spot from a visual/décor perspective—it's over-the-top in a way that only an Earl Holding restaurant can be—but the Summer Saturdays dinners take place out on the gorgeous Garden Café patio, with only overflow seating inside. So it's only necessary to view that hideous carpet on the way out to the patio, thank goodness.
A crack server named Scott Wise led us on a tour of the various "stations" at Summer Saturdays: There is a salad-and-pasta station, a seafood/sushi station, Southwestern grill, a carvery and dessert station.
As with all buffets, it's prudent to pace yourself at Summer Saturdays. No, seriously: You will overdo it. Just overdo it at a moderately respectable pace, is my advice. I started off with a plate of tabbouleh and Southwestern-spiced rotini pasta salad with Utah goat cheese along with a delicious hand-tossed Caesar salad. The creamy Caesar dressing was among the best I've ever tasted, and I appreciated the option of being able to add chicken, bacon, hard-cooked eggs and other accoutrements at will.
When Wise suggested a bottle of wine from the Garden Café's "cellar" list, my initial reaction was, "We can't afford cellar selections." But I was wrong. A bottle of Sanford Chardonnay, for example, sold for a mere $40. Given that many restaurants mark their wines up 250 to 300 percent, that's pretty reasonable for a wine which normally retails for $18-$20. There are other good bargains on the Garden Café wine too. The Sanford Chard paired perfectly with iced Alaskan King crab legs and jumbo shrimp from the seafood bar, with drawn butter for dipping. A very popular attraction is the sushi selection which, on this evening, was stocked with spicy tuna tartare and an assortment of sushi rolls including California rolls, tuna rolls, eel and more. A gazpacho "shooter" with smoked salmon and deviled egg on top was a nice touch and a good palate cleanser before my trip to the Southwestern station.
Drop in for Summer Saturdays, and you'll be treated to the eccentric sounds of the Joshua Payne Trio, a jazzy lounge-type group not quite like any other. Payne, along with a bassist and drummer, does mellow, loungy versions of tunes you'll know. And I don't mean "Autumn Leaves" or "Stella by Starlight." I'm talking about lounge versions of "Free Bird," "Stairway to Heaven," "Little Wing," and even The Flaming Lips' "Do You Realize?" I got into an impromptu "name that tune" contest with an employee named Dana Seely who works the carving/grill station, and lost when he was able to name a Tool tune I failed to recognize. The Joshua Payne Trio brings an eclectic, stylish and fun verve to dining at the Garden Café on a Saturday evening. They'll be in residence all summer long.
A corner of the Garden Café's patio has been turned into a taqueria where you'll find pork carnitas, beef and chicken tacos with corn tortillas all cooked up on a colossal paella pan about the size of a helicopter pad. The tacos are killer, especially with executive chef Eric Finney's roasted tomato salsa and fresh guacamole. A bit further down the path Southwestern becomes Middle Eastern, with fresh hummus, pita and the like. Speaking of the Middle East, debonair Iranian-born food and beverage director Ali Rafaati patrols the patio constantly, supervising staff members and chatting with customers. "If the service isn't good, then I have to buy your dinner!" I heard Ali say to one table. He won't be buying many dinners; the service staff at Grand America—peppered with a number of folks from Serbia, Slovakia and the Ukraine—is stellar.
The $45-per-person price at Summer Saturdays includes non-alcoholic drinks. And not just sodas. There's freshly made tea and lemonade along with all sorts of frozen fruit drinks. It's a nice touch that Grand America doesn't gouge by charging extra for drinks.
After a helping of tender, tasty applewood-smoked barbecued ribs, luscious grilled lamb T-bone with cherry-pepper relish and Beehive Cheddar mac-and-cheese, we ventured into the dessert emporium—where executive pastry chef Kurtis Baguley's phenomenal desserts, by all rights, should be kept under lock and key. But they're not. Those scrumptious treats are simply there for the asking, everything from fruit tartlets, frozen Key Lime pops and bread pudding to homemade candies, gelato, cakes, pies, ice-cream sandwiches and ginger ale-and-Bing cherry floats made on the spot. I feel the need to confess: My klepto wife snuck a few of those delicious candies into her purse to bring home for our boys. I would've lined my pockets with Baguley's amazing pistachio gelato had I thought I could get it home safely.
GARDEN CAFÉ AT THE GRAND AMERICA HOTEL 555 S. Main, 258-6708 GrandAmerica.com Summer Saturdays from 6-10 p.m.