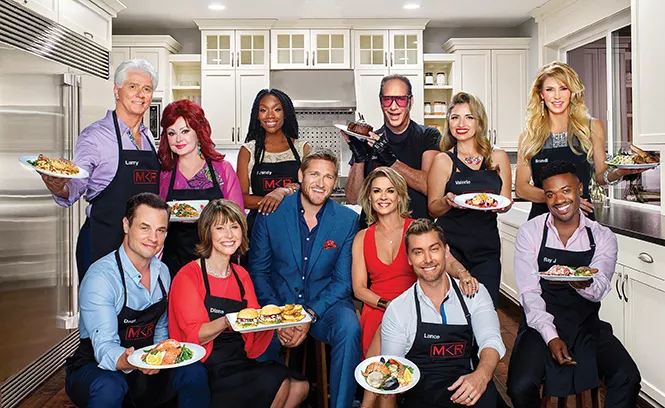 My Kitchen Rules
Thursday, Jan. 12 (Fox)
Series Debut: This is what the "celebrity" competition show has come to: a cook-off. In a borrowed Australian format, teams of two take turns hosting dinner parties for their competitors and judges—you suck, you go home. The "star" duos of My Kitchen Rules are 'N Sync's Lance Bass and his mom, bro-and-sis singers Brandy and Ray J, comedian Andrew Dice Clay and Mrs. Clay, Real Housewife of Who Gives a Shit? Brandi Glanville and some dude, and singer Naomi Judd and her long-suffering husband. Judges Curtis Stone and Cat Cora, chefs who are arguably bigger celebrities than everyone else in this clown car, could keep it interesting, but what's next? Landscaping With the Stars? Celebrity Dog Wash? Or ...



Caraoke Showdown
Thursday, Jan. 12 (Spike)
Series Debut: I know what you're thinking: "Hey, this is exactly like James Corden's 'Carpool Karaoke'!" Wrong-o, you cynical dolt! It's totally different, because there are no celebrities! Also, the host is Craig Robinson! It's like comparing the bassline of Queen and David Bowie's "Under Pressure" to Vanilla Ice's "Ice Ice Baby"—the ocean of disparity between the two is staggeringly vast! Incomprehensibly colossal! Goddamned yuge! How dare you suggest that Spike has given up on original ideas because of the success of Lip Sync Battle, which is just a stolen Jimmy Fallon bit! We're making America great again here, people—you can either get onboard with Caraoke Showdown, or sit over there on the wrong side of history like a chump! Sad!


Homeland
Sunday, Jan. 15 (Showtime)
Season Premiere: After losing touch with/interest in terrorism soap Homeland a few years ago when—spoiler!—Damian Lewis' co-lead character Brody was killed off, I've recently gotten caught-up on the Crazy Carrie (Claire Danes) solo-album seasons. Much to my surprise, Homeland has held up well without Brody—and Danes, who was great to begin with, is fan-damn-tastic on her own and unencumbered by that ginger dead weight (and Lewis is better off on Showtime's Billions, anyway). Season 6 finds Carrie back stateside after last year's harrowing Berlin arc, but all isn't well in the U.S.: A new president has been elected(!), and the transfer of power is looking to be tense and rocky(!!). If that's not eerily real enough, this season will take place entirely between Election Day and Inauguration Day(!!!). Hell, let's just go full bizarro and stage a crossover with Billions, already.


Teachers
Tuesday, Jan. 17 (TV Land)
Season Premiere: Last January, TV Land quietly debuted this raucous mashup of Super Troopers, Bad Teacher and Broad City from six-woman comedy-improv troupe The Katydids (all of their first names are variations on "Katherine"), a hilariously wrong half-hour that almost elicits sympathy for their elementary-school pupils—until you remember that, oh yeah, they're elementary-school pupils. The Teachers rank at varying levels on the Hot Mess Scale, but no Katydid (Caitlin Barlow, Katy Colloton, Cate Freedman, Kate Lambert, Katie O'Brien and Kathryn Renée Thomas ... whew) outshines another in the ensemble, reminiscent of old-school cable anarchy-com It's Always Sunny in Philadelphia. Your homework: binge Season 1.


Six
Wednesday, Jan. 18 (History)
Series Debut:
A SEAL Team Six action drama? "Inspired by real missions"? Like USA's military-leaning
Shooter, Six
has experienced setbacks and delays (original star Joe Manganiello dropped out during filming, causing
Six
to scrap its planned July 2016 premiere). Also like
Shooter
, which has become an underreported stealth hit,
Six
has just enough jingoistic grit and brothers-in-arms heart to appeal to a flyover 'Merica wary of the dark geopolitical ambiguousness of shows like
Homeland
(though both share a director, Lesli Linka Glatter). In a lucky get, Walton Goggins (
Justified
), an actor who can do no wrong, has replaced Manganiello as captured SEAL Team Six leader "Rip" Taggart, adding some serious gravitas to this modern
Saving Private Ryan
riff. Big words aside: much yellin', explodin' and killin'.
Listen to Frost Mondays at 8 a.m. on X96 Radio From Hell, and on the TV Tan podcast via Stitcher, iTunes, Google Play and billfrost.tv