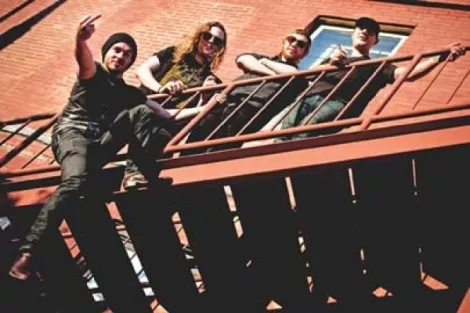 Classic rock albums, a flower warehouse and a bottle of Old Crow whiskey—all are key items in understanding the gritty new Salt Lake City rock group Dirty Blonde.
Empty beer cans and broken drumsticks litter the floor of their rehearsal space. A vintage lamp sits in the middle of the room on a barstool, shedding light on a scene characteristic of any band that's had a slight taste of early success. The boys are all casually lounging across their "flowery old lady couch" that came with their new practice space in Positively Fourth Street. No one would ever guess that just two years earlier, the group was rehearsing in a humid and ancient flower warehouse, playing what they now call "sub-par rock & roll."
All the members of Dirty Blonde—Spencer Flowers (vocals and rhythm guitar), Tony Cale Montrone (drums), Justin Green (lead guitar) and Aaron Jacobson (bass)—are Utah-grown musicians with early roots in music. At 22, the blonde, long-haired Flowers is the youngest in the group.
"I found out I could sing when I got the lead in a musical in high school," Flowers says. "It was called Thoroughly Modern Millie, and I played the character Jimmy, who was the pimp and womanizer of the play," a role not far removed from the one he plays as lead singer.
Flowers may not have discovered his pipes until high school, but he picked up a guitar years earlier, in middle school. In fact, all of the members seemed to have found their callings around seventh grade. Montrone took one year of percussion in junior high. Green took lessons and studied classical and jazz before finally drifting to rock & roll. Jacobson is the only member with any formal training. He attended The Conservatory for the Recording Arts and Sciences in Tempe, Arizona, in addition to playing bass and piano casually throughout his adolescence. "I remember I first picked up a bass on a whim to learn how to play the Eagles' 'Life in the Fast Lane,' " he says, "and it was all uphill from there."
The band members knew each other before forming Dirty Blonde, and a few had even collaborated together. All of the band members have similar influences—including the Beatles, Led Zeppelin, the Eagles and The Cars—and there was never a question of what they wanted their sound to be: "hard-ass bluesy rock & roll."
"We just started jamming, and that's what came out," Flowers recalls of their first jams together in that flower warehouse. "It was so hot in that warehouse. We had those electric swamp coolers. We'd play one song, and we'd sweat like we were in a sauna. That's when we realized if we were going to be a real band that maybe we should have a real practice space."
From there, it was only a matter of picking a band name, which is where the bottle of whiskey comes in.
"We were at a show, and Spencer was drinking his favorite, Old Crow whiskey, and suggested we name the band Dirty Bird," Montrone says. The name didn't go over so well, so he suggested the variation of Dirty Blonde. "I just liked it, because people could interpret it the way they want—whether it be hair color or state of mind, and it sounded rock & roll," Montrone says.
Dirty Blonde's debut six-song, self-titled EP will be released in July. They recorded it with Matt Hepworth at Studio Mu. Flowers describes it as "an auditory montage of all of our adventures over the last year."
"I think the album shows our true sound and what we represent," Green says. "We play what we'd listen to, but we don't take ourselves seriously. We are here to play raw rock & roll and have a good time doing it."