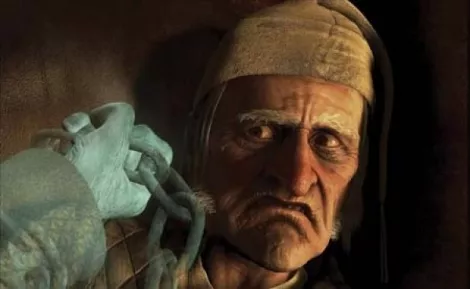 Remember, 20 years or so ago, when Robert Zemeckis was interested in stories rather than playing around with cinematic technology?
A generation ago, Zemeckis made delightful mass-market entertainments like Back to the Future and Who Framed Roger Rabbit? that featured special effects but weren't about special effects. Of late, however, he has become infatuated with motion-capture computer animation (The Polar Express, Beowulf). He does the same with his new adaptation of Charles Dickens' A Christmas Carol, and the result is much the same—something full of gee-whizardry, yet ultimately hollow.
The tragic part is that Zemeckis actually does so many things right. Returning to the source, he tells the tale of miserly 1840s Londoner Ebenezer Scrooge (Jim Carrey) with dialogue taken almost verbatim from the original story. He maintains a welcome minimalism in many of the early scenes, toning down Alan Silvestri's score and focusing on the scared-straight ghost story at the core of Dickens' holiday fable. The title here may bear the Disney name, but there's still plenty of ghoulish creepiness, presented with stylish flair.
At those moments, you can still see Zemeckis the storyteller. Then, at regular intervals, you get the guy who's willing to ruin his tone just to show off. At the end of the encounter with the Ghost of Christmas Past, Scrooge is launched into the stratosphere on a rocket, then plummets to earth. When he flees the Ghost of Christmas Yet to Come, he shrinks for no apparent reason to the size of a mouse and Zemeckis flings him through sewer pipes, over rooftops and across cobblestones.
While some of Zemeckis' tricks in A Christmas Carol—like the flame-headed Ghost of Christmas Past—are nifty, there's still a waxy other-worldliness about motion-capture characters that makes the style feel unnecessary. Maybe someday Zemeckis will once again strip away the artifice, and make something recognizably human.
DISNEY'S A CHRISTMAS CAROL


Jim Carrey, Gary Oldman, Robin Wright Penn
Rated PG