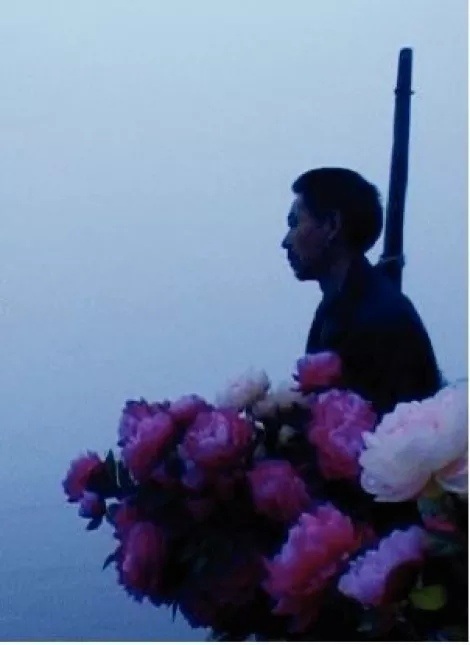 The Three Gorges Dam project on China's Yangtze River—the largest hydro-electric generator in the world—although a step in the green direction for one of the world's largest polluters, presents a slew of other issues. The most noteworthy of issues is the destruction of villages, cities and towns numbering in the thousands and the displacement of more than 1 million people. Displacement: The Three Gorges Dam and Contemporary Chinese Art at Salt Lake Art Center finds four contemporary Chinese artists examining the project through the social lens.
Dynamically arranged to showcase the largest painting—"Hotbed," a five-panel vista of what has become an iconic landscape by Liu Xiaodong—the show in some ways feels like a visitor center for the massive dam project. A timeline on the wall reveals its history and helps to navigate the works.
Chen Quilin's video pieces (a still from "Garden" is pictured) look at the changing landscapes and cities in a very current way—for example, turning nylon construction material into a costume—while Yun-Fei Ji's ink paintings use a traditional method to address the contemporary contentions of the project. Composed like the horizontal scrolls of the Old World, the piece also touches on the archaeological loss at the hands of the reservoir, after several sites were submerged by flooding. Zhuang Hui's piece is a performance, documented by video and photograph, and is in many ways, less direct and more obscure than the others, with enigmatic pictures of different holes dug in this specific locale.
It all is very specific—and very informative.
Displacement @ Salt Lake Art Center, 20 S. West Temple, 801-328-4201, Nov. 21–Feb. 27. SLArtCenter.org.