Page 3 of 3
In Texas, the Southers were middle-class, but surrounded by wealth at school and in church. It was what that wealth did to people that impacted Southers.
"He kind of looked down on that," Greg says. "He could see the ridiculousness of the wealth."
As an adult, Southers ventured into campgrounds during rock-climbing trips and other travels. His father says that Joe liked the built-in sense of community at a particular KOA campground, which sometimes hosts longer-term residents.
"He just liked everything about it," says Greg, an engineer who helps develop computer chips.
The seeds for a break from the LDS Church were also planted in Texas. It was there, Greg says, that Joe was an "underdog," a minority of sorts who was sometimes in a position of defending his own LDS faith to others.
Theorizing about what happened in Utah, Greg says that sometimes like-minded people can become "caricatures" of themselves where certain characteristics are magnified—of which Greg, himself LDS, didn't elaborate on.
You might say that somewhere along the line, though, Joe had the kind of "spiritual illumination" that Thoreau was seeking when he moved to Walden Pond.
"He doesn't want to go along with the crowd," Greg Southers added about Joe. "As a teen, he says, 'I don't want to be a cookie-cutter person.' "
So, is father Greg proud of his oldest child?
Greg says, for him, it's less about pride than it is about what's going inside Joe or others like him. "Are they moving toward things that bring them fulfillment?" Greg asks.
He believes Joe is doing just that.
"When he says, on occasion, 'I really like it here—the RV' ... I like hearing it," Greg says. "He's made it his own."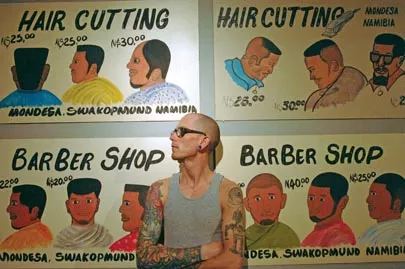 Of thinking and ink
Once more from Thoreau: "To be a philosopher is not merely to have subtle thoughts, nor even to found a school, but so to love wisdom as to live according to its dictates, a life of simplicity, independence, magnanimity and trust."
Southers is not exactly a philosopher, at least not on paper—rather, it comes out on his skin as tattoos. He calls it "intelligent" ink or "Americana" ink on his left arm and a Waldenesque flower montage on his right arm. Any one of the tattoos on his left arm could start a conversation about where America started and where it is now.
His daughters, on the other hand, don't often bring up their dad's ink. "I'm their dad—I've always had these things," he says. "I think it will help them later on in life—to not judge how people should look."
His girls don't live with Southers. There are no children's toys lying around in his RV. It's quiet. The hard times, the darker thoughts, must be worked out alone. For better or worse, it's the life Southers has chosen.
Yet, for the sake of maintaining a relationship with his daughters, Southers is not above waffling. Southers says he's lately been considering a move to a less-gritty environment to ensure his daughters will continue to visit. The philosophy— minimalism—he noted, hasn't changed; it's just that he might take it to an apartment to keep them in his life.
Again, Thoreau: "I have a great deal of company in my house, especially when nobody calls."
Maybe Thoreau was just too different—then and now.
MoneyNing.com blogger David Ning posted an article by Vered DeLeeuw, who wrote about a California couple who didn't have many friends because they were savers, lived modestly and worked part time to spend more time with their children and to do things other than just work, work, work.
"I suspect they were too 'different,' " DeLeeuw says. "They certainly weren't in the habit of hosting dinner parties or renting a jump house for their kids' birthdays.
"I myself was very guilty of occasionally feeling uncomfortable around them, of occasionally wondering about their choice to live in such a tiny, 'unremodeled' house," DeLeeuw added.
He says the couple's lifestyle seemed "unacceptable" to him until he realized how free they were from corporate America, free from the need to work long hours, free from excessive debt and "to keep looking like you have a lot when, in fact, you have so little.
"Above all, they were free from caring about what others thought about them," concluded DeLeeuw.
What would Joe do?
There's no personal downsizing trend in America that jumps out at you, no subculture of minimalists out there forming support groups. People like Southers and Johnson are the exception, even in today's socioeconomic climate.
At the same time, no one here is holding Southers up to say he's made better or superior choices than the rest of us.
Thoreau is still widely admired, in part, because of what he taught in his writing. But those words did not come without experiencing a way of life that, 150 years ago, many didn't understand or relate to.
Can we call Southers or Johnson modern-day Thoreaus? Should we admire them? Is it fair to compare ourselves to them, maybe going so far as to ask when we're about to buy one more thing that needs dusting and fills our houses, 'What would Joe do?' "
People like Southers and Johnson might be alternately searching for their own Walden, living in it or at its edges—all the while (Thoreau might have added) not giving a damn if they keep pace with anyone but themselves.
And sometimes you give up stuff you wish you still had, forced to find compromise in your new minimalist, downsized life. "I miss a bathtub," Johnson says. And the compromise? "I can skinny dip in the lake any time I want."
Freelance writer Stephen Speckman was Joe Southers neighbor in Bountiful until he moved away. He is also family friends with Christine Johnson.