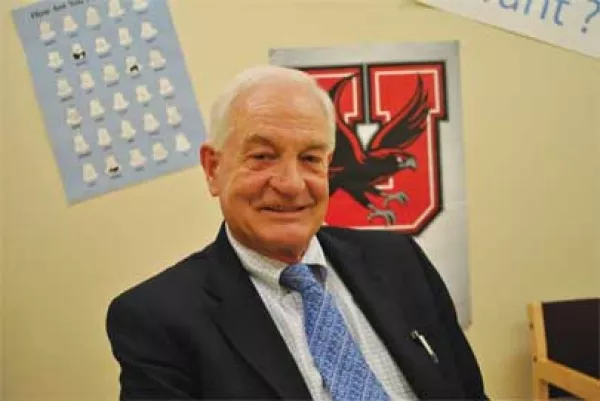 Rachel Piper
R. Duncan Wallace
R. Duncan Wallace has been a psychotherapist for 48 years. Through his long and varied career—currently, he's the medical director of the Marian Center geropsychiatry hospital—he's discovered various psychological truths and was encouraged by patients to write a book. The Book of Psychological Truths (PsychologicalTruths.com) contains universal tips and strategies for immediately releasing the mental stress and pressure that we often create for ourselves before they result in depression or despair.

What is a truth thought?

It's the best pattern of thinking or functioning that you can use in any area—whether it be in relationships, accomplishments, emotional pains. People can create significant depressions with their thought patterns. I discovered in 1981 that people create mental pressure and most of their personal stress by the way that they think and respond to stimuli. The boss says, "Do this, do that," you've got meetings. If you get real crucial and absolute in your thinking—"gotta gotta gotta gotta gotta"—then of course you feel a lot of pressure and stress in your mind.

Isn't stress just part of life?

At a level of pure logic, which the mind knows deep inside, you don't have to do those things. They may be very, very important. You can say they're very important and you don't feel mental pressure, but if you say you have to do them, you do. So what's the difference? Absolute statements about the future are illogical, is the whole point. Priorities may change, and there's just probability about the future. You can't do something if you're unable or you don't have the time. So the real truth is, if you're going to create something in the future, you'll do it if you're A. motivated, B. you have the time and capability, C. you don't reprioritize and do something different instead. People try to get certainty ahead of time—I've got to do this, that and the other—but you can't get certainty ahead of time. It's impossible. You only have certainty when something's completed.

How can I just "think away" that pressure?

I teach people releaser thoughts, which is just a truth thought. Mine is: "Nothing is necessary. Things are preferable. If something is necessary I'll do it to the extent I'm able." You find that your mind can be in an active, tranquil state when you're using truth logic.

Why do we think this way?

In school, we're taught, "You can't go out to recess till you've done this assignment." You can't do this, you can't do that. We internalize that and use it on ourselves. Self-motivation gets loaded up due to using crucial-absolute thinking patterns. If you have your own releaser thought, you can use it and the stress goes away. Some people say, "I'll do the best I can, I'll do what's able"—there's no pressure there.

We have these magical things called emotions that automatically occur when we get into situations—we don't have to think about them. They arise quickly. Anger is a signal that the flow pattern you were in or wanted to be in suddenly got interrupted … like somebody cutting in front of you in a car. Fear is a signal that you're at the edge of the abyss, short of the goal of safety or short of the goal of accomplishment, and that there's a distance between you and your goal and you're not certain that you can make it and it may be dangerous to you. A great definition of anxiety is frightening uncertainty about a quality-of-life issue that's coming up. You have your preference and you hope you get it and you're anxious that you won't. Whenever it's done, it's done, then that anxiety goes away.

Anything that you know how to accomplish, even if it's a bit of a challenge, is exhilarating. You feel accomplishment, you feel good when you've completed it. On the other side, if you get stopped by frustration, which usually comes when you don't know how to do something, you don't have it in your abilities. The signal for that is, go get a consultation. If it's medical, go see a doctor. If it's something about learning, you go take a class. Once you do that, the situation moves into the pleasurable column. What once was pain and anger is now pleasurable. So you keep evolving, keep expanding, keep increasing.

One of my things is, pain points to a truth undiscovered. If you tried a project and it didn't work out, you didn't get it complete or people didn't want it, instead of blowing up and saying, "Argh, I hate it that that didn't happen," and fighting the truth, realize, "It didn't happen for some reason. It didn't work that time, so how do we re-strategize?" Every painful emotion is an opportunity to grow and increase.

How can you say, "Sorry, I can't do this?" in a demanding workplace?

When have you ever been able to do more than you can really do? Of course, you can't. So, ask the boss. If you judge that you have more things to do than you have time, or you have opposing priorities from two bosses, say, "I doubt that I can do both of these in the time allotted. I wish I could, but I don't believe I can. Which do you need the most? I'm willing to shift, but what would your preference be?" I call it the rug of reality. You lay everything out on the rug and you both look at it. You have to let them know.
Pressure comes from the mind. If you want to do a good job, you would do all those things. And you don't have to pressure yourself to do them, because you're motivated.

What are other ways our thoughts can trip us up?

There's a chapter on integrating old elements into your identity that you used to be ashamed or bothered by. But usually when you did something, you had a reason. It may be different now. People tend to judge themselves in the present for their past actions. That's really illogical. That was then, this is now—get them straight. You liked it then, you wouldn't do it now. And people hang on to guilt and regret over many years and punish themselves unmercifully, and don't need to. Holding onto previous expectations rather than moving with reality causes all kinds of painful feelings.
I have chapters on self-power, how people give it away all the time without realizing it. If I'm flying on an airplane, I've given my power away to the pilot—that makes sense. But there are a lot of situations where people give their power away and let others seemingly control them. Although control is an illusion—it's just an agreement between two people.

Can improper thoughts create a depression?

I have a saying, "Violate a truth, create a pain." A lot of the pains that people had, that's how I discovered them—people had similar pains with similar patterns of thought. There's even a pain that creates psychological depression—which is different than biological depression. People with a psychological depression may believe that something is very necessary when it's already happened differently. I knew somebody once who said, "My family always leaves me out, they fight all the time, they do things without me"—just was wailing and moaning and depressed. I said, "You've told me that they are that way." "But they shouldn't be!" "Well, they are. The truth is, you wish they were different, but they aren't." As long as you fight the truth on something very important, you can create a depression.
Rachel Piper Twitter: @RachelTachel