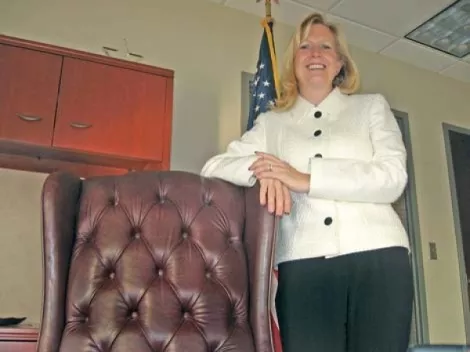 Salt Lake County District Attorney Lohra Miller recently charmed longtime critic DJ Bell, the victim of a severe attack after his neighbors accused him of kidnapping two small children.
South Salt Lake Police and Miller's office bought into that kidnapping accusation, but a jury acquitted Bell in September 2009. It almost takes a diagram now to keep straight who's blaming whom for Bell's high-profile acquittal and the failure — thus far — for charges to be filed against the attackers of Bell and his boyfriend, Dan Fair.
Bell, 31, formerly of South Salt Lake, partially blamed Miller's office for putting him on trial, but after a private meeting Jan. 28 — their second face-to-face meeting — came to trust Miller's efforts to take a new look at the case. The meeting happened after he delivered a petition with more than 1,000 signatures urging Miller to investigate the attack, which he now believes she intended to do all along.
"I had no idea that the South Salt Lake Police just sat on the case and did nothing on it," Bell says. "[Miller] went in and took the case from them to do something. That shows me she wanted to do the right thing from the get-go. I had no idea."
The case began July 5, 2008, after several hours in which Bell was drinking alcohol with his next-door neighbors in their front yard. Around sunrise, he says, he walked over to his home and saw two unattended children, ages 2 and 4, who had previously been sleeping in the neighbor's house. He gave them Kool-Aid. Moments later, the mother of one of the children accused him of taking the children and attacked Bell, before a group of male party guests attacked both Bell and Fair. Trial testimony revealed that it was only after the attack that the mother called police to report that Bell had kidnapped the children.
Bell suffered a head injury and was jailed on $100,000 bail, which was posted a month after his arrest. Fair was hospitalized for three days. The jury acquitted Bell of all charges 14 months after the incident, and complained to attorneys afterward that the trial against Bell was a waste of taxpayer money.
While Bell's faith in Miller is counterbalanced with condemnation for the South Salt Lake Police Department, in speaking with City Weekly, the district attorney has nothing but praise for the department. "I'm very grateful to South Salt Lake for assisting us in the reinvestigation. … I think we all recognized that more had to be done to see that justice was served in this case. The jury came out with the right verdict," she says, admitting that her office "could have done better in DJ's case."
She says her office filed the kidnapping charges, referred the assault allegations back to a South Salt Lake prosecutor for possible misdemeanor charges, but then took the case back for reinvestigation when no charges resulted. Miller says the reinvestigation of the situation is ongoing and resulting charges, if any, will be announced soon.
Citing the ongoing investigation, South Salt Lake police declined to comment. Meanwhile, Salt Lake City Prosecutor Sim Gill, who wants to replace Miller as the district attorney in the November election, says it's the prosecutor's job to tell police when an investigation is deficient and, he argues, that needed to happen sooner. Miller's office filed charges that, if Bell had been convicted, would have led to a minimum 30 years in prison—and the D.A. filed them only three days after the initial accusation against Bell.
"Felonies don't file themselves. They are under the authority, supervision and review of the district attorney. If you file it, the message you send to law enforcement is, 'You've done what you're supposed to do, and we're confident in this case,'" Gill says. "You don't get to send that message to law enforcement, go forward, lose the case, then turn around and blame law enforcement for not doing their job."
Gill, a Democrat, also will have to defeat Greg Skordas this spring for the Democratic Party's nomination before taking on Miller, a Republican, in the general election. Skordas, a former prosecutor-turned-defense-attorney, says it's inappropriate for him to criticize a case he was not involved in.
Bell's camp has threatened a civil lawsuit against South Salt Lake Police, but thus far, nothing has been filed. Among a long series of complaints, Bell's attorney Sussane Gustin says South Salt Lake Police failed even to collect the attackers' clothing that was stained with blood, probably belonging to Bell and Fair.
Bell blogs about his case at InJustice801.com .