The Decline of Western Civilization Collection
(Shout! Factory)
In Penelope Spheeris' documentary Decline of Western Civilization II: The Metal Years, she asks then-W.A.S.P. guitarist Chris Holmes which town has the best groupies. His answer? "Salt Lake City!"
So begins one of the most notorious interviews in the history of rock docs. Floating on an inflatable lounger as his mother watches, poolside, Holmes confesses self-loathing and guzzles from two fifths of Smirnoff (some of which he pours over his head). While it's by far the most unforgettable scene in the film—which chronicles the Los Angeles metal scene of 1986-88—it's not the only one. We see a robed Ozzy Osbourne's views on the metal lifestyle, rehab and his startling imprecision when making bacon and pouring O.J.
This balance of poignancy and hilarity made Spheeris' trilogy of films about the harsh realities, shocking excesses and tremendous appeal of punk rock and heavy metal into certifiable cult classics. That, and the filmmaker's knack for distilling entire musical movements into taut narratives.
The first Decline covers the Los Angeles punk scene of 1979-80, when bands like the Germs, Fear, X, Black Flag and the Circle Jerks ruled. In another cloudy candid interview, Germs singer Darby Crash tells Spheeris that getting loaded is the key to his wild performances. While not a surprising admission, it's especially powerful knowing that Crash died of an intentional heroin overdose by December 1980.
Decline III centers around the late '90s SoCal gutter punk scene where Naked Aggression, The Resistance and Litmus Green loudly tackled organized religion and homophobia. This, as bands and fans alike struggled with addiction and alcoholism while living on the street or squatting in abandoned buildings—where one of the young punks died tragically during filming.
It took decades for Decline I and Decline II to be released on DVD and Blu-ray, leading to exorbitant prices for used VHS tapes on eBay and Amazon. Decline III hadn't been released at all. The delay, Spheeris explains in the 40-page book included in this four-disc set, was due to rights issues and not wanting to dwell in the past. Thankfully, she's realized that Decline fans cherish nostalgia, and everyone digs a freakshow with substance. Now if she'll only get around to releasing her 1987 punk/metal road movie Dudes. (Randy Harward)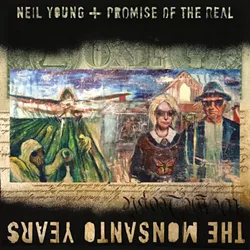 Neil Young + Promise of the Real: The Monsanto Years
(Reprise)
It's unintentionally apropos: Neil Young's latest opus, The Monsanto Years, is released amid drama over presidential candidate Donald Trump's appropriation of Young's song "Rockin' in the Free World." This, of course, led to the Canadian singer/songwriter—whose own political leanings align more closely with Bernie Sanders—publicly excoriating Trump.
After 2014's Storytone—featuring Neil Young songs old and new augmented by orchestral arrangements, some of which worked better than others—this effort, supported by Lukas and Micah Nelson's (Willie's sons) band Promise of the Real, is refreshing in its straightforward, mostly unadorned rock sound reminiscent of Young's famed backing band, Crazy Horse.
Young has never been more vocally demonstrative as the cranky old political activist of rock & roll. But does Monsanto come off as stridently polemic, mere social rhetoric? "Wolf Moon" demonstrates that his belief in love and idealistic causes is rooted in a reverence for the natural world. "People Want to Hear About Love" serves as a backhanded way to recite grievances as well as express ambivalence about his role as a songwriter, but it's also as hummable and anthemic as "Rockin' in the Free World." Although his voice might be straining a little at times, it only serves to reinforce the authenticity and heart behind his message.
Like The Monsanto Years, in the sense of the corporatist climate we live in, the Neil Young years show no sign of slowing. (Brian Staker)