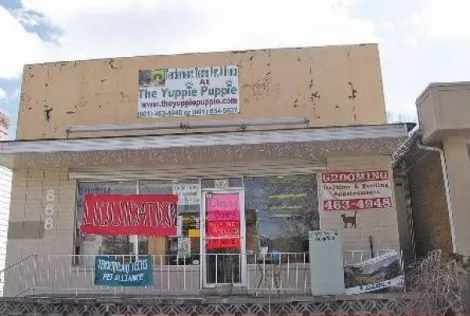 A chaotic scene surrounded the normally quaint 9th and 9th animal rescue and pet-grooming store the Yuppie Puppie last week. After months of struggling with city zoning and facing increased rent, the hardy band of animal lovers find themselves looking for a new home. As of press time, the company has been forced to close shop and will be out of its current location at 868 E. 900 South by March 14. With roughly 15 dogs and 30 cats up for adoption, owner Noel O'Neil is afraid the Yuppie Puppie's eviction means they may have to return some of their animals to the Salt Lake County Animal Services Shelter. "We're supposed to be pulling them out of the shelter, not taking them back," O'Neil says. With the national economy slipping from bad to worse, many retail pet shops feel the pinch, as consumers dismiss the idea of another mouth to feed—even if it's just a cat or a dog. In addition to the 501(c)3 nonprofit rescue mission of the Yuppie Puppie, owner O'Neil says they've tried to increase earnings with the grooming and retail side of the business.

"Grooming and retail has just been going downhill ever since the economy has been going down," she says. For five years, the rescue group has occupied its own niche in the eclectic 9th & 9th district, but in recent months, Yuppie Puppie has been taken over by new management, Tenderhearts Tech. O'Neil says that once Tenderhearts took over Yuppie Puppie, a simple change in ownership resulted in a nearly six-month paperwork holdup with Salt Lake City's Department of Business Licensing.

"We had started dealing with that in October," she says. "And it just barely came in three weeks ago." Just in time, O'Neil says, for their departure from that location—a move that she expects will land the rescue group somewhere in the city of South Salt Lake. "This business had been here for five years. I didn't change anything," O'Neil says. "[The previous owner] was doing rescue, grooming, retail—the only thing that changed was my name." The delay in obtaining the license at one point O'Neil says resulted in O'Neil being forced to take down the business sign."For over a week, we had the doors closed and the 'open' sign was off. People thought we were closing—it's just been nonstop crap." According to Larry Butcher of the city's Building Services and Business Licensing office, however, the problem O'Neil encountered is that the business had never been legally zoned for overnight b o a r d i ng of animals.
Butcher says a closer look at the business operating as a kennel as opposed to a pet store was warranted due to a complaint. "The city did an inspection, and that's when the zoning issue came to light," Butcher says, adding that a kennel is clearly restricted from a commercial district. If Yuppie Puppie had boarded animals under previous ownership, then it had done so below the city's radar.

This revelation, coupled with an eviction notice due to late payment on recently increased rent has O'Neil scrambling to find a new home for the business and its rescued animals.

Temma Martin, spokeswoman for the Utah Adoption Center which takes in about 1,600 animals a year, says Utah is doing better at rescuing animals from shelters than most of the nation, but that animal rescue is becoming more challenging. Martin says her shelter is seeing requests for help from shelters that had never contacted her before. She also says that more individuals are taking advantage of an adoption center guarantee that they will take back animals adopted from the center which owners find out they can no longer keep. "We're seeing a lot of our pets that were adopted five or eight years ago brought back to us," Martin says. "They can't afford them anymore."

Still, Martin says, adoptions have not dropped off. The same goes for the Salt Lake County Animal Services shelter. According to shelter operations manager April Harris, even cat adoptions are even up for 2008 and that almost 200 fewer dogs have been dropped off during the period between January and March of 2009 compared to 2008. These numbers, however, may be the result of recently reduced adoption fees. But for Harris, a displaced private shelter tends to impact the county's animal euthanasia rates.

"Even if we're not having a difficult time here," Harris says "If a rescue group is, it affects us."