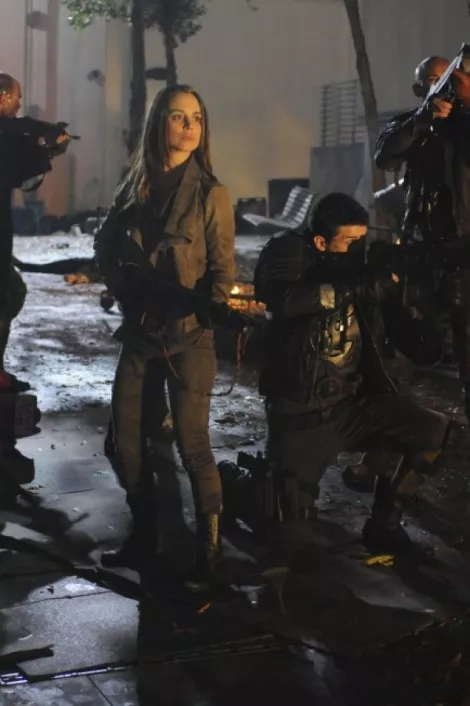 Friday, Jan. 29 (Fox)
Series Finale:
The
Dollhouse
Death March finally comes to a close, with Echo (Eliza Dushku) and her band of un-merry imprints battling a zombie apocalypse in the year 2020—if you'd read show previews like
that
before instead of "Echo develops girly feelings," you'd have actually watched
Dollhouse
, admit it. Ten years in the future, the affects of the Dollhouse's mass mind-wiping technology have had a more calamitous impact than Fox News' mass mind-wiping technology, and all of this will make only slightly more sense if you've seen the episode "Epitaph 1" (never aired, but included on the
Dollhouse: Season 1
DVD).
Dollhouse
was a valiant—and, in its final nothin'-to-lose episodes, brilliant—stab at broadcast sci-fi but, now that creator Joss Whedon is supposedly in talks with cable's FX for his next project, best to just move on. Not that I'm moving on from my Eliza Dushku obsession, mind you …
Saturday, Jan. 30 (Fox Reality)
Series Debut: In March, the Fox Reality Channel—home to such highbrow original fare as Battle of the Bods, My Bare Lady and Sex Decoy: Love Stings, as well as reruns of every reality show you've ever tried to forget—will be shut down for good and reprogrammed as National Geographic Wild. But, like Conan O'Brien, it's not going away without dropping a farewell network deuce: Seducing Cindy is Fox Reality's Masturbating Bear, and "Cindy" is '90s Internet superstar Cindy Margolis—she's 44 and ready for a man-whore! The cougar bachelorette will choose from 24 suitors ranging from a teenage college student to a 71-year-old "world traveler," with a Satanic rocker and a Tupac impersonator (!) thrown in for the hell of it. How did this channel fail?
Sunday, Jan. 31 (TLC)

Series Debut: TLC (aka The Little Channel) ran the introductory pilot of The Little Chocolatiers with little (ha!) promo fanfare in December; the short (ha!) reality series continues tonight with the first and second of six episodes. The Little Chocolatiers, of course, are Salt Lake City's Steve Hatch and Katie Masterson, owners of Hatch Family Chocolates in the Avenues—they also happen to be little. The pilot ep established the pair as naturals on-camera, far more so than TLC's Cake Boss (who's essentially Fred Flintstone via Jersey Shore), and their artful choco-creations could give Duff at Ace of Cakes a run for his fondant. Bonus: Salt Lake City itself hasn't looked this good on national TV since the 2002 Winter Olympics, so here's hoping The Little Chocolatiers is as big a TLC hit as I Didn't Know I Was Pregnant (which, come to think of it, should also film exclusively in Utah).
Tuesday, Feb. 2 (ABC)
Season Premiere: Haven't seen it; don't know what the hell's going to happen. Lost's producers and ABC have been even tighter than usual with preview materials, but a few hints about the series' sixth and final season have leaked out: No more time travel or flashbacks, Sawyer's a bastard again, limited Dharma Initiative involvement, and closure on every nagging Lost mystery of the series. Maybe even the appeal of Dominic Monaghan.
Wednesday, Feb. 3 (CBS)
What is it with you hillbillies and your Super Bowl commercials? If you spent half as much energy seeking out quality TV shows as you do scrutinizing the latest damned Doritos ad, you'd stop bitching about how there's "nuthin' good on TV" and Dollhouse would still be on the air. OK, probably not—but my point stands! I tried, Eliza …