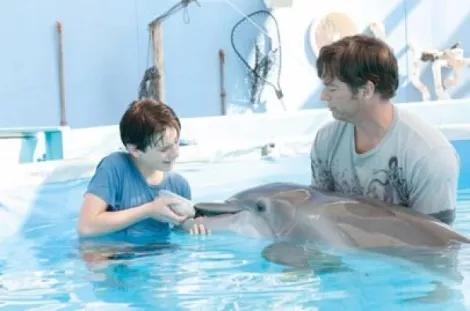 Sure, you could feel like a sucker for getting misty-eyed over yet another variation on the "boy and his dog" storyline like Dolphin Tale, especially one that gets clunky in its mechanics. Or you could just accept that some concepts just work, even when they're not executed to perfection.

This loosely fact-based tale finds a Florida boy named Sawyer (Nathan Gamble)—fatherless, naturally, and emotionally withdrawn, of course—who discovers a beached dolphin wrapped in the rope of a crab trap. Taken to a financially strapped marine rescue facility, the dolphin—named Winter by the precocious daughter (Cozi Zuehlsdorff) of head marine biologist Clay Haskett (Harry Connick Jr.)—eventually has its tail amputated as a result of its injuries. Can a VA hospital prosthetics technician (Morgan Freeman) come up with a way to help Winter swim naturally again?

Thus begins a setup that's two parts Free Willy and one part How to Train Your Dragon, with Sawyer and Winter forming an emotional connection that may save them both. Director Charles Martin Smith—whose boy-and-his-dog bona fides were established with the original Air Bud—allows time for quiet scenes that build relationships. He also maximizes the talents of the strong cast—particularly the effortlessly wonderful Freeman—while avoiding obvious developments like hooking up Sawyer's mother (Ashley Judd) with the widowed Dr. Haskett.

That doesn't mean Dolphin Tale is as smooth as a dolphin's nose. Screenwriters Karen Janszen and Noam Dromi overstuff the narrative with a subplot involving Sawyer's swim-champ/disabled soldier cousin (Austin Stowell), and some forced drama surrounding the possible sale of Dr. Haskett's facility to a rich developer. But somehow the basic material just clicks, holding on to the way people can be inspired by the most unexpected things, and the powerful bond that can form between wounded people and the animals they love.

DOLPHIN TALE


Nathan Gamble, Harry Connick Jr.
Rated PG