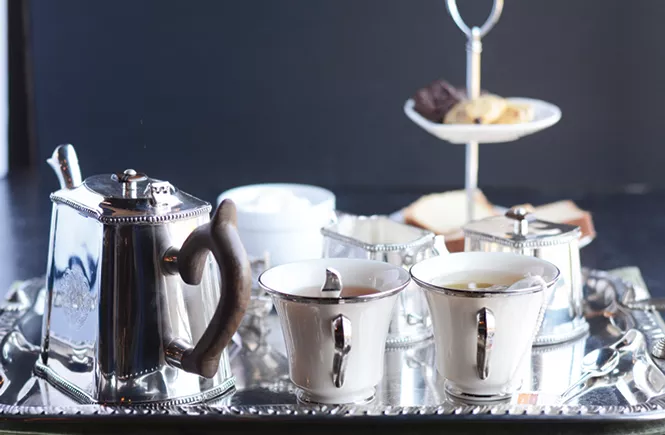 Don't Chai for Me
Described to me as "a London style café in Utah" by owner Lavanya Mahate, her new venture Biscotts Pastry & Chai (1098 W. South Jordan Parkway, Ste. 110, 801-890-0659, Biscotts.com) recently opened with a ribbon-cutting ceremony. Following on the success of her Saffron Valley eateries, Biscotts pays tribute to the London cafés that combine English and Indian traditions of chai with pastry. The pastry menu features loaf cakes, biscuits, cookies, croissants, rolls, puffs, muffins, macarons, breads and more, while breakfast and lunch menus offer items like poached eggs with saucy beans, toasties, paninis, wraps, soups, sandwiches and such. Beverages include fresh juices, smoothies, coffees, organic hot teas and chai flavors—ranging from caramel rooibos and Dutch chocolate to apple-spice, vanilla and detox green.
Sanich Draper Bound
One of my favorite Utah chefs is Jeffrey Sanich, who has done tours in the kitchens at Sundance Resort, Summit Powder Mountain and, most recently, North Fork Table & Tavern. His newest culinary role is as chef and partners with Roy and Jennifer Olsen at Draper's Bake 360 (725 E. 12300 South, 801-571-1500, OlsensBake360.com), where Sanich is scheduled to launch dinner service on August 12, showcasing dishes such as tea-smoked duck, local charcuterie and cheeses, heirloom carrot risotto and Mediterranean lamb meatballs. Bake 360 was established in 2012 as a retail bakery specializing in baked goods from around the world. Sanich says, "I first became aware of Bake 360 a couple of years ago when I luckily stumbled across a beautiful almond croissant the likes of which I had not seen outside of Europe or Manhattan. I was blown away." Regarding his new role, he adds, "I'm fired up to give it my best."
New Brass Tag Chef
Deer Valley Resort is welcoming new chef Hector Armendariz at the resort's brick-oven restaurant, The Brass Tag (2900 Deer Valley Drive East, 435-615-2410, DeerValley.com/Dining). I've enjoyed Armendariz' talents while dining at the Grand America (where he was chef de cuisine), at Snowbird's Aerie restaurant and at Montage's Apex. I look forward to his cooking at The Brass Tag, as well.
Quote of the week: "I can't cook. I use a smoke alarm as a timer."
—Carol Siskind
Food Matters 411: tscheffler@cityweekly.net