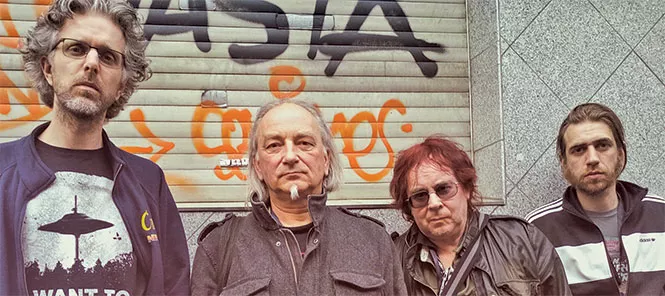 Although they didn't share much sonically with the original generation of punk rockers when they started out in 1980, Anglo-Dutch experimental psychedelic band The Legendary Pink Dots embraced the same do-it-yourself aesthetic, issuing their first release, Only Dreaming (Mirrordot, 1981) on cassette in an edition of 10 with handmade covers. "We've come full-circle," founder and singer/keyboardist Edward Ka-Spel tells City Weekly in a telephone interview. "We've basically gone back to doing everything ourselves. You can record everything at home now and get high-quality results."
The band's history predates the near-obsolete CD format, and now record labels are fading as well. It's easier than ever to go DIY, and the era of home recording and digital distribution is good for someone of Ka-Spel's musical impulses. Between The Legendary Pink Dots, solo projects and his Tear Garden project with cEvin Key of Skinny Puppy, plus a few others, Ka-Spel has amassed close to 200 releases. They cover a wide sonic territory, from ambient to industrial to noise, but the description that most seems to stick is psychedelic. "Psychedelic is closest to my heart; the first music I really liked when I was young," he says. "Basically, the music is always about color—always about going a little bit further, taking dangerous steps into a strange, twisted universe."
There's a sense of hubris that's perhaps necessary to be this prolific, he says: "You intend it to be the greatest statement you've ever made, on every single album." Fittingly, he says the best place to start a journey into the band's music is their latest, Pages of Aquarius (Metropolis, 2016). The set veers from the near-punk snarl of "Mirror, Mirror" to the jaggedly rhythmic "The Greatest Story Ever Told" to tunes that epitomize their more familiar meditative, sometimes somniloquent, splendor. Another point of entry into their formidable discography is probably their best-known release, Crushed Velvet Apocalypse (Wax Trax!, 1990).
The double-meaning of Crushed is telling; the title is a good description of the LPDs' music—lush, luxurious and sensual, yet also dark and sinister, with a sense of mysticism that is foreboding more than comforting. In addition to this duality, part of the fun of The Legendary Pink Dots is looking closer. Listeners sometimes miss the subtle, dark humor on first listens—and it's certainly there on Pages: "Mirror, mirror on the wall/ I really wish I had the balls/ to look you in the eye." By way of explanation, Ka-Spel says, "If you're British, you need to have a sense of humor—especially in these times."
Pages was recorded over the course of two years, and you can appreciate the painstaking attention to detail. "There was a real drive to make something very vibrant, very colorful and explosive. It's also very melodic, and sad in parts," Ka-Spel says. "Explosive" isn't a descriptor commonly applied to the band, but their new phase, in their fourth decade, is a dynamic, energetic one. They might have more in common with the punks than it first appeared.
"Our performance at the moment is a little bit on the extreme side," he explains, saying the band threw out their old setlist of familiar greatest hits in order to embrace the newer material in live performance. "It's not the easiest ride, but it certainly is an interesting one. It's quite challenging, but it's good to be tested."
Speaking of putting things to the test, the group achieved some notoriety on Bandcamp.com, the site that enables artists to distribute their own music. Ka-Spel bundled his entire 199-title discography for $933.38—a 25 percent discount, averaging $4.69 per release. He says it was Bandcamp's idea, and they thought, "Why not? We never really imagined someone would take us up on it, but they did." It was only one person, but going from selling 10 copies of one release to one copy of nearly 200 different albums? That's progress.