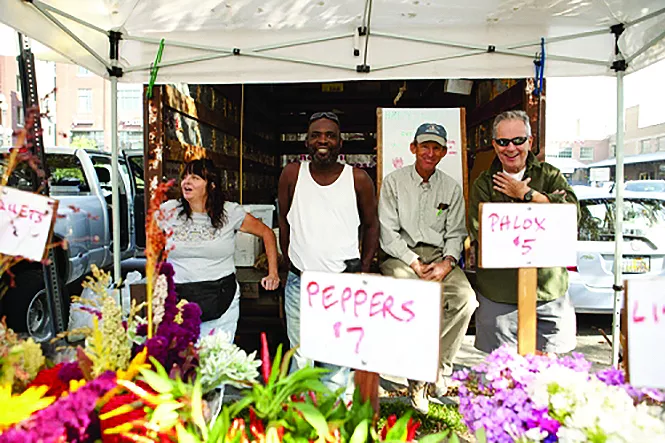 Downtown Farmers Market Kicks Off
Everyone has their own special harbingers of summer, but one of Salt Lake City's surest signs is the beginning of farmers markets. The Downtown Farmers Market at Pioneer Park (360 W. 300 South, slcfarmersmarket.org) kicks off its 2017 season on Saturday, June 10, 8 a.m.-2 p.m., once again bringing fresh produce and artisan food products to the heart of downtown. Items vary from week to week, naturally; but you can count on finding delicious breads, jams, specialty oils, candy and other year-round treats in addition to the yummy things direct from the garden. Once you've had a chance to grab the makings for your breakfast, lunch or dinner, you can also peruse the arts-and-crafts market, with dozens of local creators of jewelry, textiles, ceramics, paintings and more.
Main Street Table
Every summer, Park City's Main Street turns into the state's biggest and most boisterous dinner party, as tables stretch from end to end on Saturday, June 17 for Savor the Summit to serve you and a couple thousand of your closest soon-to-be-friends. Beginning at 6 p.m., more than 25 Park City restaurants participate in the unique al fresco dining experience, as the picturesque mountain thoroughfare gives way to delicious food and wine, plus live music in the High West Distillery Spirit Garden at Heber Ave. and Main Street. To join in the fun, just make a reservation at one of the participating restaurants—Buona Vita, Handle, Shabu, Reef's Restaurant and more or at parkcityrestaurants.com.
Hot From the Oven
In the mood for some pizza? 1000 Degrees Neapolitan Pizzeria opened its first Utah location in Midvale (7101 S. Bingham Junction Blvd., Ste. 102, 1000degreespizza.com) this month. The fast, casual brick-oven pizzeria boasts authentic Neapolitan pizzas, in either build-your-own versions or a variety of popular concoctions like Buffalo chicken, smokey pollo or classic Margherita.
Quote of the Week: "I would say that I love pizza so much that sometimes I eat pizza while I'm eating pizza."
—Mike Birbiglia
Send tips to: comments@cityweekly.net