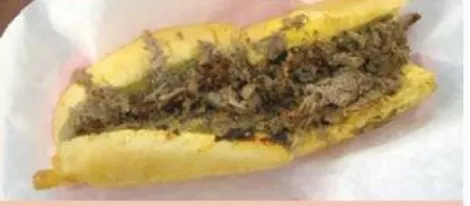 After four days of staking out cheesesteaks in Philly—at Jim's, Pat's, Geno's and Tony Luke's—my cheesy palate was finely tuned. So, the day after I returned from back East, I decided to check out a place in South Jordan that Lori, one of my trusted foodie informants, had been urging me to visit: DP Cheesesteaks. I'm glad I did.
There are other good Philly-style cheesesteaks in Utah. But frankly, nothing I've tried comes close to this one. A DP (stands for "Downtown Philly") cheesesteak is on par—and I'm not blowing steak smoke here—with the best The City of Brotherly Love has to offer. In fact, I think a DP Cheesesteak is actually better than Geno's, and more meaty than Pat's, where they seem to be skimping on the steak lately. If you've ever had a Jim's cheesesteak from Philly's South Street and loved it, then you're also gonna love DP's.
What makes DP's Utah's cheesesteak champ? First, a DP cheesesteak starts out with sliced-to-order rib-eye steak, just like the big boys. Second, you can get a DP cheesesteak slathered with Cheez Whiz (there's also American or Provolone for wimps), just like you would in Philly. Third: the bread. It's true that there's no substitute for the Amoroso rolls used for cheesesteaks in Philly. However, the Stoneground Bakery rolls used at DP Cheesesteaks are awfully good—a bit denser and more rustic than Amoroso's, but an excellent roll nonetheless. And DP stuffs those rolls to the hilt with perfectly grilled and chopped steak.
Anyone homesick for Philadelphia will appreciate that DP's also sells Tastykakes, Birch Beer and Herr's potato chips. Plus, they take credit cards—something the kings of Philly cheesesteaks won't do.

DP CHEESESTEAKS
1665 W. Town Center Dr.
South Jordan
801-878-8450
933 W. 500 North
American Fork
801-763-0976
TheDowntownPhilly.com