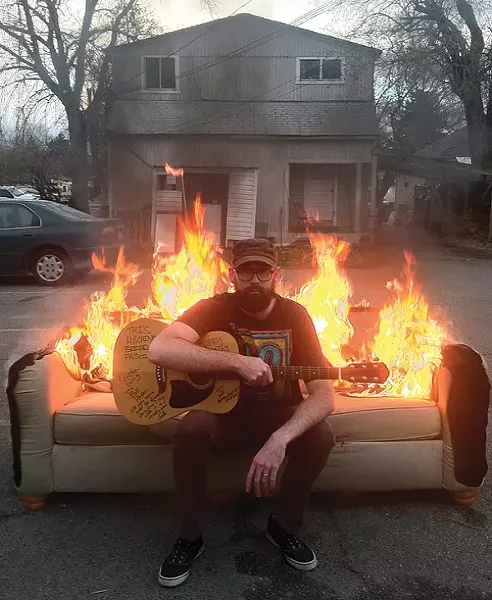 Over a simple dinner of pasta and grape juice in the kitchen of singer- songwriter Drew Danburry's recently purchased Orem home, he reveals that he's going to "kill off the Drew Danburry character because I'm sick of him and I want to get into another realm."
I suddenly feel like I've been given a peek at the ending of a long novel, because Drew Danburry—who owns the popular Danburry Barber Shop in Provo—is, in fact, an invented persona. And on Danburry's new album, Becoming Bastian Salazar, released Sept. 16, he details the gradual transformation of that optimistic, virtuous character into an alter ego who is "essentially the most evil version of me that I can possibly be, or the most angry, or egocentric, self-centered asshole version of me I could possibly be," he says. But the album also hints at deeper shifts within the real-life man who wears these many masks.
To trace the anti-hero Bastian Salazar's descent into darkness, we need to step back in time to the days when Drew (his actual first name) became Drew Danburry. Drew—a prolific musician who has released more than 15 albums to date—was in a band called The Danburrys at the beginning of his musical career, and when he amassed enough solo material that, he says, didn't mesh with the band's vision, he decided to release an album titled Drew Danburry—"kind of connecting the spider web," he says. The name must've had a ring to it, because "over a period of a year or two, all of a sudden everyone's calling me Drew Danburry," he says.
He identifies the attributes of his Drew Danburry persona as "hope and love and understanding and positivity." They're glass-half-full character traits that contrast sharply to the nihilism of Bastian Salazar, whose artistic territory begins where the negativity becomes too intense for the parameters of the Drew Danburry persona.
"Drew Danburry is good, he is Mormon," Danburry says. "Drew Danburry is hopeful, he can't be too dark, he can't be too wrong. … But Bastian Salazar can say whatever the hell he wants."
Until Becoming Bastian Salazar was recorded, the developmental arc between the characters Drew Danburry (as told in 2010's hopeful Goodnight Dannii) and Bastian Salazar (as told in the 2010's punk-rock barrage The Apache) was missing. Now, the three-part conceptual story is complete, with the folksy-electronic Becoming Bastian Salazar serving as the missing chapter between the two albums, that slippery slope where the wholesome Drew Danburry "gives into his demons …" Danburry says.
On a less fictional level, however, Becoming Bastian Salazar also hints at Danburry's own very real struggle with being objectified as a musician, and straining under the expectations forced upon him by other people. "Over time, just that struggle of being a musician and … dealing with the weight of all this expectation from different people, it kind of just destroys your humanity," he says. "It's definitely made more of a naturally extroverted individual into an extreme introvert."
Although Danburry says the album is in no way a carbon copy of his life, he also explains, "It's easy [for me] to hide behind the story aspect of the album, but it would be a lie to say that it doesn't have things to do with me as well."
Armed with an acoustic guitar and a sly wit, Danburry sings his tale with a seasoned voice that unflinchingly delivers twisty lyrics like "When it comes to lies, they're best told true" in the closing track on Becoming Bastian Salazar, "Author's Note: Bastian Salazar."
On a large scale, the album seems to act as an outlet for Danburry to come to terms with himself, as well as allow him to draw the Drew Danburry story to a close while gazing upon the future with clear eyes.
"There's a lot of darkness in some people," Danburry says. "I feel like if you ignore it, that's fine, but I'd prefer to just address it and kind of just say, 'I'm having these thoughts,' and recognize them and put them in a song and walk away from them."

DREW DANBURRY CD RELEASE
w/Seve vs. Evan, Deadtooth, Cameron McGill
Velour
135 N. University Ave., Provo
Friday, Sept. 27

w/The North Valley, JP Haynie, Ben Best
Kilby Court
741 S. Kilby Court (330 West)
Saturday, Sept. 28, 7 p.m., $7

Twitter: @VonStonehocker