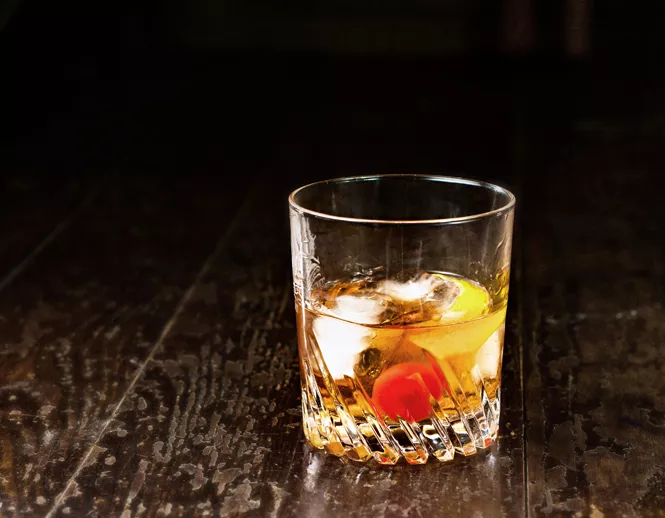 If you're old enough to remember seeing TV shows like The Dick Van Dyke Show, Bewitched and even The Andy Griffith Show, they often featured scenes where Dad would come home after a hard day's work, put his feet up on the ottoman (after tripping over it, in Van Dyke's case), and enjoy a cocktail—sometimes, along with a smoke. More recently, Mad Men reintroduced the after-work (and even during work) cocktail to the culture.
My dad was more of a beer guy. But if you have a father who enjoys a good cocktail now and then, here are a few ideas for Father's Day drinks for Dad.
To be honest, as much as I enjoy the creativity behind the "craft cocktail" boom, I tend to prefer more tried-and-true, classic cocktails. Like the Manhattan, for example. This might not just have been your dad's drink, but maybe your granddad's drink, as well. To make a Manhattan on the Rocks, mix 2 ounces high-quality rye whiskey (such as High West Rendezvous Rye) with 1 ounce sweet Italian vermouth and 2-4 dashes bitters. Pour over ice into a rocks glass and stir. The classic garnish is a real maraschino cherry.
Since Father's Day is ideal for summer sipping, I recommend making Dad a Summer Shandy to sip while watching a ballgame or maybe, in my case, during a round of bocce. I like to add a little zip to my Shandy, so I include some hot spices, but they're optional. Here's how to make a simple, refreshing Summer Shandy: Mix together equal amounts of salt and cayenne pepper in a small saucer. Rub the rim of an Old Fashioned glass with a slice of lemon, then dip the rim into the salt-cayenne mixture. Fill the glass halfway with a pale lager (Corona, etc., is fine) and fill the remainder of the glass with lemonade. Stir gently, and add a lemon slice garnish and enjoy.
Speaking of the Old Fashioned, that was the Mad Men signature drink. Why? Well, it's classic and so easy to make. Inevitably, the Old Fashioned stirs up an age-old debate, which seems to be regional in nature: rye or bourbon? I don't care. Use whichever one you prefer: I'm not going to fight on Father's Day. Here's how to make an old-fashion Old Fashioned. In an Old Fashioned glass (of course), place a sugar cube or a 1/2 teaspoon of granulated sugar. Drizzle 2-3 dashes of bitters and a small splash of club soda. Using a wooden muddler or spoon, mash the sugar mixture, rotating the glass while doing so. You want to line the bottom sides of the glass with the sugar and bitters. Add one large ice cube to the glass and pour in 2 ounces rye or bourbon, stirring gently. That's all there is to it.
One of my favorite cocktails, for Father's Day or any other time, is the Cable Car. It's a "modern classic," created in 1996 by master mixologist Tony Abou-Gamin as a signature cocktail for the Starlight Room atop San Francisco's Sir Francis Drake Hotel. Here's how he makes it: In an ice-filled mixing glass, add 1 1/2 ounces Captain Morgan spiced rum, 3/4 ounce Marie Brizard orange Curaçao and 1 1/2 ounces fresh lemon sour (two parts fresh-squeezed lemon juice with one part simple syrup). Shake until well blended. Strain into a chilled sugar-and-cinnamon frosted cocktail glass and garnish with an orange zest spiral.
Happy Father's Day!