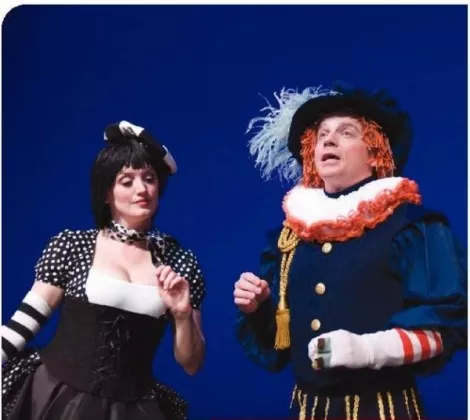 Diminished budget be damned, SB Dance went out on a limb with this year's annual performance— Drosselmeyer, Inc: The Untold Story of the Nutcracker Ballet—and hired some seriously gifted talent.
Enter Mikhail Baryshnikov.
"Mikhail has been a total professional to work with," says SB Dance founder and director Stephen Brown. "I thought he would have a little attitude coming into the piece, but he's been pretty good, pretty good."
It probably doesn't hurt that Baryshnikov doesn't have a speaking role; of the five characters that make up Drosselmeyer's cast, he's one of two who doesn't have lines. No, Baryshnikov is simply expected to do what he does best: leap, pirouette and look broodingly handsome.

It also probably doesn't hurt that, possibly due to his age, not much is expected of the Russian genius. Consequently he moves about the stage rather stiffly. The fact that Drosselmeyer's Baryshnikov is actually a two-dimensional cutout figure that gets carried around by the other mute performer probably has a lot to do with it—not to mention its affordability and amicability.

"The budget kind of dictated that I do something a bit smaller," says Brown. "My daughter is Nutcracker age now, so I started seeing it again and thought it would be fun to play with the back story. I wrote it as a play because theater is cheaper than dance. I also wanted to go with a real clear narrative. I enjoy the writing part of doing these productions, and it really is me trying to explore another little part of what I have inside."

Brown also wanted to scale the production back a little bit and see if he could pull off an entertaining show with just four people (not to mention the star power of Baryshnikov). He knew that he wanted to do a smaller piece after doing fairly massive, hard-to-handle things the past couple of years, like Revenge of Yoga the Musical. In short, he wanted to do something smaller that could be easily finessed and fine-tuned.

Drosselmeyer, Inc. is the result of just such dictates and wants. With minimal dance numbers and just a couple of musical numbers, Brown spotlights sock puppets to tell a bedtime story of sorts about how three very special nutcrackers scheme to win the annual Clara Prize. First, there is the thespian doll named Ham, short for Hamlet (Paul Mulder). His cohort in crime is Frenchie (Kim Coté), a doll with an absolutely mesmerizing voice. Rounding out the trio is the ubiquitous dancer doll, Baryshnikov. Joined by the not-so-special speechless cowboy doll Tex, they try to figure out a way to beat the seemingly unbeatable sugarplum fairy, T. Rot (played by Ballet West's Kate Crews), who hasn't lost the Christmas competition for 17 years running.

Filled with quick dialogue and even quicker pacing of a vaudevillian nature, Drosselmeyer is brimming with the wit and humor typical of an SB Dance production. You can always count on abundant sexual innuendos and the occasional potty joke delivered with a hint of philosophical air—think sphincter accidents and prostate milking.

But what is different about this piece is how tangible the whole thing actually is. In years past, Brown has often tinkered with such abstractly weighty material as Franz Kafka, the myth of Orpheus & Eurydice and the dynamics of intelligent design mixed with inflated science.
"In a lot of ways, I was attracted to narrative theater because there are less places to hide," says Brown. "You can hide in dance in a lot of ways. You put a pretty body out there moving in space and you have poetic license for about 10 or 15 minutes. On the other hand, we are so used to language and we have such great access to really good acting, really good directing and really good narratives, that when you do something like this you really have a whole different level that you're playing with."
It's a testament to SB Dance that the company can continually pull off such broad-ranging material using such varied delivery methods. They are not really a dance company; they are not really a theatre company. They don't do traditional work, but they also don't do particularly socially conscious work, either. In fact, according to Brown, they do socially "unconscious" work.

Such diversity can also read as ambiguity, and that can make it hard to find an advocate for that uncategorizable area SB Dance exists in. That may explain why the budget issues have come into play so prominently this year. But the fact that with Drosselmeyer, Inc SB Dance delivers a 13th season and 15th full-length production speaks volumes about Brown's inexhaustible creativity and remarkable ability to surround himself with brilliantly gifted performers.

And, imagine—he even landed the great Baryshnikov.

DROSSELMEYER, INC.
Rose Wagner Center Black Box Theatre
138 W. 300 South
801-355-2787
8 p.m., June 19–20
4 p.m., June 21
SBDance.com