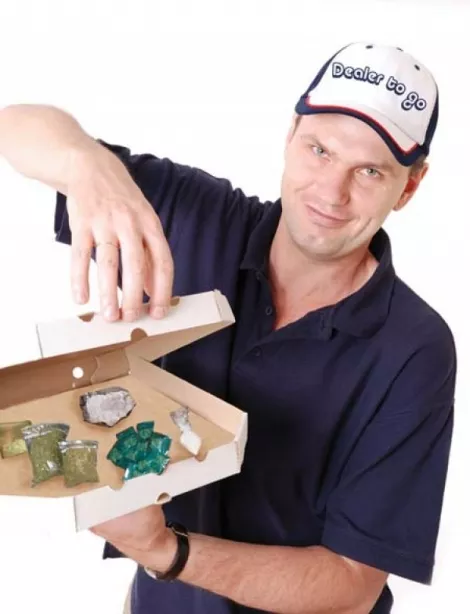 Location used to be everything in business—even the drug business. But with recent camera surveillance squeezing the dope business out of Pioneer Park, more dealers are thinking outside of the box: Why sling in a park or alley to customers, when you can bring the product to the customers?
"We always refer to them as balloon deliveries," says U.S. Drug Enforcement agent Mike Root, of the balloons holding heroin, meth or crack cocaine often used for pre-arranged deliveries. "We've had dope delivered to us faster than a Domino's pizza before."
"Dial-a-Dope," as the delivery method is dubbed by local law enforcement, is not a new phenomenon. Dealers have often arranged narcotics deliveries by phone, with a dealer dropping off their product in meeting spots or right at people's houses. What is troubling Salt Lake City Police Department narcotics officers is the significant spike in complaints in this kind of trafficking now that cameras have effectively shut down the drug trade in Pioneer Park. With more drug deals going mobile, SLCPD detectives are counting on their new intelligence-gathering Fusion Center to adapt to the evolving trends in the local drug business.
Last week, Salt Lake City Police Chief Chris Burbank along with several captains and local business owners gathered at Toaster's Café on 151 W. 200 South to announce the results of a drug sweep that made 108 felony arrests. Of those people arrested, 33 were dealers who, in many cases, had set up in the alleyway that bisects 200 and 300 South, between West Temple and 200 West, considered part of the downtown entertainment district. Police were not surprised about the shift in location, since they expected one when cameras were installed in Pioneer Park. The only question was where the drug trade would re-emerge, and as Burbank told the press conference: "We found that area."
The alleyway sweep took only three weeks to set up once police had gathered a few complaints from nearby business owners, SLCPD Lt. Mike Ross told the press conference.
But stopping the mobile traffickers, Ross says, is more challenging when the points of sale continually shift across different meeting spots in the city.
"It's a lot tougher for us to work," Ross tells City Weekly in a separate interview. "We get them throughout the city—on the high east side, a lot of complaints in Rose Park, the Glendale shopping area—they are all over the city."
The moving targets require longer surveillance hours and more manpower, including unmarked cars and bicycle units. He says agents have discovered drug houses that have multiple delivery cars outside, while inside, one person acts almost like a "dispatcher" for orders. "Then the dispatcher will call his runners to go and deliver," Ross says.
"They've all moved to cell phones and using vehicles instead of open air [markets]."
Ross sees a definite correlation between the cameras in Pioneer Park and an increase in mobile drug dealers, estimating that complaints of such traffickers have tripled in the last year. "The more pressure we put downtown, the more we're seeing this in the neighborhoods," Ross says. "Instead of users going to the source downtown, the source is going to the neighborhoods."
Despite the added difficulty in nailing down these moving targets, Ross says the police efforts have been aided by the new Fusion Center, an intelligence-gathering center that coordinates with local law enforcement, the Department of Public Safety and federal counterparts.
Ross describes the Fusion Center as a "force multiplier" in the way it organizes department resources to commit manpower to trouble spots. "All intel comes into one area, and then we can figure out how to battle the problem right there," he says.
SLCPD Cpt. Mike Brown, commanding officer for the Fusion Division, says the center has helped free up manpower to commit to added surveillance of mobile dealers by aligning the projects and resources of different departments, helping to ease an interdepartmental communication barrier.
"What we find is, many times, detectives don't talk to narcotics and narcotics don't talk to the bike units and yet we're all chasing the same guys," says Brown. "So the Fusion Center is a hub of communications where info can come in, we can look at it, and analyze what the best approach is to go attack it."
Brown says the Fusion Center houses a number of units in the division, including narcotics. The center also employs seven officers for each city council district, each with a special expertise in that area of the city.
But, as law enforcement hopes to push out dealers who maintain specific turfs for dealing, the potential increase in more elusive, mobile dealers is a reality Chief Burbank is ready to accept.
"We have a very visible presence in some locations, so that's changed the problem," Burbank says. "That's why it's so important for us to work with the community. They know better than we do who belongs in the neighborhood— as they call and let us know, we can stay on top of that."
Ross agrees. "We have to focus on the problem even if it spreads out. You allow it to grow and fester in one area, then you have all the shootings and robberies that go along with it," he says. "Also, I don't think our community would accept it if we turned a blind eye."

Anyone who witnesses possible drug activity is encouraged to call 801-799- DRUG (3784) where they can leave an anonymous message with the SLCPD.
Related Article:

Why marijuana arrests are so high