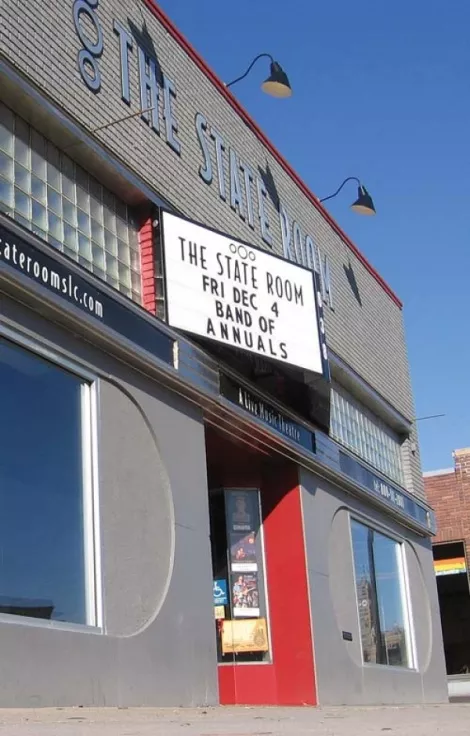 Since opening in the spring of 2009, The State Room has hosted concerts by popular national acts such as Buckwheat Zydeco and Aimee Mann, as well as local favorites like Royal Bliss or the upcoming Band Of Annuals show, scheduled for Dec. 4. For many of those shows, the music venue—which is not a bar—has also served liquor to its adult patrons by obtaining "single-event" alcohol permits. Now, however, the owners have attracted scrutiny from Utah's liquor commissioners because their use of the permits may go beyond the original intent.
The State Room, 638 S. State, can't get a liquor license, even if it applied for one, because of Salt Lake City's two-bars-per-block rule, although that could be removed next year. Already on the block are bars The Bayou and Bar Deluxe.
But even without the license, the 300-seat venue has been serving alcohol at its shows using permits that were originally intended for use during charity fund-raisers, says the Utah Department of Alcoholic Beverage Control's regulatory director Earl Dorius.
"There's two situations that require the need for a [special-event] permit. One, if you're going to sell the product, and, two, if it's an event that's open to the public," Dorius says. "You don't have to have both, just one or the other."
The permits cost $100, although private parties with free liquor do not need one. Groups that host events at a bar with a liquor license also don't need a permit, unless they purchase and sell their own alcohol.
Dorius says he worked at the Utah Attorney General's Office when the single-event alcohol permit law was written in 1985. Originally, the law only allowed permits to be issued to charities, political organizations or church groups, but that has since been broadened to allow businesses and government organizations that don't normally serve alcohol to receive them for special events. As the law is currently written, permit holders must be engaged in a "civic or community enterprise," although what that means is not defined in the law.
The law also limits applicants to 12 permits a year, a restriction that owners of The State Room worked around by having multiple limited-liability corporations apply for permits, Dorius says. All told, the venue has received 35 permits in approximately six months of operation, and in November, regulatory staff concluded that all of the businesses were just different names for The State Room and its owners.
"We could see there was a common thread. The same players were involved in these various LLCs," Dorius says. "But the owners of The State Room were involved in each of these applications. So we, as staff, raised this as an issue."
The State Room is continually applying for single-use permits "basically to run a business," which Dorius says is contrary to the legislative intent of the law. The rub, however, is that the prohibition on using the permits to run a business or avoid getting a liquor license is only explicitly applied, in state law, to the single-use permits for beer. There is no such provision for the single-use liquor permits—which is an older law—but Dorius says that the beer-permit restrictions make clear the intent for the liquor permits.
Permit holders are not as closely regulated as licensees. Minors, for example, are allowed to mingle in drinking areas at permitted events but are not allowed in clubs.
Clubs are also required to get dram-shop insurance, purchase calibrated liquor dispensers and have food available at all times.
During the November meeting of the DABC Board of Commissioners, the situation was debated at length because The State Room had applied for three more permits. Eventually, the commissioners voted 3-2 to grant the permits, but cautioned owners that they may not approve any additional permits, Dorius says.
During that meeting, owners of The State Room said that they voluntarily follow most of the requirements for clubs.
They also said they would prefer to not operate as a private club because they also want to cater to underage music fans.
Chris Mautz, one of the owners of The State Room, told City Weekly that they have not decided what their next steps will be. He did not want to comment on the issue.
"We certainly hope that this is an issue that we can come to a resolution, and we'll be able to move through this," he says.
The Legislature is not expected to make substantive changes to the state's liquor laws this year, Dorius says, which could leave The State Room in legal limbo.
The debate over the single-use permit law could impact other events and venues, but Dorius said the DABC is unaware of any similar situations.