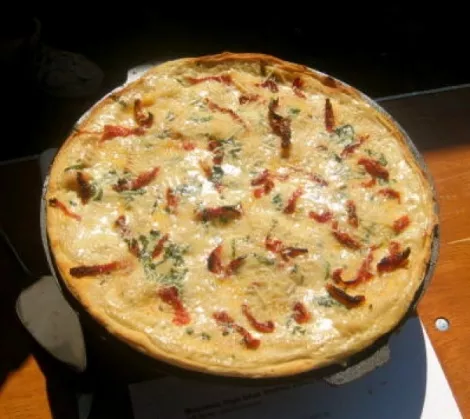 Equipment
16- inch Dutch Oven
Camp Chef 14- inch deep Dutch oven lid (2 inch lip)

Ingredients for Pizza Crust
1 tsp (1/2 package) rapid- rise yeast
3 cups (about 14 ounces) all purpose or bread flour, plus more as needed
2 teaspoons coarse kosher or sea salt, plus extra for sprinkling
1 to 1 1/4 cups of water
2 tbls plus 1 tsp of extra virgin olive oil
Cornmeal and/or Semolina Flour as needed
Pinch of sugar

For Pizza Filling
4 oz fresh spinach leaves
4 oz fresh mushrooms sliced
1/2 red onion (Bermuda) sliced
2 cups marinated artichoke hearts, drained, chopped
2 cups (1 1/2 lbs) chicken breast, cubed
4 cloves garlic
4 cups (1 lb) mozzarella cheese, shredded or sliced 1/4 inch thick.
10 oz Alfredo Sauce
1 cup Parmesan cheese, shredded
2 tbls sundried tomatoes sliced
2 oz (10-15) fresh basil leaves, roughly chopped, torn or julienned

METHOD
For the Pizza Crust:
Activate the yeast using a 1/2 cup warm water and a pinch of sugar. Add together and let sit until bubbles form.
Combine the yeast, flour, and 2 teaspoons salt in a bowl. Begin mixing and add the remaining 1/2 water and olive oil. Stir with a wooden spoon until smooth. Add remaining flour a bit at a time; when the mixture becomes too stiff to stir with a spoon, begin kneading, adding as little four as possible- just enough to keep the dough from being a sticky mess. Knead until smooth but still quite moist., about ten minutes. If it is too dry add water a very little at a time until acquires the desired consistency.

Turn the dough onto a work surface floured with the semolina and knead a few seconds. Grease a bowl with the remaining olive oil, and place the dough in it.

Cover with plastic wrap or a damp cloth and allow to rise in a warm place until the dough doubles in size, about 1 to 2 hours.You can cut this risen time short if you are in a hurry, or you can let the dough rise more slowly in the refrigerator for up to 6 to 8 hours.

Turn the dough out onto your floured surface and (literally) punch it several times. Divide it and roll into two portions (bottom crust and top crust)

For the bottom crust, sprinkle cornmeal on the underside of the Dutch over lid to keep the dough from sticking to surface. Place and press the dough so it completely covers the bottom surface of the lid as well as covering up and around the sides of the lid. Trim as needed. Brush the dough with oil, sprinkle with salt and pepper before adding the toppings.

For the Toppings:
Sauté the chicken breasts with 4 cloves garlic and salt and pepper. Set Aside

Now assemble the pizza adding the spinach, mushrooms, onions, artichoke hearts, sautéed chicken and the mozzarella cheese. Cover the remaining pizza crust rolling the dough enough to allow crimping of edges around top of the Dutch Oven Lid.

Place the 14 inch Dutch oven lid inside the base of a pre heated 16 inch Dutch oven. Cover and cook starting with approx. 30 charcoals briquettes on the bottom also 30 on top. Replenish charcoal as needed to maintain temp of at least 400 degrees.

Check pizza crust after approx. 8-10 minutes ( when crust is lightly browned) spread 10 oz Alfredo Sauce to completely cover top of crust. Sprinkle on 2 tbsp sun dried tomatoes. Cook an additional 30 minutes. Remove from coals and top with basil and parmesan cheese. Slice and Serve.

Recipe provided by Jeff Marler and David Holladay