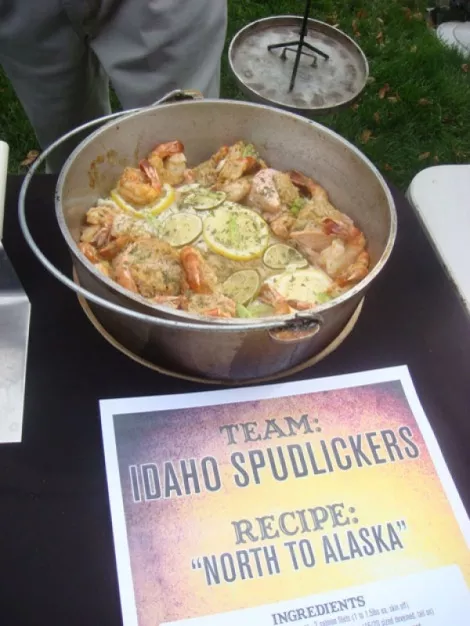 INGREDIENTS
2 halibut filets (1 to 1.5lbs ea)
2 salmon filets (1 to 1.5lbs ea, skin off)
8 oz crab meat, cleaned and drained (1 cup)
1lb ray shrimp (16/20 sized deveined, tail on)
2 green onions, chopped
1 stalk of celery, chopped
2 cloves garlic, chopped
1/4 cup slivered almonds
1 lemon
1 lime
1 egg
1/4 cup chicken broth
plain bread crumbs
1/2 cup butter
2 Tbs extra virgin olive oil
cajun seasoning
parsley
dill weed
toothpicks
INSTRUCTIONS
In a 12" dutch oven, over hot coals, sauté onions, celery, garlic and almonds in 1/4 cup butter and 2 Tbs olive oil. Cook until liquid clarifies. In a separate bowl, combine crab meat (break it up with a fork), egg, 1/4 cup chicken broth, 1/2 tsp Cajun seasoning, with the juice from 1/2 a lemon and 1/2 a lime. Add the sautéed ingredients from the dutch oven to the crab mixture and blend with a fork. Stir in bread crumbs to reach a thick, pasty consistency. Melt the rest of the butter in the dutch oven. In a separate bowl rinse and toss the shrimp with 1/4 tsp Cajun seasoning. Butterfly the halibut filets with a sharp knife, leaving the meat connected on one side. Open the filets like a book and fill the center with some of the crab stuffing. Place the filled filets in the center of the dutch oven. Lay the salmon filets flat on a cutting board and slice them in half with your knife parallel to the cutting board. You will end up with 4 or more filets that are very thin. Place some stuffing in the center of each salmon filet and roll them up around the stuffing. Secure rolls with toothpicks. Stand the salmon rolls up on each side of the halibut in the dutch oven. Thinly slice the other halves of the lemon and lime and garnish the fish with the slices. Cook the fish at a minimum of 400 degrees with coals on the top and bottom. After 10-12 minutes, add the shrimp to the pot , filling in any blank spots by dropping the shrimp into the butter and juices. Check for doneness after 7-10 more minutes. Garnish with dill weed and parsley.
Serves about 8