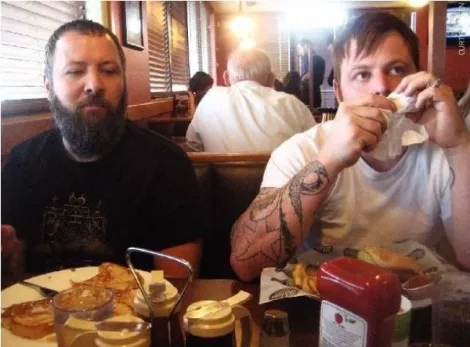 Back in July, City Weekly contributor Curtis Jensen hit the road with Utah's Eagle Twin as they toured in support of the mighty Sunn O))). The following are excerpts from his journal. No one tells it like Curtis:
DAY 12
It's just a hell of a thing, that there's just two of you up there!

Yeah, man, that's just how we do it!

All that sound from just the two of you!

Yeah, man!

DAY 12.5
License and registration.

What seems to be the problem, officer?

The cop shines his light over Tyler's shoulder and into the back of the van to the loft up into which I have just wormed. I am tired enough that I don't even look up at the light. You do know that in the state of Kentucky all passengers in a vehicle must be wearing a safety belt.

Is that so? She passed in Utah, where we're from.

Yes, but you are in Kentucky now.

Well, we are headed back to Utah tonight, and we didn't know about that.

But not wearing safety belt-—if you guys get in an accident, that guy back there, he's dead.

I'm sorry, sir.

The cop doesn't issue Tyler a ticket. He also doesn't make me feel any better about sleeping in the loft tonight.
"It's a good thing I wasn't driving, I am always mean to cops," says Gentry.

"It's a good thing he didn't fucking breathalyze me!" says Tyler.

DAY 11
In Michigan. An e-mail that I've just sent reads something like this: There is so much fog from the three fog machines that Sunn O))) deploys every night that I can't see the keyboard of this laptop. They are playing right now; it is so loud that the screen seems blurry with certain notes. I miss you. I am very, very tired. We slept in the van last night in a truck stop in Gary, Ind. I woke up at 8 and began driving. The van is not running so well, the transmission has been slipping and there is a knock coming from the rear-right hub …

DAY 5: SHOW REPORT : MINNEAPOLIS
Eagle Twin can improvise. Improvisation isn't determined simply by making up things while one is on a stage. Improvisation requires that its participants' relations in the live setting bare the traits of communicative interchange, without which improvisation doesn't exist in its fullest, most substantive forms. Negotiation between the players is possible and necessary, happens frequently and in a sustained and building fashion. This mirrors the negotiations of individuals, one with another, one with each other, one with one's self, one with the natural world, one with the caddisflies smacking the street lamps of Dinkytown on a Sunday night, and so on.

At their Varsity Theater performance, Eagle Twin seized upon the core of such dialectic negotiations. This fertile position between the poles of improvisation mirrors the malleable mid-belly of our own negotiations, and was summarily contracted, embellished, inverted, pummeled, polished by the band. The negotiations on stage began, were built, were resolved—and then, at the shouts and calls of the present hundreds of listeners/receivers, were struck up again, built further, and laid out to be examined. But, a creative act is not the singular fulcrum for upturning a closed system. Improvisation is not some sort of saving act. A past question rephrased: if metal is a spectacle of excess composed of closed or essentially closed systems of significations, and can be manipulated through the primary instrument of improvisation, then what is the moral concept that such improvisers set out, consciously or unconsciously, to purvey?

Admittedly, I've got my fingers crossed for total ideological restructuring.

DAY 14
It is really very cold in the van. I have hardly slept as I have developed a mind-grinding habit of waking every 30 or 40 minutes to check to see if we have yet rolled off into the ditch. I imagine that if we had rolled off into the ditch I would know without checking every 30 or 40 minutes. I pull myself out of the loft, crawl past Gentry asleep on the speaker cabinets and I fold myself into the driver's seat. It is early, before sunrise. The sagebrush plains of the high, red desert are radiant and rich in the pre-dawn golden hour. I rub my eyes with the palm-heel of my hands, then turn the ignition.

EAGLE TWIN


w/ Sunn O)))
Avalon
3605 S. State
Friday, Aug. 14
7 p.m.