It never fails: A big storm always slams into the Wasatch in October or early November. For most skiers and snowboarders, it's just a reminder to dust off our gear and maybe get it tuned. But while the majority of snow lovers wait patiently for opening day at the resorts, a growing number of powder junkies are making turns during the first big dump.
The general rule for pre-season resort skiing is to follow all posted signs at trailheads. Alta, Brighton, Solitude and much of Snowbird are public land, so they provide year-round access to hiking trails, unless they're under construction or conducting avalanche-control work. Just be sure to watch for snowmaking equipment, sleds and snowcats while on the mountain.
If getting a righteous faceshot before Halloween is something you'd enjoy, then let this guide help you make it a reality.
The Terrain
When seeking early-season powder turns, terrain choice can make or break the experience (as well as your skis or board). Mellow, grassy slopes are your best bet. Think the blues and greens at the resort. Here, the odds of hitting a big rock are greatly reduced and, if you stay clear of avalanche paths, the avalanche risk hovers around zero. Also, the gentler the slope, the less snow you need to make safe, satisfying turns. A foot of snow on this type of terrain works for many snow-starved lunatics.
To find the best spot for early-season turns, take a snowless recon mission before the snowfall and explore the higher elevation meadows of Little or Big Cottonwood Canyon. Alta's Collins Gulch is popular, but the runs under Brighton's Crest lift might work as well. Brighton has also been known to set up a park before opening day.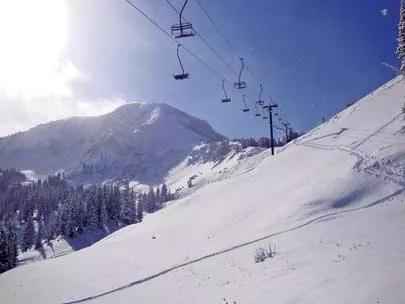 The Dangers
Even during the first snowfall of the year, serious avalanche danger can exist. The risk of burial may be less, but just being dragged over rocks can be fatal.
With virtually zero snowpack, the risk of injury and equipment destruction is much higher. Since there's a whole season of skiing ahead, take it slow. Make shallow, easy turns. A rock or stump could be lurking just under the surface.
With that said, terrain selection significantly minimizes these risks.
The Gear
Avalanche gear is a must. Backcountry conditions exist even if you're riding between the boundaries of an unopened resort. Get a beacon, probe and shovel and learn to use them properly. Practice, and always travel with a competent, prepared partner.
For early-season skiing, rock skis or boards are vital. Nothing hurts your ego or bank account more than wrecking a brand-new board or ski. When you do buy a new board or pair of skis, keep your old one(s) for such occasions. You can always comb the thrift stores for functional gear.
Touring gear isn't mandatory. Bootpacking is relatively easy if the snow is only a couple feet deep. Plus, it whips you into shape for the long winter season.
Bring along a solid backpack for holding your skis/board, snacks, water, extra layers and avy gear.
The Waiting
In the end, we all must wait. Some of us spend our time drooling over POV powder videos and habitually checking the weather forecast. However you cope, be ready for the magic words: "Snow. Heavy at times." …