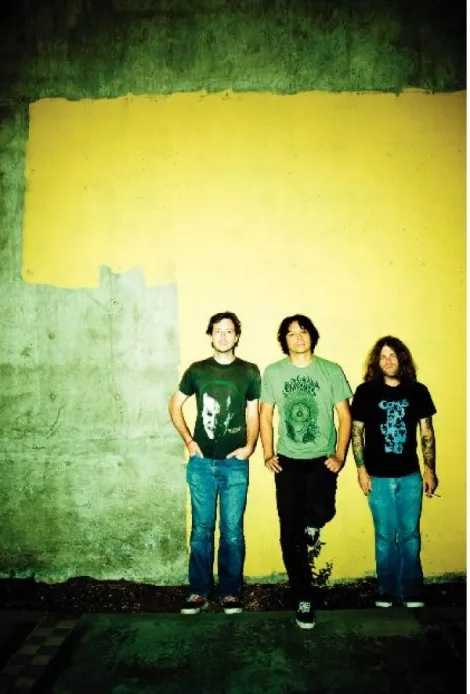 When performing live, the members of Earthless communicate through a concept called "cosmic nodding." According to drummer Mario Rubalcaba, the practice involves the three players scanning one another's eyes for movement to denote a change in tempo or passage. As Earthless crank out sizable, improv-rich instrumentals with no room for breathers, these subtle exchanges are necessary to keep their psychedelic jams afloat.
Elaborating further, Rubalcaba says that he can have the ability to control the flow of the playing. "I can take it further with the lead guitar. We can take it out for as long as we want, and there will be some kind of change that either [the guitarist] or I make that will cue everyone back into a certain thing. I've never had that with any other band before."
Seeing how the process seems to be built on unspoken instinct, putting it into words might be difficult. "I'm not sure if I explained it too well. I don't know if it makes sense, but it makes sense to me," he adds with a chuckle.
The San Diego group's designations are best broken down by what's currently listed on their MySpace page: Isaiah Mitchell is on "AcidGuitar," Mike Eginton provides the "Bass Spew," and Rubalcaba's specialty is "Drum Bruising." The trio of friends teamed to play music with no blueprint in mind. "It came up after we started jamming together," mentions the drummer, of what would become Earthless' approach. "We started playing covers and meshing them into one another. In-between the covers, we would keep playing and go off on these tangents. They were weird little marathons."
By their third get-together, Eginton devised the name Earthless, taking inspiration from a track by '60s garage/ psych-rock bunch Druids of Stonehenge. The moniker stuck and the project was officially underway.
When plotting their recorded material, Earthless don't compose full songs before putting fingers to instruments. Instead, in a nod to their roots, they remain guided by jamming. Rubalcaba reports that some portions begin with a member bringing a couple of riffs to the other two and, upon merging the portions, songs take off and take shape as they please. "We don't believe in forcing it," he says of the construction. "We let it come to us. Sometimes, it happens fast and sometimes, it takes a while." At other moments, their creativity is even less calculated. "I can honestly say that on the last record we did, at least three of the parts came when Isaiah was plugging in and just checking the sounds and doing these nonchalant little guitar parts," admits the drummer. "I was like, 'Hey, wait a minute. Play that again' and he'd be like, 'What did I do?'" The stage is where Earthless' carefree ambition comes forward with massive force. The group doesn't bother writing a set list, preferring to arrange and re-arrange freeform riffs and effects to create enormous portraits with a big sound. Live at Roadburn, an October release from Tee Pee Records, documents the trio playing at the yearly Roadburn Festival in Holland for a staggering 90 minutes. These kinds of set times being commonplace have prompted tonguein-cheek descriptions of Earthless as "endurance rock."
Rubalcaba laughs upon hearing the phrase. "We started to tape our early rehearsals and they never fit onto the fourtrack tape," he recalls. "We were like, 'Man, how long does that go on?' Pretty much all of our live shows are around 30 minutes and they've gone up to 90 with no stopping. It's different every time."
Though "cosmic nodding" is a crucial tool to any Earthless set, it, too, is occasionally prone to failure. "Yeah, I can say that there's been some surprises over the years," reveals Rubalcaba. "That's one of the gambles you take with improvising. There's at least going to be a couple of times where someone's not going to be on the same page." Fortunately, there have never been any sudden halts to the play, and even when things go awry, the criticism is soft. "It would be like, 'Ah, man, you totally missed a cue going into this jam part or the riff!' But then people in the crowd are like, 'That sounded great,' so I don't know."
With the intimidating prospect of a possible hour of improvisation looming before each set, does Earthless do anything to prepare for performing? "Honestly, no. To some people's surprises, we're not a big stoner band and we don't get wasted before we play," says Rubalcaba, feigning an "'Oh, let's be on acid!'" As a substitute, the drummer's pre-playing routine involves a half-hour of stretching to compensate for his lack of breaks. "That whole endurance rock thing takes a lot out of you".

Earthless
Club Vegas
445 S. 400 West
Monday, Nov. 30
8 p.m.