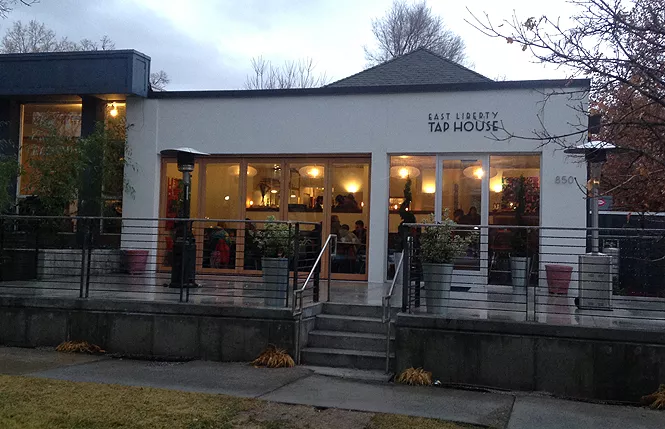 Rachel Piper
East Liberty Tap House
Busy Body
No one on the Salt Lake City food scene has been busier than Scott Evans of late. He's the owner of Pago restaurant, as well as the relocated Finca, which reopened this month after moving downtown to 327 W. 200 South. According to Evans, the original Finca property will reopen in early 2015 as the Hub & Spoke Eatery, a "modern diner"—a "reinterpretation of the traditional seven-day-a-week breakfast-through-dinner restaurant." And, this past weekend, Evans opened his new East Liberty Tap House (850 E. 900 South, EastLibertyTapHouse.com). It's a nice mix of modern and vintage, a neighborhood hangout with a well-curated craft beer selection and classic bar food sourced from local purveyors, open seven days a week from noon to midnight.
Stein's Gingerbread Freezes Over
Each holiday season for the past 13 years, the folks at Deer Valley's Stein Eriksen Lodge (7700 Stein Way, Park City, 435-649-3700, SteinLodge.com) have created stunning, massive gingerbread masterpieces for display in Stein's main lobby. This year, Stein features an elaborate gingerbread scene from the movie Frozen: a display of Anna and Elsa's Arendelle castle in its frozen state. The sculpture sits in Stein's main lodge adjacent to a towering 32-foot, lavishly decorated Christmas tree. From a framework designed by General Manager Dan Bullert and under the supervision of Executive Pastry Chef Ann Giles, it took more than a month's worth of planning and prep work, plus a staff of 10 people to construct the frozen world of Arendelle. It's made of more than 400 pounds of gingerbread, 250 pounds of sugar and 30 pounds of fondant.
Chocolate Love
During the holidays, local artisanal jams, marmalades and jellies from Amour Spreads (AmourSpreads.com) are much sought after. Well, if you're looking for a really unique gift, Amour Spreads has introduced its own seasonal chocolate bar, made with tangelo marmalade and the help of local artisan chocolatier Rebecca Millican. Citrus plus chocolate: What could be a better match for the holidays?
Quote of the week: Nothing helps scenery like ham and eggs. —Mark Twain