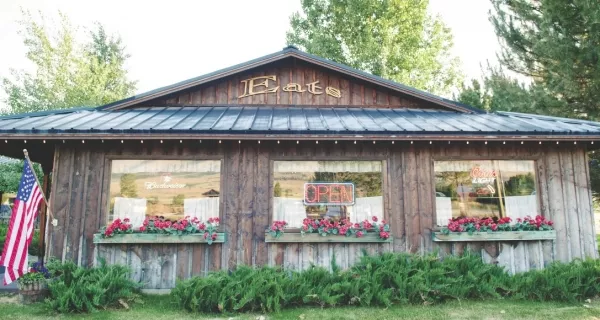 Austen Diamond
Eats of Eden
The homey, rustic restaurant Eats of Eden, frequented by hikers and boaters, offers standard roadside-diner-esque fare like burgers, pasta and pizza, with one exception: a taste of South America in an Americanized Italian dish.
The Amazon pizza is topped with grilled chicken, grilled onions, mushrooms and the Southern Hemisphere's secret weapon of delicious delight: Huancaína sauce. The Peruvian sauce is typically served on boiled potatoes with two slices of hard-boiled eggs and black olives (papas à  la Huancaína), but never on pizza. The spicy, creamy sauce is made from queso fresco, oil, aji amarillo, evaporated milk and salt and adds a wallop of flavorful savoriness and a rich, thick texture to the pizza. Even though Eats' sandwiches are huge and inviting, give the Amazon a go, and you'll crave Huancaína sauce for weeks.
On Eats of Eden's walls are photos of Peruvian children, Amazonian fish and the Andes Mountains, which somehow seem both out of place and ideal for the cabin charm of the eatery. But it's no accident the Amazon pizza is on the menu. Former owner Bill McFarland opened Eats with his wife; their daughter Tanya now owns the restaurant. McFarland says he began venturing to Peru for epic twice-yearly fishing excursions on the Amazon River. These trips moved McFarland culinarily, he says, and after being inspired by his Peruvian chef friends (and maybe a few Pisco Sours), the Huancaína sauce lauded on McFarland's pizza. It's a locals' secret.
McFarland just happened to be taking in the summer sunset on the patio when I visited; without his recommendation and story, filled with tangents about Pisco Sours and the like, I likely would have missed the pizza.
EATS OF EDEN
2595 N. Hwy 162, Eden
801-745-8618

Twitter: @austendiamond