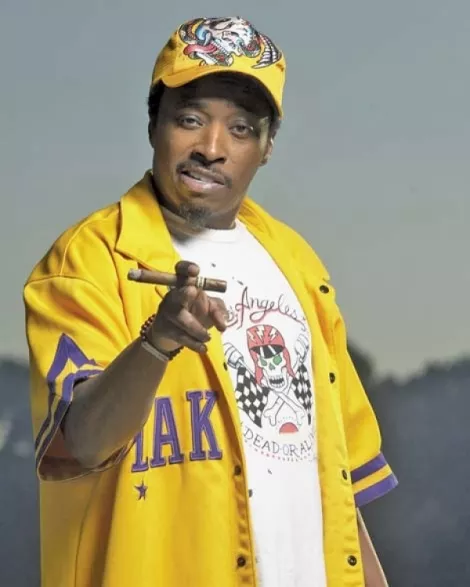 It would be difficult to provide an example of the material you'll hear at an Eddie Griffin show. His two favorite words, which are speckled throughout every joke, aren't exactly fit to print.
Nevertheless, the worst thing anyone can do is try and censor Griffin. Al Sharpton made this mistake in 2007—to which Griffin responded with a vicious diatribe on his appropriately titled comedy special, Freedom of Speech. Above his obvious talent for joke-slinging, acting and singing, it's his status as an artist that he holds most dear and fiercely defends.
Although he was voted "class clown" three years in a row in high school, his first love was dance. By the age of 16, he had opened his own dance studio and was choreographing Kansas City Chiefs half-time shows. Then his cousin dared him to go to a local comedy club's open-mic night and do three minutes of material. He wound up doing 45 minutes of off-the-cuff comedy. Griffin decided then and there to become a comedian and bought a one-way bus ticket to Los Angeles. Within two months, Griffin was opening for Andrew "Dice" Clay at Madison Square Garden.
His career has had plenty of highs over the past 20 years. He's starred in Undercover Brother and the UPN series Malcolm & Eddie, and made four comedy specials. For those who have watched Griffin evolve into a strong and fearless performer, and are prepared for some harsh language, this show is not to be missed.
Eddie Griffin @ Wiseguys Comedy Café, 2194 W. 3500 South, West Valley City, 801-463-2909, Dec. 18, 7:30 & 10 p.m., $25. WiseguysComedy.com