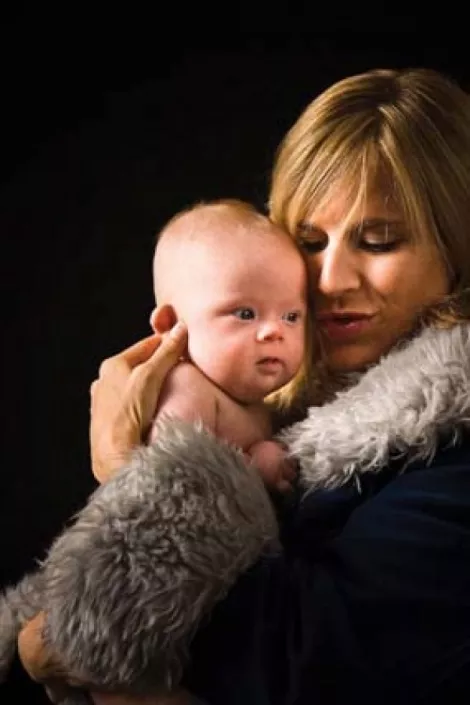 As the mother of a four-month-old boy with Down syndrome, I can relate to Sarah Palin. I mean, really, when she held Trig up after her speech at the Republican National Committee last month, offering him to the television cameras like a piece of prime elk and saying that she understood and that she'd be
my
boy's advocate in the White House, I wanted to melt. Look at that kid in his striped jammies, I thought. I
wanted
to believe her. And honestly, I think that she'd do her best to wave that special-needs flag. I can see her jogging giddily through the White House halls, can even imagine a cheer or two complete with high-kicks, while she and President John McCain jump on the couches in the Oval Office. Go, Trig, go! n
The problem isn't that I think Palin is insincere. It isn't that I have questions about who's caring for Trig and giving him the extensive therapy that's recommended for Down syndrome kids while she's out playing Gidget Goes to the White House. It isn't even that this wolf -killing, Miss Alaska runner-up confuses her facts about Obama and her own running mate—Obama has authored several major ethics reforms and McCain is not the prince of regulation. It's simply that I have a serious question about the governor's math skills. With the current eye-popping national deficit of more than $9 trillion, with a systemic financial crisis that's costing taxpayers more than $700 billion (and that's just for starters), and with a foreign policy that keeps notching its belt with unsupported wars, where does Palin think the money will come from? Medicaid is being pummeled. Social services of all kinds are being pummeled. Rome is burning, and while the Republicans have hedged their bets that this country will eat the American pie narrative about the average-Alaska-supermom-who-makes-it-big, I'm not buying it.
n
Despite her home-cooked persona, Palin just doesn't have a good head for numbers. That jet that she claims she sold on eBay? Oops! Good story, but it was sold to an airline broker at nearly a $600,000 loss to taxpayers. And that $15 million hockey arena that was her signature accomplishment as Wasilla's mayor? Oops again! She broke ground without finalizing the city's purchase of the land. Taxpayers had to suck up an additional $1.3 million dollars to pay for the fiasco. Bummer. Sorry, guys. And that's just as mayor of a small town. The thought of Palin as vice prez, drooling over every earmark like a pit bull in the ring, simply terrifies. And even if Palin is a quick study, I just don't feel great about letting her learn on the job.
n
I haven't even mentioned anything about foreign policy. But then again, neither has Palin. Except for Russia, of course. She and Vladimir Putin must blow kisses from across the divide. They're that close.
n
Even if Palin boned up on her math skills, there still would be the problem with her rhetorical strategies. She's almost winning in her repetitive enthusiasm for untruths, but the facts of Troopergate (Alaska's bipartisan investigative committee on the issue gave her a big thumbs- down for ethics violations) and her terrorist accusations (Obama may be black, but honey, he's no Arab) will not go away. She's like the little engine that could, painted lips smiling at the cameras and saying maverick, maverick, maverick while members of the press fold up their note pads and grow tired of asking her to answer straight-up for once. Please. We of the Joe Six-Pack variety can't follow her barrage of words. We just need her to speak clearly for once, and, for heavens sake, stop long enough on the way to the next campaign stop to answer the questions.
n
If McCain and Palin actually beat the growing odds against them and make it to the White House, I've no doubt Palin will continue to espouse her hockey-mom ministries. And Trig will be the face that will eclipse all doubt. He will draw us to her like maternal moths to the flame. We'll forget that while she talks tough on the campaign trail about takin' on the big oil companies, she took nearly half of her contributions while running for governor of Alaska in 2006 from oil and gas company lobbyists ($13,000 of the more than $24,000 from registered lobbyists, according to campaign records). We'll forget about that stuffy ol' notion that separates church from state, and we'll have prayer groups dictate policy.
n
We'll put the knowledge that she's-so-in-over-her-head-it's-scary away somewhere, and focus on the fact that she wants to keep our gasping consumer paradise alive at any cost. Drill, drill, drill. And, as for my boy? I'm sure she'll keep him in mind. Maybe she'll send him a card. Or, save the stamp—they're getting expensive!— and send an e-mail.
n
n
Melissa Bond is associate editor/poetry editor of Wasatch Journal magazine, and author of Hush, a collection of poetry. Her son, Cassius Fetter-Bond was born June 23, 2008. Holly Mullen's column returns next week. Send comments to comments@slweekly.com