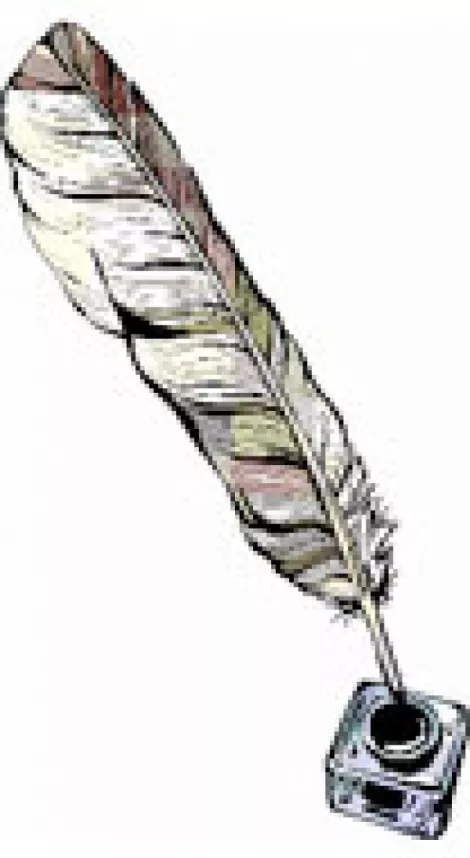 Two old soldiers sat at a table at SugarHouse Coffee and told war stories. The stories usually began with "remember when" and concluded with a smile. Between them, they had done 53 years in uniform, mostly in Utah's Army National Guard, mostly among friends. Although no passerby would have guessed the two were sometime soldiers, most would have recognized their faces and names. n
Tom Wharton, a prolific Salt Lake Tribune writer for 38 years, and Reece Stein, sports reporter and outdoor editor at KUTV 2 for 40 years, met in a National Guard public-affairs detachment in 1970. Stein was the commander. He was a gung-ho artillery officer with a tour of duty in Korea behind him. Wharton, a self-described "stupid 18-year-old" with a low draft number and a longing to be the first in his family "to travel east of Evanston," enlisted in the National Guard after high school for a six-year hitch.
n
They became "an interesting team." Not exactly Felix and Oscar or Woodward and Bernstein, but collaborators armed with a Smith-Corona typewriter and a Bell and Howell movie camera. Theirs became a friendship only soldiers know and nurture by telling war stories.
n
As the years went by and the war in Vietnam dragged on, the public-affairs detachment grew to 15. The roster read like a who's who of Salt Lake City media—Terry Wood, Mickey Gallivan, Dan Cunningham. The overriding attraction of the National Guard "weekend warriors" was the escape it offered from the clutches of the draft and the attendant risk of jungle combat in Southeast Asia.
n
"There was no chance of going to war," said Stein. "Although they were avoiding Vietnam," he said of his band of merry media men, "they were all committed journalists."
n
Work ethic notwithstanding, Stein concedes they lacked spit-shined, high-and-tight military bearing. Spec. 4 Gordon Moss, the senator's son, hid his long hair under a wig. Wharton remembers an unexpected promotion interview where he appeared in a Fu Manchu mustache, shaggy hair and ink-stained fatigues.
n
"You fight, we write!" was the tongue-in-cheek unit motto.
n
"Senior officers didn't know what to do with us," said Stein, "but because we were getting the Guard in the news, they let us do our thing." That the part-time soldiers worked full-time in the news business was an advantage when it came to getting the coverage the higher-ups wanted. "We had our foot in the door of media," Stein said.
n
The annual, two-week summer camp typically took the unit to Camp Williams. Stein recalled how they soldiered in the morning and then returned to their day jobs to work the swing shift. It wasn't hard to get film and a voiceover on the KUTV 2 news or a photo and a caption in the Tribune.
n
"It was like a media feature story support club," recalled Marshall Larson. Larson, perhaps the only Vietnam veteran to serve in the unit, was recruited in 1978 by Dan Fink, a sales rep from KSL 5. "He promised loads of fun," said Larson, a sergeant, who also worked for KSL.
n
Ten years later, as the Cold War was coming to an end, Hank McIntire joined the National Guard. By then, Wharton had a collection of war stories from his trips to Korea, Germany, Honduras, Panama and Hawaii. He was approaching the 20-year-retirement mark and under pressure to devote more time to writing. Wharton reluctantly retired as a captain. Stein was promoted to another position on the headquarters staff.
n
In 2002, McIntire was named the commander of the public affairs detachment. Renamed the 128th Mobile Public Affairs Detachment, its composition reflected the new realities of the 21st-century Army. All its members were volunteers. Half were women. None worked in the news media. Most were students. All expected to serve in combat zones.
n
"The detachment has deployed three times in the last 10 years," said McIntire, now a lieutenant colonel. It spent a year at Guantanamo and six months in the Balkans. It is currently in Baghdad with the 4th Infantry Division.
n
When the 128th returns from Iraq in March, McIntire speculated some of the soldier-journalists would quit but the majority would stay on. Why? For job experience and educational benefits, he said. For the camaraderie. Some would stay in the belief the country needs them, a rare sentiment hereabouts in light of Utah's low ranking in Army recruitment rates. Of all the states, only North Dakota is lower.
n
About the time Capt. Wharton retired, Tim O'Brien wrote a fine book about the telling of war stories called The Things They Carried. In it he observed, "True war stories do not indulge in abstraction or analysis." So it was at SugarHouse Coffee as the two old soldiers laughed about the time a big crane tipped over at Camp Williams, about filming an unauthorized interview on the Korea DMZ. The stories were narratives, linear and nostalgic. They evoked a time in a soldier's life when the weather was mild, the food was good, the war was far away, and friends were close at hand.
n
Mullen is off this week. Send Rasmuson comments to comments@slweekly.com.