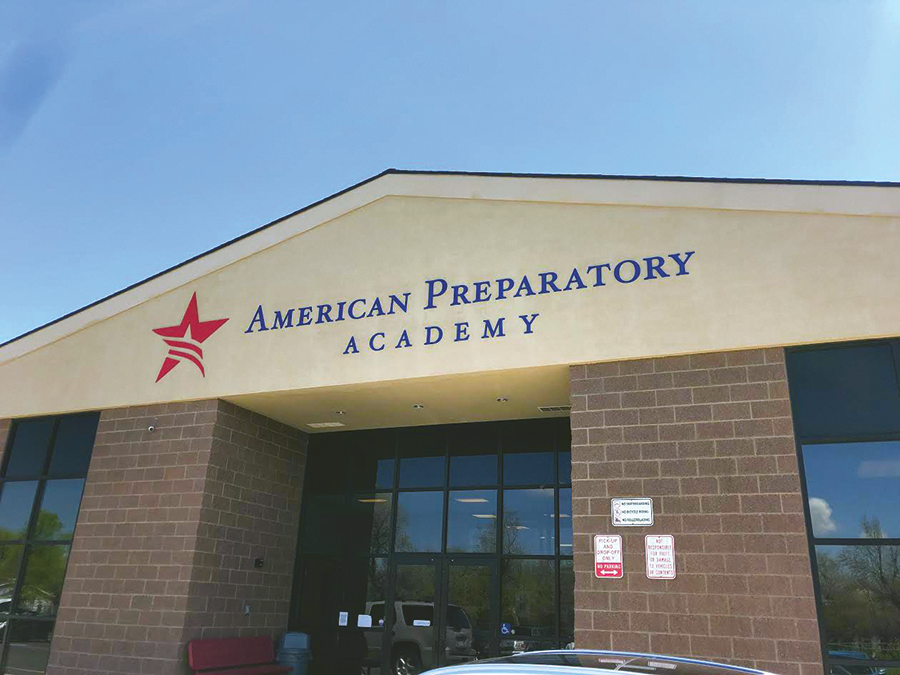 Kelan Lyons
Laura Leavitt, school director at a West Valley City charter school, says the curriculum is great for students whose primary language isn't English: "They're hearing and speaking and having a chance to put into use right away things that they're learning."
Twenty-nine second graders howl like harmonious banshees as their teacher, Justina Spencer, leads their comprehension class. "Here's an analogy about words. Close is to shut, as canine is to—get ready," Spencer says into the microphone she's wearing around her neck.
"Dog!" the students yell in unison.
"Yes, dog," Spencer replies, quizzing the children at an American Preparatory Academy charter school on synonyms and antonyms before asking them to repeat the exercise. "You guys are incredible," Spencer says once they finish.
"Incredible, incredible Hulk, smash!" the kids chant in celebration.
Carolyn Sharette founded APA's West Valley 1, the K-9 charter school where Spencer teaches, in 2009. Two years later, she founded West Valley 2, a K-12 school to which WV1 students often transfer once they become sophomores. Both campuses predominantly serve immigrant and refugee families. Hispanic students make up about 60 percent of both schools' student bodies, according to their demographic breakdowns. About 20 percent of students at each school are white.
Charters like West Valley 1 and 2, and South Salt Lake's Utah International Charter School, buck many people's assumptions about charter schools, Royce Van Tassell, the executive director of the state's Association of Public Charter Schools, says. Van Tassell has heard the gripes that charter schools "target just that upper-middle income white population," but he says Sharette founded WV1 and WV2 because she wanted to share APA's teaching methods with high-need populations that live outside of Draper, where Sharette helped found the first APA school.
"They want to bless all students," Van Tassell says. "I think that they do a great job of challenging these sometimes unfortunate stereotypes about charter schools."
Aden Batar, director of migration and refugee services for Catholic Community Services, says charter schools can be helpful for newcomers to the U.S. because they're able to receive services that correspond to their abilities and knowledge gaps, as opposed to their ages. He thinks charters like Utah International and WV1 and 2 can be better tailored to many immigrants' specific needs. "I'm not saying the school district doesn't do a good job," Batar says, "but their size is bigger, and refugee children can get lost in the middle."
In Utah, charters are considered public schools. They're funded by taxpayer money, aren't required to accept students from circumscribed areas, aren't subject to collective bargaining and typically don't operate within a school district's bureaucratic structure. Depending on who you ask, charters are either incubators for innovation that give parents more choice in where to send their child, or overly selective schools with a transparency problem that lure talented students away from district schools.
Those stereotypes to which Van Tassell refers to involve a litany of worries about charter schools and how they compare to traditional public schools. Brad Bartels, the executive director of the Utah Education Association, says those concerns include discrepancies in pay and benefits between charter and district personnel, inequities between charters and district schools—because of the formers' acquisition of private grants—and a lack of accountability and transparency that puts charters at risk of committing ethical violations—like, as KUTV Channel 2 reported, the American International School of Utah's financial improprieties that might result in its closure.
"There are great charter schools out there. There are also some really horrible charter schools," Bartels says. "It really depends on the school itself."
Van Tassell, on the other hand, says, "Charter schools provide a choice so that families can match their children's needs to an educational model that meets those needs."
WV1 and 2's education model centers on a classical education, "this idea that the liberal arts are important," Sharette says. That philosophy is rooted in the idea that students earning a primary education should be taught in three phases: grammar, logic and rhetoric. Younger children in the grammar phase learn through repetition, Sharette says, which in APA's curriculum is in part accomplished through direct instruction, a type of teaching Spencer was channeling with her dog analogy lesson.
Direct instruction involves explicit teaching lessons designed around students' learning in small increments. During morning classes at WV1, teachers stand at the front of the classroom and lead direct instruction, asking students to repeat after them and answer questions, so they gradually attain mastery over a given subject.
According to WV1 School Director Laura Leavitt, this type of teaching is especially beneficial for young refugees and immigrants who aren't fluent in English. "I feel direct instruction is particularly useful for our [English language learner] students because it allows them to hear and to say things multiple times, so that they'll get lots of repetition of the same thing," she says. "They'll hear it from the teacher, then they'll have a chance to repeat it."
"Every student is expected to engage and participate," Sharette says.
Another aspect of the WV1 curriculum is helping students to develop an understanding of the social constructs of basic interactions, like how to give a two-pump handshake and introduce yourself to someone. These skills are especially helpful for immigrants and refugees who recently moved to a new country, Sharette notes. "We felt those should be taught explicitly. They shouldn't be kept secret," she says. "We teach them specifically how to navigate in our society so they don't have closed doors of opportunity just because they don't know."
Like WV1, Utah International Charter's students are predominantly immigrants and refugees. Principal Angie Rowland says 90% of her students are from countries outside the U.S., primarily Somalia, Burma, Nepal, Iraq, Afghanistan and Central African nations. Utah International's education model differs vastly from WV1's. Unlike the teacher-centered direct instruction, it focuses on collaborative teaching, where students are often paired with others who speak a language in which they're fluent, and then they all translate their projects back to English to share with their peers. "A big part of every class is having students work in small groups, or partners, so the students are doing a lot of talking, versus the teachers doing a lot of talking," Rowland says. "For us, it's really important that the students speak their own language whenever they can."
The idea, Rowland explains, is that the more fluent and literate students are in their primary language, the more likely they are to become fluent in another. Plus, she and her staff believe in celebrating their students' backgrounds and giving them a space to express their culture and pride in their home countries. "That's America. That's what Americans do. When you come to the United States, you don't have to be like everyone else," Rowland says. "We feel pretty strongly that it's important to respect and build on the cultures of our kids, not to try to change them."
Rowland says it makes more sense for Utah International to be a charter, rather than a traditional district school, because its charge is to meet the needs of English learners. "In Utah, at least, a [traditional] public school might have trouble specializing in that way because they're supposed to meet everybody's needs," Rowland says. "We can say we're doing what we're doing to meet the needs of our target population, which is refugees and immigrants."
The focused attention and repetition of language skills, Catholic Community Services' Batar says, helps recently resettled refugees and immigrants build a linguistic foundation so they can learn other subjects like math, social studies and science. "Without English, there is no way they will understand all these other subjects," he says. "I think we need more resources to help these newcomers, so they can catch up with their peers so they can be on the same level, educationally. Otherwise they're lagging behind."