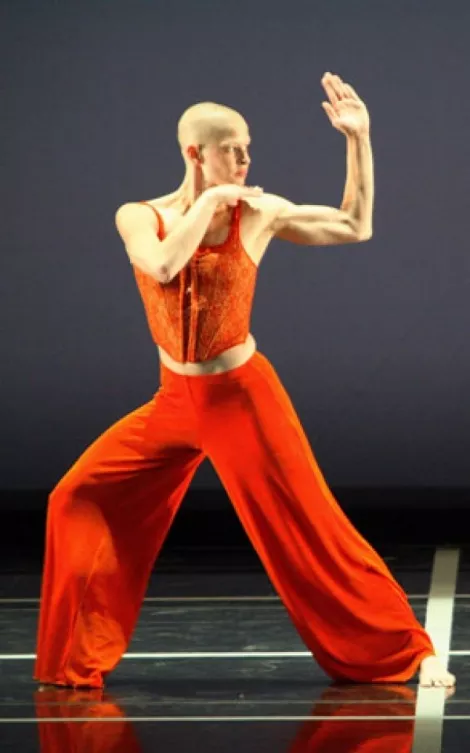 Leah Cox, education director and dancer with the Bill T. Jones/Arnie Zane Dance Company, is setting the company's "Duet" on Ririe-Woodbury's dancers. The piece will be part of Ririe-Woodbury Dance Company's September performance,
Configurations
. The dancers will give a preview of "Duet," and afterwards Cox will be part of a discussion panel at the Rose Wagner Performing Arts Center (138 W. Broadway) on Aug. 5 at 5:30 p.m. to discuss Jones and the social issues he communicates through his choreography.
"Duet" arose out of a piece that received a lot of attention called "Still Here." It got a lot of heat both in the dance media and the general media because it was about terminal illness—[dance critic] Arlene Croce refused to see the piece, calling it "victim art." It touched a lot of people in the '90s, who thought it was about HIV and AIDS, but it had very little reference to HIV/AIDS. It was actually centered around cancer, but people protested at the shows, telling others not to watch it. Bill [Jones] retreated from social issues and wanted to go back to basic movement, back to what the body can do. "Duet" is an absolute and brief response to a period of heightened activity and a piece that was very socially controversial. It allows dance to go back to pure movement, pure and meditative in its own state.
What kind of impact has Jones' work had on his audiences?
What I would say as a whole is that Bill's work causes all audience members to take a very strong act of stance with respect to the work. What I mean by that is very few people say, "It was OK." They either really like it or they're really strongly opposed to it, or they gather very strong insight from it, and I think that's his point; it's not about liking it or not liking it, it's about really causing the audience to respond; it's so strong that it's causing the audience to move from a passive stance to an active stance. Regardless of what he makes—and he may have social agendas—he makes works that are strong enough to incite audience members to have very active opinions or a very active response. To engage members of society is Bill's goal. Whether they're excited or whether they're angered, they're not sitting on their couch doing nothing.
Why should art be used as a method of communicating social issues?
Art is the catalyst for social change, not a method of communicating about social change; it asks questions, but doesn't present solutions. It encourages and embraces, and that's essential for realizing that there's more than one way to solve a problem. Dance especially is important, because dance encourages people to work together and promotes a feeling of community.
From where does the company get its inspiration for choreography?
Normally it's an issue that Bill has a strong connection with and has a lot of questions about, and we make a work in order to investigate those questions. Usually it's something that comes from some conversation he has had that sparked something, sparked something else, then he needs to investigate that topic and he does so through the creation of a work of art.
What will the audience gain from watching "Duet?"
An appreciation for the finesse of movement and of the beauty, and because it is a duet, the beauty of symmetry and of two people working together in complete unity. The piece is like china, delicate like two people working together onstage doing such intricate things; it's like an oasis. Some of the music contains African chants, which helps create that environment; I hope that will come across.
Has it been performed in the past, and how have previous audience responded to it?
This is the first time it will be performed outside of the Bill T. Jones/Arnie Zane Company, and by another company of answers.