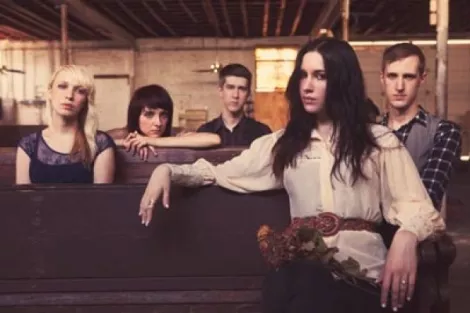 I think about how fast kids grow up every time I hear something new from Eisley, a group of four Texas siblings and their cousin, whom I first encountered nearly a decade ago at a South by Southwest Music Festival showcase.
I returned to Utah raving about the family band of adolescents who had enraptured me with their epic guitar-pop and the soaring harmonies delivered by the three DuPree sisters—singer/guitarist Sherri, singer/keyboardist Stacy and guitarist Chauntelle. It wasn't just that they were good for how young the members were (at the time, Chauntelle was the only one who'd hit 20); they were simply a great show, assured on stage despite their youth, and reminded me of other girl-centric guitar bands like Throwing Muses.
I knew they were going to be huge. And soon enough, they were signed to Warner Bros. Records and touring with Coldplay. In the years since, they haven't risen to rule Alternative Nation like I thought they would, but I'm not giving up yet. And neither has Eisley, who just released their third full-length, The Valley, which reveals just how much time has passed since I first fell for the band.
The songs populating The Valley dissect Sherri's short-lived marriage to Chad Gilbert (she's now married to Say Anything's Max Bemis), a broken engagement for Chauntelle and a rough end to one of Stacy's relationships, as well as the band's split from Warner Bros., which delayed the release of The Valley for more than a year. While older Eisley songs dealt in fantasy and sci-fi, The Valley shows maturation into more personal songwriting, something Sherri DuPree-Bemis says is a natural progression for the band.
"The more transparent and real you are with yourself, the more people will connect with what you're doing," DuPree-Bemis says. "I think overthinking anything that takes massive amounts of vulnerability to share with the world will only be harmed by over-thinking. It's got to be from your guts."
Still in place, despite the more serious subject matter, are the insistent hooks that are a calling card for the band's two main songwriters, Sherri and Stacy. And the thrilling intertwining sibling harmonies are all over songs like the slow-building "I Wish," the string-saturated title track and the guitar-driven "Sad."
DuPree-Bemis notes that Eisley had more than 30 new tunes to choose from when they worked on The Valley. She concurs with the suggestion that the band's music has grown more sophisticated: "We've been a band for over 10 years now, so in my head I would like to believe that a song I write now would be better and more complicated and challenging to play than one I wrote when I was 14."
Listening to The Valley, it's hard to imagine what the label execs at Warner Bros. had a problem with, but the label's foot-dragging in putting out the band's music seemed to be one sticking point that helped lead to the band's departure and eventually signing with Equal Vision Records in 2010.
"It was hard to go through," DuPree-Bemis says of the split from Warner Bros. "Very frustrating, and as a group of creative people, you never want to think of the business side of things. But when it directly affects your future, you have no choice.
"It affected each of us in different ways, but I know that at the point when it was going down, we knew who we were as a band and believed in that so much that we didn't care what [Warner Bros.] thought or did. We just wanted to get our record out, so we said, 'If you don't want to do it, adios.'"
Seems like 10 years later, Eisley is still precociously savvy, even if now it's about the music biz instead of simply making music.

EISLEY
w/ Marksmen, Christie DuPree
Kilby Court
741 S. Kilby Court (330 West)
Saturday, Sept. 3, 7 p.m.
$12