Page 2 of 2
Outsiders Versus Insiders
As a relatively small group existing on the fringes of the religious mainstream for 180 years and with a long history of being persecuted, Mormons remain a tempting target for satire. It's not like Mormons are going to issue a fatwa or start going around blowing things up. On the other hand, "by vigorously promoting their religion through missionaries and media, Mormons are asking to be judged, and inviting criticism," says Terryl Givens, literature and religion professor at the University of Richmond who was the keynote speaker at the Mormon Media Studies Symposium at BYU this past fall.
Loyd Ericson, who is in the Mormon Studies Program in the Department of Philosophy of Religion and Theology at Claremont (Calif.) Graduate University, thinks Mormons may be taking offense just because they automatically do so when any critique comes from outsiders. All of us have had the experience of complaining about the people in our family, but if somebody outside our family says anything, we immediately turn defensive.
"For Mormons, the bigger question is, 'Are we comfortable with non-Mormons poking fun at us, even in a light way?' " he says. "How many groups at BYU poke fun at Mormon stereotypes and other Mormons laugh at it?"
"[Parker, Stone and Lopez] take a shot at everybody," actor Michael Leslie said before seeing the show. "It's a buckshot approach, and it goes everywhere. Who knows, tonight they might make fun of a lot of different groups."
"They're an equal-opportunity offender," Wolfe pointed out.
Ericson describes himself as both an "active, believing Mormon," as well as a "huge fan of South Park." Many Mormons under 30 have never really known a time when the cartoon was not on TV, since it is now in its 14th season, and they seem to have no qualms about balancing their faith with Parker and Stone's brand of humor.
When the musical was announced, Ericson set up a satirical Facebook page called "Mormons Against Broadway—because of its obvious support of anti-Mormonism," in hopes Stone and Parker would notice it and possibly send him free tickets to the show. He notes that in the South Park episode about a Mormon family, at the end of the show, the other kids end up thinking the Mormon kid is incredibly cool. In translating that over to the musical, he predicts, "If they spent the entire musical being mean, after a few months, nobody would want to see it."
"There are a lot of quirky things about us that make for a good laugh," says Bill Silcock, a Mormon who also happens to be the director of Walter Cronkite Global Initiatives at Arizona State University, a former BYU professor and a veteran TV and radio broadcaster. "In pioneer days, when we were attacked, we circled the wagons. We don't circle the wagons anymore. Today we open up the circle and invite everybody in."
Which is exactly the approach the church seems to be taking.
The Best Response is No Response
So, what does the LDS Church think of all of this? The church declined our specific request for an interview but did forward the one and only official sentence the LDS Church has issued about the musical: "The production may attempt to entertain audiences for an evening, but the Book of Mormon as a volume of scripture will change people's lives forever by bringing them closer to Christ."
The posting at Newsroom.LDS.org also refers to a statement from 2009 called "The Publicity Dilemma." Several examples are given where the church simply ignored what it felt were unfair portrayals, including: "When the comedy writers for South Park produced a gross portrayal of church history, individual church members no doubt felt uncomfortable. But, once again, it inflicted no perceptible or lasting damage to a church that is growing by at least a quarter of a million new members every year."
"The church seems to be very savvy in how they are handling this," BYU's Sanborn Jones says. "They're saying, 'We'll recognize this as an art piece and not praise or condemn it.'"
"I think it's brilliant," Silcock says of the line that balances entertainment for an evening vs. changing a life. "It's short enough to be blogged, tweeted, quoted or put in a sound bite."
Perhaps the church is lying low because, in the end, any press is good press.
A Missionary Opportunity?
Isn't any attention, positive or negative, better than being ignored when your stated goal is to spread your message throughout the world? Several audience members interviewed after a preview performance of The Book of Mormon saw the show's message and critiques as directed at all organized religions, and not just the LDS faith.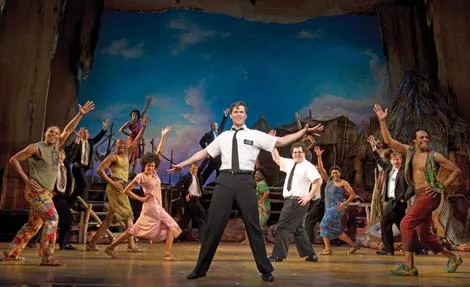 "I think I know more about Mormons now than I knew going in," said Dominick Paolillo of New York City. "It tells a good story about religion in general, and that it's not so set in stone. You need to find a way to make it work."
Brianne Huber of Pittsburgh said, "I don't think it was against any one religion in particular. I thought it was a good message, a good metaphor about how to live your life. I felt that they did a good job of looking at our ideas of what religion should be."
"It ultimately is a sweet show," said Smith, the former Mormon we talked to, "offering an air of good will and service and thoughtfulness in an otherwise bleak and unforgiving world; a world in which many may have given up on God. Yet through faith, service and love, we can all rise above the suffering."
"On balance, it's a good bargain for the Mormons," says Givens. He points out that the Book of Mormon as scripture has weathered many attacks in the past, and says, "Though Mormons may cringe at a South Park version of their sacred scripture, history suggests the interest generated will work to their advantage. ... Mormons realize the negative portrayals are the cost of doing business in the public sphere."
"It boils down to cultures," Silcock says. "Whether it's Broadway culture or Mormon culture, you're looking across at the other culture trying to find common ground. The arts help you do that."
But even getting to tell your story doesn't guarantee acceptance. In the end, "I think most Mormons would agree in their hearts that it is better to be mocked than ignored," Givens says. "Of course, being loved is better than both."
Maybe love will grow from this show. Tom Larson, a South Park fan from Old Town, Maine, made his first trip to Manhattan just to see The Book of Mormon, and came away more curious about the faith. "It's definitely one of those things where I'd want to check it out more to see what they were talking about in the show," he said. Who knows, after seeing missionaries onstage, maybe the next time the real ones come around ... ?
Actually, if a pair of enterprising young elders in the New York City mission wanted to get more "investigators," they'd do well to get a waiver from the mission president to stay out past 10:30 p.m. on 49th Street to hand out Books of Mormon and set up appointments for discussions as people come out of the theater.