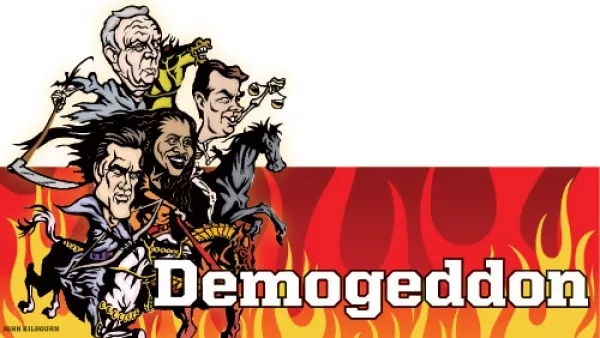 "I haven't seen a beating that bad since someone put a banana in my pants and turned a monkey loose." —Cousin Eddie, National Lampoon's Vegas Vacation
Call it "Democalypse 2012." Utah Democrats are facing a double whammy this year that could lead to a brutal beating at the polls and a thinning of their numbers on Capitol Hill to a level we haven't seen since the 1980s.
Redistricting really took a toll on Utah's minority party this year. The state has become more Republican since the last drawing of political boundaries in 2001. Utah's population grew over the past decade, meaning more people reside in the same number of House and Senate districts. Most of that growth happened in traditionally Republican areas of the state.
This time around, Salt Lake City—traditionally a Democratic stronghold—has fewer seats because its population growth did not keep pace with other areas of the state that lean Republican, such as West Jordan, Herriman and northern Utah County. That's why Sen. Ross Romero's seat was combined with Sen. Pat Jones'. In the House, David Litvack's seat was merged with Brian Doughty's, meaning the Legislature starts with two fewer Democrats than the 2012 session ended with.
If that doesn't highlight an already grim picture, throw in Mitt Romney at the top of the ballot and you have a potential disaster brewing.
Let's start with the "Romney tsunami," as some are calling it. State election officials are expecting a bigger turnout this year simply because Mitt Romney is on the ballot. Some estimate 75 percent to 80 percent of registered voters will hit the polls this year—and most of that is likely due to Romney.
It's not much of a logical leap to think increased turnout for Mitt Romney means more Republican votes, which could tip a number of close races. University of Utah political-science professor Matthew Burbank says casual voters who come out to punch a ballot for Romney could end up choosing Republicans all the way down the ballot.
"One of the things we know about elections in America is the single easiest way to make decisions is on a partisan basis," Burbank says. "Even if you're not a strong partisan, if you're attracted to Romney as a Republican, it's easy to vote for Republicans."
And that becomes even more acute as you get farther down the ballot. The less voters know about a candidate, the more likely they are to either pick based simply on party or not vote at all.
That straight-ticket mentality could have the largest effect in close races like the contest between Jim Matheson and Mia Love in the new 4th Congressional District and Salt Lake County mayor (Ben McAdams and Mark Crockett). Polls in those races show them to be extremely close, and Romney could bring more Republican voters to the polls.
Another body facing potentially big Democratic losses is in the state Legislature. Already a decided minority, Dems could be facing a near-extinction-level event this year. After redistricting, there will be only six Democrats in the Senate and 16 in the House before the election. Another Senate seat, District 8, is open with the retirement of Karen Morgan. In the House, longtime Democrat Litvack's seat was combined with another; Litvack also opted to not run for re-election.
Utah GOP Chairman Thomas Wright knows his party is in a good position. "One thing is for sure: The Democrats are in trouble this year and will have a hard time energizing their voters. With the high popularity of Mitt Romney and Barack Obama's lack of popularity, there's a big GOP tailwind, for sure."
Republicans intend to press that advantage. The number of registered Republicans grew by 7 percent this year—GOP voters now outnumber Democrats by more than a 5-1 margin. They are actively targeting the previously mentioned Senate District 8 seat, and have turned their sights on a number of veteran Democrats who are in districts that've become more heavily Republican through redistricting. Carol Spackman Moss, D-Holladay; Marie Poulson, D-Cottonwood Heights; Tim Cosgrove, D-Murray; Patrice Arent, D-Millcreek; and Neil Hansen, D-Ogden, are all facing tough opponents this year, and it's conceivable a higher turnout could tip a few of those races against the incumbents. Additionally, two West Valley incumbents, Republican Fred Cox and Democrat Janice Fisher, are in a close race in House District 30.
Utah Democratic Party Chair Jim Dabakis acknowledges that this year is a unique moment in time for both parties in the state. "I get it. Mitt Romney is to LDS people what Barack Obama was to African-Americans in 2008. We don't want to take away from that. It does us no good to say bad things about Romney."
But that doesn't mean the party is going to roll over. "We need to convince people that the ballot is sacred and these candidates deserve individual attention and the respect of an individual vote."
If things break against Democrats in the Legislature, it's entirely conceivable that their numbers would shrink to just five in the Senate and 11 to 13 in the House. And, almost none of those would be from outside Salt Lake County.
But it's not all bleak. Democrats still think they can keep Jim Matheson in Congress and elect Ben McAdams as county mayor. They also think they have a shot at holding on to Senate District 8. UtahPolicy.com reported that West Valley Republicans Fred Cox and Johnny Anderson are in very close races to hang on to their seats, and Democrats think they may be able to pick up seats in Summit and Weber counties as well.
If that doesn't happen, the party is facing a nightmare scenario. If Jim Matheson and Ben McAdams both lose their races, the highest-ranking elected Democrats in Utah would be Salt Lake County Clerk Sherrie Swensen, District Attorney Sim Gill, Salt Lake City Mayor Ralph Becker and Salt Lake County Sheriff Jim Winder.

Bryan Schott is managing editor of UtahPolicy.com. He has covered politics in Utah since 1998. He also blogs at SchottHappens.com.
Election Guide 2012:

Democrats Who Run with Elephants