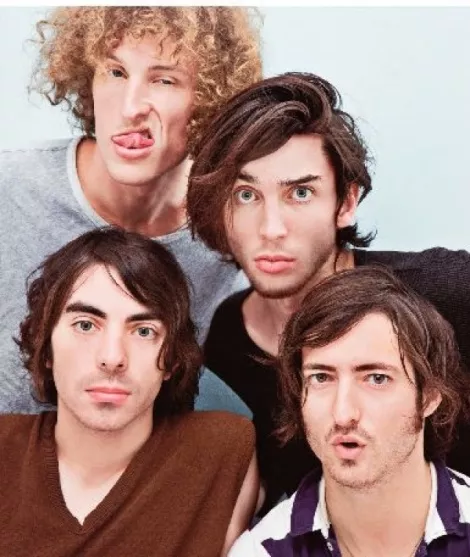 Electric Tickle Machine's ascent out of nowhere is impressive. The ease with which the New York City band scored on-air time at Seattle's respected radio station KEXP, gained a mention on ABC News' blog and booked a nationwide tour barely a year after forming seems kind of ludicrous—maybe, even, a little too easy?
"There's no mass-marketing campaign behind us—no ACORN funding," jokes singer/ guitarist Thomas Olivier from a crash pad in suburban Detroit, preempting accusations that their success is anything but hard-earned.
Well, OK. Lady Luck played a minor role. Olivier briefly toured as a solo-acoustic artist under the name Electric Tickle Machine before returning to NYC, where he rather fell into a full-fledged band in Ryan Renn (keyboards), Adam Kautz (drums) and Clark Phillips (percussion)—friends of friends whose instant chemistry shines through their debut full-length, Blew It Again, a fast-and-furious album with a number of tracks that stick on first listen.
The handclap-driven "Part of Me," is especially infectious, with its lyrics speaking to a generation of bright, young things raging against familiar bourgeois concerns—i.e., getting a real job, settling down, etc.
Olivier sings the track rapidly, almost slurring his words: "See me Friday I'll be looking more presentable/ Wake up early, take a shower, got an interview/ We all surrender to the worries of the ones we love/ questions propel the universe (don't tell me what to do!)/ Every day we get a little more miserable/ except last weekend when we partied that was super cool."
It's a cathartic number, one that demands to be placed on repeat. That the album features several equally solid songs bodes well for the group's longevity. It helps that they draw on a well-rounded palate, from high-energy indie-garage-rock to psychedelic barroom-blues.
They also have an introspective "Everybody Hurts" moment on "Find a Home" about a wayward girl on the run. Its heartbreaking sentiments provide some insight into the creative process that precedes the band's frenetic onstage performances.
"The album and the live show exist in two different worlds," Olivier says. "Personally, for me, the happiest time is in the studio at four in the morning and seeing the songs develop. Live, we allow ourselves a certain amount of freedom—to be able to perform the songs instead of over-thinking them. I basically black out for 30 minutes and wake up in a ball of sweat."
Electric Tickle Machine give their all because they can—because they're at their prime, with little to lose. And, on the road, "every show is an opportunity to make five fans," Olivier says.
Back home, the band fights to stand out among, "probably 200 bands playing across the city on any given night." This constant struggle, though, isn't a deterrent. If anything, it fuels their creative drive.
Phillips, a Utah native who moved to Seattle before relocating to NYC to pursue fashion design, likens the intense circumstances to growing up gay in a Mormon household.
"I was always fighting for who I was and who I wanted to be," he says. "That same drive is still present. Here in New York, you have the opportunity to really shine as an individual. The energy and the vibe —that's what makes it all worth it."
In other words, forking over $1000 a month for a shoebox studio is a small price to pay to walk downstairs, mingle with the masses—eat or be eaten.
"We all came to New York for a reason," says Olivier, who grew up in nearby Long Island. "It's a laboratory of modern invention—a giant hodgepodge that inspires a sense of urgency."
He realizes, of course, they can't keep this pace forever:
"Hopefully, in 10 years I'll be in a French cottage."

ELECTRIC TICKLE MACHINE
w/ Art Brut
The Urban Lounge
241 S. 500 East
Thursday, Nov. 5
24Tix.com