Driven by creative impulses, a number of free-wheeling Utahns head for the salty, expansive sand flats west of Salt Lake City each year for a weekend of artistry and community at
Element 11
—Utah's only
Burning Man
-sanctioned "burn" event.
Co-director Eldon Willis says Element 11 took root in the late '90s. "Back then, the event was held outside of Lucin, Utah, at Nancy Holt's art installation Sun Tunnels, with about 40 to 50 people," Willis said. Soon it grew too large and moved in 2002 to Bonneville SeaBase, a multi-use 20-acre desert plot outside of Grantsville. Recently, attendance has averaged 700 people, peaking at 900 in 2008, making it one of the largest regional burns, proving the Utah "burner" community is stronger than ever, says Willis.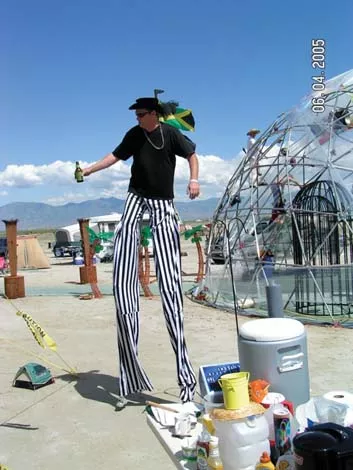 Since its inception in 1994, Burning Man—now held in Nevada's Black Rock Desert—and regional burns like Element 11 have been called many things, including "pagan," "hippie," "anarchist" or "rave" events. In fact, it's simply an art and music festival where radical free expression, civic responsibility and a "gift economy" reigns supreme.

At E11, participants (and everyone is a participant because mere spectators aren't allowed) learn that art can be experienced beyond a gallery or museum. "We have people that'll put on a huge production, set up scaffolding, workshops and art projects with mics, sound, paint and costumes. It's crazy creative," says co-director Terra Cronshey. No artist gets paid, and art grants are scarce; a total of 26 projects were given small grants generated by proceeds from last year's Element 11 and private donations.

Derek Dyer, Utah Arts Alliance executive director, speaks philosophically about E11 art: "Sometimes you just create art and that's what it will always be. This is transformative art." He describes a massive beehive created for the 2009 Element 11 and Burning Man, where participants wrote "the honey of their dreams" on it and, in an effort to release those intentions, burned the beehive down. E11, Dyer notes, is "the art festival for artists. Typically, everyone that comes to this is one, in one form or another." Of the seven total E11 burns this year, there will be a 30-foot tall banana and the main "Effigy" created by Bobby Gittens, a pyramid-like interactive funhouse structure with a pineapple on top—similar in significance to the "Man" at Burning Man.
This year's E11 theme is "Bizaare," a portmanteau of bizarre and bazaar. The theme permeates the art, as well as the abundant quality music. Two stages—the art car Ganesh at the Temple of Boom and Anuerythmic at the Pineapple Temple—will feature music until sunrise, with several other stages also showcasing various tunes. While it's mostly a DJ-induced musical masquerade, flames of diversity flare up on occasion. Markham Sound—Mark Hammond—will perform at his fifth E11 at 3 p.m. Friday. Markham Sound's folky acoustic rock is laced with timely social messages, plus a couple Bob Marley covers. "For a lot of people at Element 11 or Burning Man, hearing acoustic music is like a breathe of fresh air," Hammond said.

Salt Lake City-based Alchemized will play their brand of dubstep and breakbeat Saturday night before the Effigy burn. The band's comprised of Tracy Taley (aka DJ Cerci), Charles Batemen (aka Wheatathon) and Reanne Cram (aka Repo). "To be able to play before the Effigy burn is quite an honor. We are one of the only acts playing real instruments ... doing everything live," Cram said. "I like that because there's something special about crowd participation and vulnerability."
Of the more than two dozen musical performers, DJs like DJ Illoom—James Loomis—dominate the scene. Best known for his monthly Urban Lounge Dubwise concert, Illoom will be bringing his high energy dubstep. However, there are far more DJ genres than dubstep at E11. Loomis said electronic music in a live setting with big, quality speakers can't be beat because with digital music, the speakers are his instruments: "You can just massage the shit out of the cones and coils."

"I think the world is a pretty troubled place, and if I can drop the most speaker-intensive, huge music that's going to make people dance their ass off and make them feel good the next morning, I did what I could," Loomis said. 

ELEMENT 11
Bonneville Seabase
2 State Highway 2
Tooele
June 10-13, $100
Element11.org