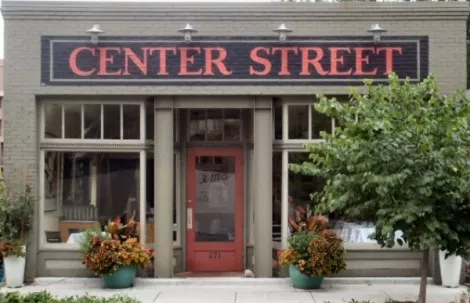 Em's is a place that I just sort of forgot about for a while there. Housed in an old storefront in the middle of a block on Center Street on Capitol Hill, it is the quintessential neighborhood joint. Everything about it—from subtle, elegant ambiance to the mellow indie-rock playlist to the quaint handwritten diner-pad bill—contributes to a warm and quiet charm.
One gets the feeling Em's doesn't mind flying under the radar. My recent Sunday-night visit found a dining room not packed, but definitely warming up to a steady hum. They seem to be doing just fine without being the buzz of the moment.
There actually is an Em; I've met her. She is pleasant and straightforward, and the word is she personally shops for the restaurant's groceries. She uses quality, fresh ingredients to make delicious, no-nonsense food.
My pork chop (suggested by my server, who was unpretentiously knowledgeable and unobsequiously friendly) was served with a light sheen of maple-bacon barbecue sauce, which was not too sweet and let the flavor of the pork shine through. The mashed potatoes had a delightful fluffy texture; they were obviously made with care rather than as an afterthought.
And the wine: Em's wine list is carefully compiled of bottles from around the world and across the spectrum without being a telephone book. The list is priced well, too. Wine markup is a delicate game played by restaurant managers. I understand that a profit needs to be made, but plenty of places just get greedy. I had a tasty Spanish red with dinner that I've seen for at least $10 more around town.
Just because I forgot about it for a minute doesn't mean Em's doesn't have a following, though. It's a small place that can fill up fast, so reservations are always a good idea.
EM'S
271 N. Center St.
801-596-0566
EmsRestaurant.com