Last week, The Only TV Column That Matters™ told you how wrong the pretentious fucks were about television, that there's plenty on the tube (mostly cable fare) artistically equal to anything that's happening in The Cinema. As usual, I made an airtight case.

This time around, it's all about the stuff that's stunk up the summer. Not that the PFs are right—they're just a little less wrong when you factor in shows like …

… Flash Gordon on the Sci-Fi Channel, where we left off. There was no reason for this series to exist when it debuted like a limp Smallville with Kryptonite down its Speedo a few weeks ago and certainly not now that it's failed to live up to even that promise. At least Sci-Fi's now-canceled Painkiller Jane launched strong, even though it's since devolved into a Scooby-case-of-the-week banality that makes CSI (pick one) look like Long Arc Theater. And Who Wants to Be a Superhero? Once the hottest (Basura) and the craziest (Mr. Mitzvah) contestants were eliminated, who wants to fucking watch?

Somebody must be watching Code Monkeys on G4 (it's that channel with the Arrested Development reruns), and I'm guessing they're all wearing helmets and sipping dinner through a straw: A badly/barely written cartoon animated like an '80s videogame sounds like a nice time-killing YouTube short; 14 half-hour episodes sounds like my brain dripping onto the floor. Same goes for ABC Family's Greek, a college dramedy for those who can't keep up with the Byzantine plot twists of High School Musical. Or The Two Coreys, a sad A&E "reality" show that's scripted more tightly than any movie Haim or Feldman have done in 20 years.

TBS now stands for Terminally Bland Shit, with throwback sitcoms like The Bill Engvall Show and Tyler Perry's House of Payne mingling seamlessly with repeats from yesteryear and yet only improving upon them in hair (Nancy Travis' on Engvall has never looked fab-er, nor has Bill's mustache). Even My Boys, a relative critical hit, has lost its edge over the summer—OK, that "edge" was akin to a plastic spork, but still …

Vaguely vanilla is not necessarily better than aggressively craptastic, which sums up VH1's entire summer slate: Rock of Love With Bret Michaels, Scott Baio Is 45 & Single, The Rock Life, Mission: Man Band, The Pick-Up Artist, I Hate My 30s—collectively the worst non-Flavor-Flav-related programming the channel has ever excreted; only Rock of Love earns a partial pass for humorously including a couple of transvestites in the lineup of ladies staying in the house and rocking Michaels' world … wha? Rodeo and Mags weren't dudes? Get the fuck outta here!

Also, USA's The 4400 and The Dead Zone … they're still on, right? Yes? No? Get back to me. And didn't we used to count on Bravo and Comedy Central for at least one watchable summer series apiece? Flipping Out and American Body Shop, respectively, fall waaay short of the bar set in previous summers by Boy Meets Boy and Dog Bites Man, the greatest send-up of local TV news ever.

Well, until Fox's Anchorwoman. Not a cable show, but notable nonetheless for being canceled after a single airing last week because fewer people tuned into its reality-jiggling debut than an America's Top Model rerun on The CW (!) and Telemundo's La Noche de 1,000 Iguanas (admittedly, stiff competition). Who could have predicted that no one would tune in to watch a brainless, unqualified bimboid attempt to become a serious news anchor? You know, besides CBS and Katie Couric? Remember the wisdom of Champ Kind: "It is anchor man! Not anchor lady! And that is a scientific fact!"

Still, all of this dreck is easily negated by AMC's awesome Mad Men, one of the summer's coolest new series; marathon Sunday, Sept. 2. (No way I'm going out on a TV downer, you pretentious fucks).
BitRate
DVD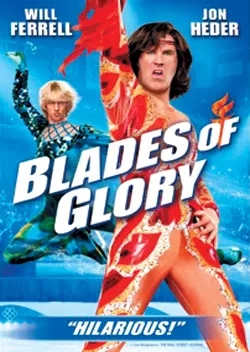 Blades of Glory
It's Anchorman on ice skates! Or, Talladega Nights … on ice skates! OK, to be fair, Blades of Glory has far more gay jokes and cameltoes. (Paramount.com)

Bob Saget: That Ain't Right
That guy from Full House and Funniest Home Videos makes dirty, creepy jokes about same for an hour. Oh, to get paid on both ends. (HBO.com)

Friday Night Lights: Season 1
Last season's most overrated new series, about how tough it is to be good-looking high school football jocks in a small town. Not bitter at all. (NBC.com)

Heroes: Season 1
Last season's most (rightfully) overhyped new series, about good-looking people who suddenly gain superpowers. Still not bitter. (NBC.com)

Kickin' It Old Skool
A breakdancer (Jamie Kennedy) falls into a coma in the '80s, then wakes up in 2007 with no prior knowledge of Malibu's Most Wanted. (Fox.com)

Ski School
Party-animal ski instructors vs. rich snobby kids! Finally on DVD! See, back in 1991, skool was spelled with "ch" instead of "k," yo. (MGM.com)

More New DVD Releases (Aug. 28)
Antibodies, Dane Cook: The Lost Pilots, Dangermouse: The Complete Series, The Odd Couple: Season 2, Masters of Horror: Season 1, Murphy Brown: Season 1, Samurai Jack: Season 4

BROADBAND

Mad Men
Online video doesn't quite do justice to AMC's colorful, retro-tastic new series about chain-smoking, hard-drinking Madison Avenue advertising men and women of 1960, but the network's quickie clips will do for a primer before the 7-hour marathon of Mad Men's season-to-date airs Sunday, Sept. 2. Light up, pour a stiff one and click. AMCTV.com

Listen to Bill Mondays at 8 a.m. on X96's Radio From Hell. No bitter blogging at BillFrost.tv.
cw