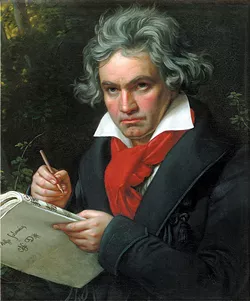 FRIDAY 12.4
Utah Symphony: Beethoven's Symphony No. 9: The Choral
The Utah Symphony's program for its Dec. 4-5 performances will feature a beginning, an ending and a tribute.
The tribute will be for Maestro Joseph Silverstein, the Utah Symphony's conductor and music director from 1983-1998. Silverstein passed away on Nov. 22, and the orchestra he once conducted will honor him by performing Variation IX "Nimrod" from Elgar's "Enigma Variations." It was a piece he loved and that he had the orchestra perform to honor those who had passed.
The ending is the performance of the last of Beethoven's nine symphonies. The Utah Symphony played the first eight over two weekends in September, but saved No. 9—with its famed "Ode to Joy" chorus—for its very own weekend. Thierry Fischer will conduct the orchestra and the Utah Symphony Chorus in Beethoven's Choral symphony, which lasts 75 minutes. Four vocal soloists will also be performing. With the Christmas season underway, it's hard to think of a better way to celebrate than singing about humanity and brotherhood.
The beginning is the world premiere of composer Nico Muhly's Control (Five Landscapes for Orchestra). The work was commissioned by the Utah Symphony and will be recorded over both nights for later release. The work was inspired by Utah's natural wonders and striking landscapes, with the five parts representing Landform, Mountain, Beehive, Petroglyph & Tobacco and Red Dust. An interactive digital media presentation by visual artist Joshua Higgason will also be part of the performance. (Geoff Griffin)
Utah Symphony: Beethoven's Symphony No. 9: The Choral @ Abravanel Hall, 123 W. South Temple, 801-355-2787, Dec. 4-5, 7:30 p.m., $18-$73. UtahSymphony.org
SATURDAY 12.5
Universes: Live From the Edge
Twenty years ago, a troupe of performing artists from the Bronx pooled their collective talents to become Universes. During its two decades of existence, the group has used a signature blend of hip-hop, jazz and poetry to tell stories about the often marginalized communities within our country's inner cities. As outspoken advocates for social justice and equality, Universes has performed in venues across the nation and participated in international theater festivals held in Sudan, Chile and Poland.
Thanks to the efforts of UtahPresents and its partnership with the University of Utah's Department of Theatre, Universes is bringing its award-winning showcase Live From the Edge to Kingsbury Hall. Live From the Edge plays out like a mixtape that spans the ensemble's impressive repertoire. Attendees can expect a few scenes from Ameriville, the group's commemoration of the Hurricane Katrina disaster, as well as excerpts from Party People, which delves into the formation of the Black Panthers and Young Lords in the 1960s. Universes will also be featuring samples of their newest material, which is steeped in the poetry of August Wilson.
Before the performance, group founders Steven Sapp, Mildred Ruiz-Sapp, Gamal A. Chasten and William "Ninja" Ruiz will be hosting workshops with students from the U of U's theater department. They will also be hosting a free Lunch & Learn lecture in the Union Panorama East Room from 11:50 a.m.-1:50 p.m. on the day of their performance. Universes' unique perspective on urban culture coupled with the group's multigenre approach to storytelling promises to be a thought-provoking trip to the theater. (Alex Springer)
Universes: Live From the Edge @ Kingsbury Hall, 1395 E. President's Circle, 801-581-7100, Dec. 5, 7:30 p.m., $20. UtahPresents.org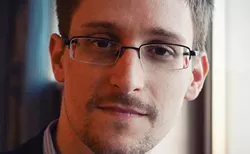 SATURDAY 12.5
Edward Snowden: Live From Russia
In early 2013, Edward Snowden was merely an anonymous guy, working as a lead technologist for the National Security Agency's information-sharing office in Hawaii. By the end of that same year, he would be one of the most controversial figures in America—considered a patriot by some, and a traitor by others.
That's all because of the information that Snowden released to the media through journalist Glenn Greenwald and documentary filmmaker Laura Poitras, evidence of the American government's massive program of collecting email, cell phone and Internet data about not just foreign governments, but our own citizens. Nonprofit organizations were targets of spying, as were foreign heads of state like German chancellor Angela Merkel. The revelations were chilling to many, and The Washington Post and The Guardian shared a Pulitzer Prize for their stories about Snowden's information. And the release of this classified information turned Snowden into a fugitive, now living in exile after he was granted asylum in Russia.
This week, the Eccles Center presents a fascinating opportunity for a live conversation with Snowden via satellite from Russia. KUER 90.1 FM's Doug Fabrizio will serve as moderator for an interactive discussion, which will also feature special guest Ben Wizner of the American Civil Liberties Union Speech, Privacy & Technology Project (see Five Spot, p. 8, for more information). Is Snowden a threat to national security or a protector of individual security? You can be part of the evening where you might be able to tell him what you think yourself. (Scott Renshaw)
Edward Snowden: Live from Russia @ Eccles Center, 1750 Kearns Blvd., Park City, 435-655-3114, Dec. 5, 7:30 p.m., $50-$150. EcclesCenter.org
SATURDAY 12.5
Utopia Early Music: Angel Song: A Medieval Christmas
The holidays are a time of year when Americans find themselves singing songs that date back centuries, evoking the profound feeling of believers. That might make it an ideal time for those who aren't familiar with Utopia Early Music to embrace their unique artistic mission to keep alive the music and songs of the medieval, Renaissance and baroque era.
For their annual holiday program, Utopia Early Music presents several works with roots in the sacred traditions of European nations. Some songs represent devotion to the Blessed Virgin Mary, as well as choral pieces and Christmas carols representing composers from the Czech Republic, Poland and Finland. Dance songs from Llibre Vermel de Montserrat capture devotional hymns sung by pilgrims on the famed Camino de Santiago through France and Spain to the shrine of Santiago de Compostela. There will even be an opportunity to experience the 13th-century Play of Daniel, a liturgical drama telling the biblical story of Daniel, the Jewish exile whose visions challenged the kings of Babylon; the "melodic variety" of the work has never before been performed for Salt Lake City audiences.
Visiting artists Shulamit Kleinerman (vielle) and Therese Honey (Gothic harp) join Utopia co-founders Emily Nelson (soprano) and Christopher LeCluyse (tenor), along with mezzo-soprano Megan Lee, in this fascinating program. It's a chance to really connect with those ghosts of Christmases past. (Scott Renshaw)
Utopia Early Music: Angel Song: A Medieval Christmas @ Cathedral Church of St. Mark, 231 E. 100 South, Dec. 5, 8 p.m.; Dec. 6, 5 p.m.; pay as able (suggested $10-$15). UtopiaEarlyMusic.org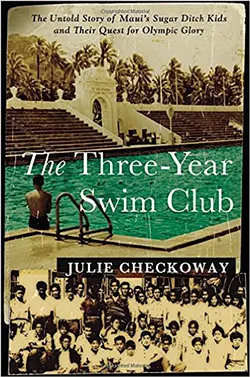 THURSDAY 12.3
The King's English Holiday Party
Every year, as Christmas shopping season draws near, we hear with increasing frequency a call to "buy local"—to take a break from online warehouses and massive chain retailers, and support the businesses that carve out their unique personalities right here in Utah. Yet even that call to buy local doesn't always connect you to those who have created the gifts you might want to buy—like Utah's many talented authors.
This year, come down for The King's English Bookshop's annual holiday party for a chance not just to buy from a locally owned business, but to support—and meet—local authors, such as Julie Checkoway (The Three-Year Swim Club, pictured), Caralyn & Mark Buhner (Merry Christmas, Mr. Mouse), James & Donna Poulton (Painters of Grand Teton National Park) and Salt Lake Tribune cartoonist Pat Bagley. Hors d'oeuvres are included and all purchases made during the party are 20 percent off regular price. (Scott Renshaw)
The King's English holiday party @ The King's English Bookshop, 1511 S. 1500 East, 801-484-9100, Dec. 3, 5-7 p.m., free. KingsEnglish.com