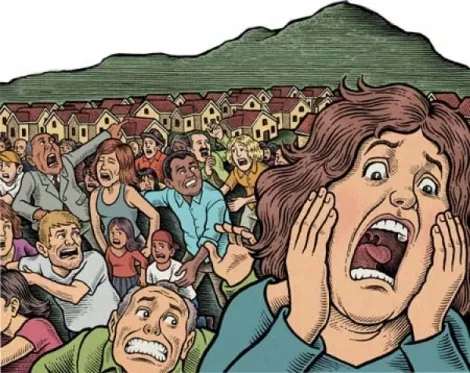 Affordable homes, star-filled skies and fresh air aplenty: That was the draw for 22,000 nice folks who decided to make their homes in Utah County's Eagle Mountain. Here, you'll find the good life, residents say. It's also the town that saw 10 mayors in 13 years, a turnover rate not unlike that of the graveyard shift at Denny's.

"I don't know why," says Bonnie Floyd, getting her hair trimmed at the Eagle Mountain Great Clips. "I guess they picked the wrong people." Her stylist, Kestin Powell, agrees the charm of the city is in its niceness but couldn't guess what the political trouble was all about. "I vote, and I try and keep up on the issues, but I don't get that involved with it," she says.

Some of those who did get involved, though, found themselves pulled into a political machine that ground them up and spit them out of the community entirely. One mayor buckled under the pressure of negotiations with developers and took a white-knuckle road trip for 14 hours straight to Barstow, Calif., later reporting he had been kidnapped. Another mayor, Brian Olsen, is now suing the city for being falsely accused of embezzlement. Olsen says he was forced to resign from his post when two council members, including current Eagle Mountain councilman David Lifferth and former councilman (now Republican state senator) Mark Madsen took him from his house to a local developer's office and told him the impending felony charges would ruin him. Olsen says he was told to wear a bulletproof vest, and that his family would be in danger.

Remove the pressure cooker of small-town politics, and Eagle Mountain is a close-knit community, close to wide open spaces and recreational opportunities: There's the town's new volunteer-built mountain-bike park, while great four-wheeling is just a short drive west at Cedar Fort. And, only 10 miles away, is an afternoon of boating at Utah Lake.

Ben Anderson, a 19-year-old clerk at Eagle Mountain's Village Pizza, has lived in Eagle Mountain for 10 years, back when the jackrabbits outnumbered the people. "We've had a lot of mayors, but it's still a great town."
A great town, with a tumultuous past. Eagle Mountain's history includes tales of officials receiving middle-of-thenight death threats, city hall meetings that nearly broke out in riots and one developer who, some claim, wielded so much power he helped orchestrate felony charges being filed against a councilwoman who disagreed with his interests. These charges filed against former Councilwoman Linn Strouse were dropped by Utah County prosecutors but not before the scandal helped undo her election bid.

Another former councilman, Greg Kehl, who constantly battled development pressure on the council as well as dark bouts of depression, took off one September day in 2007 in a powered parachute. Flying high above Cedar Valley, Kehl took in the eagle-eye perspective of the community one last time, and in mid-air, put a gun to his head and ended his life.

Caught between small-town values and bizarre scandals, the geography of Eagle Mountain is hard to place: Is this Anytown, USA? Or is this The Twilight Zone?

A number of Eagle Mountain refugees, dispersed across the state and nation, are convinced that one developer in particular, John Walden, cast a long shadow over Eagle Mountain. As in one episode of that 1960s TV series, in which a 6-year-old boy controls a small town by reading the thoughts of its citizens—forcing them to think happy thoughts to avoid their own destruction, some accuse this developer of similarly manipulating Eagle Mountain residents to accede to his demands.

In the episode, after the mind-reading boy turns a man who yells at him into a Jack-in-the-box, residents try to block the horror from their minds, cheering on their boy-monster: "That was a real good thing you did, a real good thing!"

For those who struggled with the politics of Eagle Mountain, their monster was John Walden. From his alleged sponsoring of shill candidates for city posts to helping get charges filed against those who disagreed with him, Walden's influence on Eagle Mountain municipal politics was hard to ignore, as the litany of overworked and burntout elected officials would suggest. But, while others see his notoriety as more imagined than real, critics maintain he ruled Eagle Mountain, and anyone who didn't think "happy thoughts" around him did so at their own peril.
Eleventh Hour Antic
From a May 22, 2000, Salt Lake Tribune article: "In 1995, Florida businessman John Walden ascended a steep slope, gazed out at the sagebrush and jackrabbits in the Cedar Valley below and, like a latter-day Brigham Young, proclaimed, 'This is the place I will build my city.'"
In 1995, Walden indeed looked out at miles of a west desert valley and did see something—but it wasn't a city, not at first. With development interests in the Heber Valley, Walden planned to transfer water rights from the Cedar Valley land he had purchased in a foreclosure sale to his Heber Valley holdings. Misunderstanding water-rights law, however, Walden soon found himself the proud owner of thousands of acres of sage and dry dirt.

Walden mastered the art of the deal through his many ventures back in Brevard County, Fla., including an auto dealership, a mortgage company and an eye-care business. It was through eye care that he made contact with doctors Scott Gettings and Andrew Zorbis, who were regular snowbirds to Park City, Utah. The doctors helped convince Walden that Heber Valley offered prime real estate in which to develop a community. But when Walden realized he and his investors' water rights were locked into the Cedar Valley, Walden decided to develop the town that would be Eagle Mountain. Backed with Walden and his investors' greenbacks, the city's business became a key focus of Walden's.

"He called me Satan once," recalls Debbie Hooge, the original mayor of Eagle Mountain, appointed by the county in 1996 until formal elections could be held, when the city was first incorporated.
According to Utah County Commission meeting minutes from November 1996, Walden representatives assured county commissioners the city would not become a burden to the county. This was because Walden agreed to front the costly expense of bringing utilities out to the isolated city. This helped persuade the commission to approve the town's incorporation.

According to city records, however, as soon as incorporation was granted, Walden backed off from his offer to pay for the utilities. Walden's new deal was to help the city temporarily bond for the utilities by using more than $11 million worth of his land as collateral.

"When we did the first bonding for the utilities, I walked into the [city] attorney's office and there was a table, probably 15 feet long, full of documents," Hooge says. As mayor, she began signing the documents for city attorney Gerald Kinghorn. Then, she says, Walden arrived and passed a document to her and Kinghorn, telling them that, as guarantor, he wouldn't sign the bonds until the city signed his agreement—an agreement that encumbered the city for almost all of Walden's Eagle Mountain Properties company expenses, from utility bills to even the land his company was headquartered on.

"I turned to Kinghorn, and he said, 'Debbie, if you walk out of this bonding right now, everyone [planning on] buying the bonds—they're going to sue the city,'" Hooge recalls. The 11th-hour antic worked for Walden, although Hooge says Kinghorn was able to amend Walden's agreement to let them negotiate components of the deal. Still, she says, he squeezed a lot out of the tactic. "That was just life in the city with him," she says.

On good days, many saw in Walden a jovial man. With his heavy frame, white beard and beaming smile, former Mayor Brian Olsen often saw Walden as a jolly Santa Claus figure. Add to this a surfer's ponytail and a soft cooing voice that sounds about as intimidating as Bill Murray in Caddyshack, and you have John Walden on his good days.

But, on his bad days, "there were a couple times he threatened physical violence," says former Councilman Brigham Morgan, recalling a typical Walden tantrum. "He would get angry, he would get flustery, he would get right in your face."

According to Morgan, Walden's tirades were peppered with angry talk, reminders to those present that he packed a pistol in his briefcase, and more importantly, that it was his millions that guaranteed the city's existence.

"His presence was always there," says former Councilwoman Diane Jacob. "You could feel it even if he wasn't there."

Former Councilman Vincent Liddiard remembers Walden's theatrics but felt the infamy of Walden was overblown. "John's ability to bear sway was directly proportional to the population of the city," Liddiard says. "As the population has grown, his power has diminished," he says.
In October 1999, Walden notoriously threatened to pull all stakes out of the then-fledgling community and take his money elsewhere if the city did not reduce its impact fees— the fees new homebuyers pay to help defray the costs of providing town infrastructure and services to fellow residents. According to an Oct. 25, 1999, Deseret News article, then- Mayor Rob Bateman balked at the threat, saying Walden already owed the city $400,000 for promised investments in trails, land and past due bills. But when the showdown ended, impact fees were cut in half.

Walden had achieved so much leverage, former officials say, because the city had racked up debt buying all its utilities after Walden reneged on his company's offer to buy them. Impact fees through home sales were the only way city officials could keep the city afloat.

Brigham Morgan, a former Eagle Mountain city councilman and planning commission member, says it's unusual for a new city to eat all the debt for utilities. "You go to any other city, and developers have to pay to get the utilities to their lot," Morgan says, citing Eagle Mountain's neighbor, Saratoga Springs.

According to Saratoga Springs City Manager Ken Leetham, while Saratoga Springs didn't buy its own electric or natural gas utilities, the city has only incurred $5 million in water-system bond debt in 2005. By comparison, that same year, Eagle Mountain still had just over $45 million in total utilities debt, according to city records.


Wild West Politics
There are phone calls from concerned constituents that any elected official may feel uncomfortable taking and then there are the kinds of phone calls former Councilman Brigham Morgan recalls receiving during his tenure on the council between 2002 and 2004.
"It would usually be 2 or 3 o'clock in the morning. I'd pick up the phone and just hear breathing, then they'd call me nasty names and slam the phone down."

Morgan also recalls being escorted out of city council meetings by a sheriff's deputy as citizens waited outside for him in the parking lot to finish the debate. While Morgan says he was an advocate for a more controlled growth, critics considered Morgan and his supporters to be radically opposed to any development.

Tensions often boiled over between these pro- and anti-growth factions. Morgan recalls when then-Councilman Mark Madsen—who would later become Walden's attorney—responded to complaints of encroaching development by telling a constituent: "I don't represent you; I only represent those who voted for me." (Despite delivering questions in person to Madsen's home, through his senate aides and to his personal and Senate e-mail addresses, Madsen would not comment for this story.)

Former Mayor Brian Olsen also remembers disturbing behavior from the anti-growth faction in town. "These people were at war," he says. Olsen, who moved to Eagle Mountain in 2002, recalls sign-waving residents clamoring at city hall like a torch-and-pitchfork mob, council members car tires being slashed and Sheriff deputies advising city officials to wear bulletproof vests.
The most polarizing issue was open space—especially in the city-center developments owned by Walden. The major battles were fought over the approval of the Pioneer Addition, a Walden subdivision that added higher density developments within the city center between 2003 and 2006. While Morgan conceded he could never connect any of the threats he received to Walden or the other three master developers in town, he says the threats occurred during the time the council was battling over the developments.
"Things got really bad when it was becoming obvious that I was the driving factor in delaying the revised development code," Morgan says.
Growth opponents questioned how Walden's new developments would affect the cityscape. One also challenged Councilman Madsen for receiving campaign contributions from John Walden in his bid for state Senate (campaign finance documents show Madsen received $19,500 from Walden).

Councilman Morgan raised similar concerns over donations and high-density housing. He feared the new developments would make the city look like a "parking lot." Despite Morgan and other residents' protests, the seven phases of the Pioneer Addition were approved through 2006.
A Parade of Mayors
As the city grew, the mayoral hot seat just got hotter after Mayor Hooge stepped down in 1998. Rob Bateman was appointed to finish out the final 18 months of her term. The next mayor, Paul Bond, was elected in 2000 but only served two years. He told a reporter in 2003 who asked if he might return to politics: "No, I don't need that. I've done my time."

Bond was asked that question in 2003 because the mayor of the time, Kelvin Bailey (mayor No. 4), also was expected to resign. Steeped in tense negotiations with developers, Bailey took a drive out into the country after a pheasant-hunting trip, just to clear his head. His drive turned into a 500 mile, 14-hour-long trek to Barstow, Calif. Bailey alleged that his strange journey was the result of being kidnapped at gunpoint by a hitchhiker—a story he said he told only to placate his wife until he could travel back home and tell her the truth.


For a mayor who had reorganized the city's finances, turned a 2003 deficit of $481,000 into a $730,000 surplus and helped reduce the city's bond debt by $12 million, Bailey was branded as the mayor who kidnapped himself.
Following Bailey, Councilman Vincent Liddiard filled in as mayor for a couple of months until Councilman David Lifferth was appointed to fill out the term (mayors 5 and 6).
Brian Olsen began serving in December 2005. "I didn't like the idea of developers going their own direction, but at the same time, I didn't want to squash them entirely," Olsen says. The not-solucky No. 7, Olsen achieved notoriety in May 2006 for publicly admitting he had lied about having a master's degree. But scandal didn't end there: In office less than a year, Olsen's one-time political friends, Lifferth and Madsen, asked him to resign, accusing him of embezzling city funds.
That was a good thing you did, a real good thing!
Olsen claims it was political enemies who lobbed embezzling charges against him in 2006 for allegedly reimbursing himself for mileage on trips he never took. Acquitted of all charges by a Utah County jury in September 2008, Olsen is now pursuing action against the city to recover the more than $120,000 he spent defending himself.

Former councilwoman and mayor pro tem in 2006, Linn Strouse (No. 8) can relate to Olsen's experience. After two council elections where Strouse says she was supported by colleagues Mark Madsen and David Lifferth, Strouse lost their support over disagreements stemming from the hiring of the fire chief. Strouse fought the hire and began to take stock of the influence of her former supporters Walden, Madsen and Lifferth.

In the fall of 2006, Strouse also became critical of public works director Mike Wren, a one-time Walden business partner, for Wren's alleged work on land deals with Walden while employed by the city. Walden said the land deals represented unfinished business and did not constitute a conflict with Wren's work for the city.

Walden also does not deny he supported local candidates. "I've sent a check to every single person who's run for office," Walden says. "Because I appreciate people running for office. People in the past election actually sent checks back and wanted to be able to say that I didn't support them—the humorous thing is, I think the majority of those people who sent the checks back never won the election," Walden says with a chuckle.

One of them was Strouse. Despite accepting a $500 check in 2003 from Walden, she abstained from any developer money in her thwarted 2007 re-election bid for her council seat.

But then came the matter of a $10,000 check. During the summer of 2005, Linn Strouse's husband was struggling with a terminal case of lung cancer. The couple decided to offset medical bills by remodeling their basement and renting out the main floors of their house to earn money, as Linn Strouse had recently lost her job.
In July 2005, Strouse says she received a $10,000 cashier's check from Mark Madsen. Madsen had by this time left the city council and gone on to work as Walden's attorney. Strouse said Madsen told her the money had been scraped together by friends in the neighborhood—and was not from Walden.
Walden, however, claims he delivered the check in person to the Strouses as a short-term loan. "All I did was loan some money to a friend," Walden says. "Then, it turns out she signed the check, deposited it and then forgot I was ever there."
Strouse says the first time she heard about Walden being the source of what she considered a neighborhood donation was during a contentious meeting with Walden in the fall of 2006. "He was chewing me out," Strouse says. "Telling me how I should treat [public-works director] Wren. Then, it got to the point that everything he was trying wasn't working," Strouse says. She says Walden leaned in and said, "You know that money [her husband] got? The D.A. might find out about that; they might even think it's a bribe."
Strouse says she threw Walden out and later told the council she had been threatened by a developer.
That statement pricked up the ears of Councilman David Lifferth. In an e-mail, he says that he decided to begin "investigating" which developer had threatened Strouse. "It was in my conversation with Walden that I learned about the check Walden had given to Strouse."


The focus of Lifferth's investigation soon became not whether the mayor had received a threat, but whether a mayor received a bribe from a developer. He took his concerns to the Utah County Attorney's Office.
County investigators ascertained certain facts about the case: The check was deposited by Strouse into her account on July 12, 2005. It had a note on the bottom that read, "loan for basement." A nearly illegible Walden signature is on the check, but so is the name "Mark Madsen," printed clearly on the top of the check—suggesting to Strouse that Madsen was the giver of the check.
Lifferth was confident enough of the mayor's wrongdoing that, in March 2007, he posted on his blog a copy of a letter he received from County investigators about the progress of the ongoing Strouse investigation. His initial blog post even included Strouse's name—a simple mistake, he says, as he later updated the blog and removed her name.
In June 2007, Walden met with Utah County investigator Patti Johnston about the check. In a recorded deposition, Walden is heard telling investigator Johnston that Strouse has consistently voted against his interests. "I don't want to make a fuss about it," Walden explains. "But I also don't want her threatening me."

County investigator Johnston told Walden that Strouse clearly violated state law by not disclosing the loan, assuring him that charges could be filed by the end of the week. This triggered an exuberant outburst from Walden: "Godspeed to you!"
However, before the November 2007 hearing, county attorneys learned Utah's nondisclosure law doesn't apply to city officials. Undaunted, prosecutors amended the charge to one alleging a bribe. In January 2009, prosecutors decided bribery was too difficult to prove and dropped the charges after Strouse agreed to repay $7,500 to Walden.
Strouse still disputes Walden ever gave her the check. With all the neighborhood volunteers helping the Strouses remodel their home on that Friday in July 2005—including Mayor Kelvin Bailey—Utah County investigators declined to interview these witnesses to determine if they remember Walden stopping by.

"A bunch of hogwash to my recollection," Bailey says of Walden's claim that he personally delivered the check to Strouse. Bailey declined to comment on this story, except to refute Walden's account of his visit. "He was never at Linn's house during this period of time to my knowledge and definitely not when I was working on the basement along with the other neighbors."

Walden's reaction to this account from Bailey: "Well, I don't know … these are years ago … I don't know what Bailey said, I don't know what Linn said—I'm in Florida! Linn was proven wrong and she wrote me a check."
Oh, Pioneers!
After Strouse, along came interim Mayor Don Richardson (No. 9), who served until Heather Jackson, a councilwoman—who had for years done all of Walden's title work on his properties— was elected in 2008 as the 10th mayor of Eagle Mountain. So far, no mayor has served a fouryear term.

Ultimately, "Utah's New Frontier" was tamed by the developers—not just Walden but other companies that brought in revenue from home sales fees to offset the town's burdensome utilities costs. But recently, the city still faced a more than $250,000 deficit as well as leftover utilities bonds heavier, some say, because of Walden's maneuvering.

"Eagle Mountain's future looks bright," Mayor Heather Jackson writes via e-mail. "We have elected officials who are working for the citizens and their best interests. We all work well together."

Walden himself says he's hardly visited Eagle Mountain in recent years and has mostly been enjoying retirement in Florida "just fishing." Looking back on the town's history, Walden is baffled by the mayoral turnover. "I have no idea; it's been bizarre," he says.

Bizarre as it has been, residents don't feel like they live in The Twilight Zone. They may think happy thoughts, but it's not to blot out the memory of local scandal. The town now boasts a dentist's office, a Mexican restaurant that makes a mean smothered burrito, and a karate studio. A recent Pony Express Days festival brought the community together to revel in its neo-pioneer spirit: Pancake breakfasts, concerts, baby-photo contests—the whole nine yards.

A visitor driving there that day would see a town center nestled calmly in the Cedar Valley, bright skies overhead and roads lined with plastic American flags, set in motion by a light breeze.

Over the Oquirrh Mountains to the north, a thunderstorm lingers, but on this day, it's hard to tell if the cloud is coming or going.