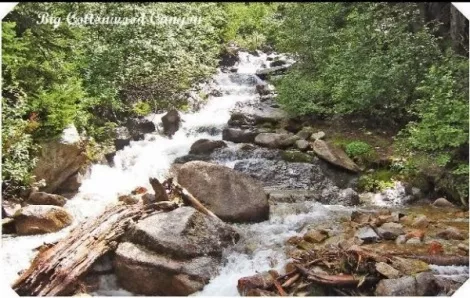 College students, more than others, understand the grind and tedium of scholarship and the importance of procrastination and escape. Here, we divulge a few of our favorite secret refuges and hideaways:

Cafés
When you're in need of a big table to work at, or just a place to relax and read, a coffeehouse is a good place to pick up a caffeine buzz and while away those hours of schoolwork.

Two Creek Coffee House
This quiet charming café in the Avenues offers tasty pastries, hearty granola and Rico burritos, as well as free Wi-Fi. Its outside seating area is petite, cozy and open year round. 502 E. Third Ave., 801- 363-3238, TwoCreekCoffeeHouse.com
Sugarhouse Coffee
Vegan-friendly and open late on Fridays and Saturdays, Sugarhouse Coffee is a nice alternative to the typical café experience. This coffeehouse provides a diverse mix of music and often participates in the Salt Lake Gallery Stroll the third Friday of every month. 1045 E. 2100 South, 801-486-3311

Other faves:
• Café Noir, 1035 E. 200 South, 801-532-1888
• Nobrow Coffee & Tea, 315 E. 300 South, 801-364-3448
• Coffee Pod, 426 W. 1230 North, Provo, 801-341-0022
• Grounds for Coffee, 111 25th St., Ogden, 801-392-7370
The Great Outdoors
Many students from outside the state decide to study in Utah because of its premier outdoor-recreation offerings. The Wasatch Range, extending 160 miles north and south, offers locals challenging biking and hiking trails as well as running, climbing and backpacking opportunities. The area's cool, lush canyons, while a short drive from the city, provide backcountry access in a matter of minutes. And, in winter, few outdoor enthusiasts can resist the Wasatch Front's 13 ski resorts and Winter Games venues.
The "Living Room"
Just behind Red Butte Gardens lie a number of accessible trails that lead to Red Butte, Emigration and Parley's canyons. One popular hiking spot is the Living Room—named for the sandstone "chairs," "tables," and "footrests" that sit along the foothills just behind the Red Butte Gardens. The trailhead is at Wakara Way & Colorow Drive along the Bonneville Shoreline Trail. The route is 3.10 miles round-trip and is quite moderate. For more information, call the U's Outdoor Recreation Program at 801-581-8516.

Mill Creek Canyon
As one of few canyons open to dogs, Mill Creek Canyon's trails and picnic areas are a big draw for cyclists, hikers and cross-country skiers. The canyon is a fee area ($3), but if you're on a bike, it's free. Some favorite trails are Grandeur Peak starting from Church Fork, Desolation Trail and the famous Pipeline Trail. The canyon entrance is located at East Millcreek Road (3800 S. Wasatch Boulevard), for more information, call Salt Lake County Parks and Recreation at 801- 483-5473.

Big Cottonwood Canyon
Explore the pristine alpine lakes atop Big Cottonwood Canyon. Silver Lake is a rewarding hike located right next to Brighton ski resort and connecting to the section from Lake Mary to Lake Catherine—all part of the Great Western Trail. Plus, during the winter, the Silver Lake area becomes part of the Solitude Nordic Center system of cross-country skiing trails. Visit Utah.com, SkiSolitude.com or BrightonResort.com for more information regarding trailheads, locations and seasonal activities.

Pineview Reservoir
Ogden Valley is a hub for many outdoor activities, one being Pineview Reservoir located right below Snowbasin Ski Resort. It's a great place to swim, kayak, fish or cruise around in your buddy's boat. 15 miles east of Ogden along Highway 39, Utah.com
Not the Great Outdoors Type?
There are numerous ways to ease the load of school and rejuvenate the senses: Flinging discs into metal baskets is one way to relieve some stress and get a little vitamin D. You can also try to beat gravity by "flying" in a wind tunnel or deep diving in the warm waters of Homestead Crater. Here are places to check out:

• U of U Disc Golf Course, located between Wasatch Drive and Mario Capecchi Drive, 801-581-8516
• Creekside Park Disc Golf, 1665 E. 4800 South, 801-483-5473
• Bicentennial Park, 1400 S. 1600 East, Provo
• iFly Indoor Skydiving, 2261 Kiesel Ave., Ogden, 801-528-5348, iFlyUtah.com
• Scuba Utah, 1942 Fort Union Blvd., 801- 942-2100, ScubaUtah.com
(Contributor Becca Maksym works for the U of U's Outdoor Recreation Program)

ALL -AGES Venues
Looking for a concert in an intimate setting without forking out student loan cash for a ticket? Or, are you a freshman or sophomore with a yearning for live music but aren't of age? Check out these inexpensive venues that welcome all.
Kilby Court
Named after the street it's located on between 300 and 400 West, the garageturned- venue hosts cutting-edge and underground acts from around the country as well as local favorites. The environment is as intimate as it gets, making shows a unique experience. 741 S. 330 West, MySpace.com/KilbyCourt

The Boing! Collective
Usually hosting acts with a harder edge, the Boing! Collective acts as a music venue and lending library specializing in material covering, veganism, anarchism and other subjects not often represented in college classrooms. Donations are requested— meaning it's a cheap place to catch some music and borrow a book. 608 S. 500 East, MySpace.com/boingcollective

Murray Theater
Intimate yet big enough to handle a crowd, the Murray Theater's design is the perfect place for concertgoers to catch a bead of sweat from a favorite touring act. The theater will pull in some top-notch acts this fall like D-12, Built to Spill and Pete Yorn. 4959 S. State, Murray, MurrayTheater.com

Avalon Theater
Their fall lineup should be entertaining with acts like distortion driven Sunn O))), MySpace celeb Jeffree Star and nu-metal icons Slipknot. 3605 S. State, AvalonTheater.com

Velour
The medium-size venue is pretty much the place to catch some decent music at a good price in Provo. With its close proximity to campus and affordable admission, Velour keeps the dream of a welcoming and friendly venue alive in the Happy Valley. 135 N. University Ave., Provo, VelourLive.com

Mojo's
Serving as a café and live-music venue, Mojo's hosts local acts ranging from hiphop to indie and folk. With a community feel and welcoming atmosphere, it's a great place to experience what the Ogden music community creates. 2210 Washington Blvd., Ogden, 801-399-1166

Why Sound
Hosting mainly indie, acoustic and folk acts, Logan's premiere small-scale venue also manages to mix a little metal and punk into the mix. Count on music almost every night of the week as well as art on display. 30 E. Federal Ave., Logan, 435-363-4700

BookStores
As if you don't have enough reading to do in school. But let's face it: good bookstores are the cornerstone of civilization, coffee and conversation. The Wasatch Front is lucky enough to have a few die-hard independent bookstores. Visit them often; let them know you care and keep the bibliophile community thriving.

Ken Sanders Rare Books
Known for its collection of books on beat literature and poetry, environmentalism and Western Americana, Ken Sanders also provides rare collectibles and treasures from 19th century photographs to '60s rock posters. The shop also serves as a venue for lecturers and authors who might not make it into your college auditorium. 268 S. 200 East, 801-521-3819, KenSandersBooks.com

Sam Weller's Zion Bookstore
With an enormous collection, Sam Weller's has a vast supply of rare and outof- print books on Utah history, Western exploration and the Mormon settlement. It also has a top-notch collection of books on pop-culture and modern fiction. Get lost in its two-story, downtown location soon before its impending relocation. 254 S. Main, 801-328-2586, SamWellers.com
Golden Braid Books
Searching for inner peace? Here, you'll find books on philosophy, world religions and anything metaphysical. Golden Braid is a perfect aid to any religion or philosophy class. It also has a great used section for students on a budget. 151 S. 500 East, 801- 322-1162, GoldenBraidBooks.com

Free Speech Zone
Technically an "InfoShop"—meaning it provides information Big Brother would not be excited about—The Free Speech Zone offers alternative art, books and information on activism. Its extensive lending library of books and videos provides material to make any politicalscience major salivate. 411 S. 800 East, 801-487-2295, FreeSpeech-Zone.com

The King's English Bookshop
With the slogan "Matching books to readers since 1977," The King's English stocks children's books, nonfiction and fiction works, and an impressive local authors´ section. It often hosts readings, lectures and signings by local and touring authors. 1511 S. 1500 East, 801-484-9100, KingsEnglish.com

Pioneer Book
Specializing in rare material on the Latterday Saints, Pioneer Book is the leading independent, new and used book seller in the area. The locally owned store also houses a coffee shop to make it a perfect study spot. 135 W. Center St., Provo, 801- 356-2931

The New Wisebird Bookery
Not only do they provide a collection of modern fiction and nonfiction, the locally owned shop carries many books needed for history and literature classes at nearby Weber State University. It's a great way to purchase a required book while supporting a local business. 4850 S. Harrison Blvd., Ogden, 801-479-8880 (Hattie MacLeod)