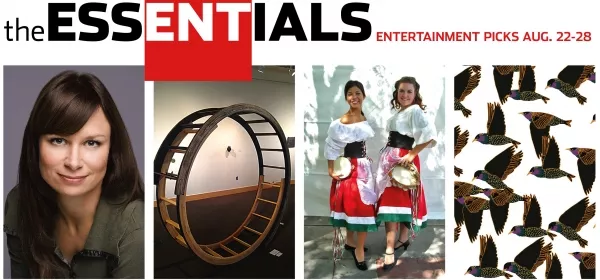 THURSDAY AUG. 22

Mary Lynn Rajskub
Without common household name recognition, most people would probably recognize Mary Lynn Rajskub from her turn on the hit television show 24 as intense CTU systems analyst Chloe O'Brian, playing off the super-intense Kiefer Sutherland. But that particular role really doesn't do justice to the awkward nervousness boiling under that staid delivery—not to mention you would never know she's a comedian and musician. In fact, Rajskub's first standup shows consisted of her getting onstage and saying her name, very self-consciously, in a manner that made you wonder why she climbed up there and trapped herself in the spotlight in the first place.

Surprisingly, though, she was somehow able to turn that into her first job on television as one of the original cast members of Mr. Show, the groundbreaking sketch comedy program with David Cross and Bob Odenkirk. She also did a stint on The Larry Sanders Show, which helped to cement her unique comedy chops. The fact that she went on from there to roles in dozens of movies (from Legally Blonde 2 to Little Miss Sunshine) and television shows (Modern Family to The Mentalist) points to her versatility at playing both straight-laced earnest and introverted goofball.

She has now found her way back to the stage, and has (fortunately) expanded her standup act far beyond her shaky beginnings. But those needing even more Rajskub can tune in to next year's limited run of 24: Live Another Day or the newest season of Arrested Development. Depending, of course, on what kind of Rajskub you might be pining for. (Jacob Stringer)
Mary Lynn Rajskub @ Wiseguys Comedy Café, 2194 W. 3500 South, West Valley City, 801-463-2909, August 22, 7:30 p.m.; Aug. 23-24, 7:30 & 9:30 p.m., $15. WiseguysComedy.com


Adam D. Thomas: me/we/us/them
Good, raw, thought-provoking conceptual art is not an easy medium for an audience to appreciate, making it hard at times for an artist to generate a forceful impact. The exhibition me/we/us/them featuring artist Adam D. Thomas is an exciting occasion to see strong conceptual art, the kind that unabashedly uses the potential of the medium to its fullest. This is not a passive kind of show, but one with a commanding voice that uses the medium of pure concepts generated by objects to address bold ideas on a level that affects all of humanity. This is an art show that's like the summer blockbuster movie at the local multiplex—you don't want to miss it.

The work addresses, according to Thomas' artist statement, how "materials and forms also bear a burden of historical understanding, and create metaphors about family, genealogy, ancestry and origin." This exhibition is not afraid to ask the bigger questions such as "Who are we?" and "Where did we come from?"
A compelling piece is "My Better Half/Opposites Attract" (pictured). Thomas' description accompanying the piece says, "The notion of an extension ladder that conveys us to higher places than we can reach on our own is intriguing." Given the gravity of other works in the show—including "Daughters of Eve," "Dreamer's Dream" and his series From whence I came …—none shy away from blatantly facing reality. But here, Thomas uses familiar visual metaphors of the circle and the ladder. Together, they make his description seem limited, compared to the ideas that might be generated for his viewers' own interpretations. (Ehren Clark)
Adam D. Thomas @ The Gallery at Library Square, 210 E. 400 South, 801-524-8200, through Sept. 20, free. SLCPL.org

---

FRIDAY AUG. 23

Jay Whittaker
It would be easy for a black comedian in Utah to fall back on "white folks are like this/but black folks are like this" gags. But even though the native Californian and City Weekly Artys nominee for Best Standup Comedian winks at his outsider status with his Twitter handle "@TokenJay," he's got a comedy sensibility that's impossible to stereotype.

After all, this is a guy who's a regular participant on the Geek Show Podcast, and whose hilarious tweets are just as likely to find punch lines in Pokémon and Transformers as in hip-hop and the Oakland Raiders. And he's self-deprecating enough to lament in his act that his "impression of a 'black guy voice' is cooler than my actual voice." Whether hosting for national touring acts or headlining, as he's doing this weekend—after only a little more than two years performing comedy—Whittaker's a whirlwind of comedic versatility. And he's hardly a "token" anything. (Scott Renshaw)
Jay Whittaker @ Wiseguys Comedy Café, 505 S. 600 East, Trolley Square, 801-532-5233, Aug. 23-24, 7:30 & 9:30, $12. WiseguysComedy.com

Salt Lake Film Society: Badlands in 35mm
The landscape for theatrical exhibition continues to shift away from physical film prints, to the point where smaller theaters and nonprofit entities like the Salt Lake Film Society are facing costly conversions to all-digital formats simply in order to survive. But in the time that remains, those who love 35mm film will need to take advantage of the rare opportunities available to see it.
It seems especially important to jump on such an opportunity when the film in question is Badlands, and the filmmaker is Terrence Malick. The director's 1973 debut feature—based on the infamous 1958 Starkweather/Fugate case—follows a man (Martin Sheen) and his teenage girlfriend (Sissy Spacek) on a killing spree across the Dakota Badlands. A 1993 inductee into the National Film Registry, Badlands established the style that would make Malick's visual style one of the most distinctive of the past 40 years. And you can see it on film. (Scott Renshaw)
Badlands in 35mm @ Tower Theatre, 876 E. 900 South, 801-321-0310, Aug. 23-24, 11 p.m.; Aug. 25, noon, $5. SaltLakeFilmSociety.org


---

SATURDAY AUG. 24

Ferragosto & Aki Matsuri
Marking a seasonal dividing line between the summer festival months—filled with celebrations like the Utah Arts Festival and Living Traditions—and the months of snowy winter fun are a series of cultural late-summer/fall festivals. Oktoberfest is one familiar mainstay, but this year, you should also try Ferragosto, commemorating a mix of Italian celebrations like the end to hard laboring in the fields and the cyclical nature of fertility represented by the Roman goddess Diana. Put on by the Italian Center of the West, this two-day celebration at the St. Ambrose Parish in Sugar House includes film, art, food, vendors and entertainment. Think oodles of noodles and bocce balls aplenty.

Also marking the end of the seasonal harvest is Aki Matsuri. Matsuri is Japanese for "festival," and most regions in Japan hold locally produced temple- or shrine-sponsored events in early spring and fall. Salt Lake City's seasonal matsuris have become a time when local Japanese-American groups join together to promote the unique culture of their historical homeland.

Although the culturally specific demonstrations and entertainment on hand at these fall festivals—not to mention all the vendors peddling handmade arts and crafts—are a fun way to get to know the diverse populations that call Utah home, food is always one of the best reasons to attend. There's just no better place to sink your teeth into something genuine—typically prepared by hand with family recipes—and genuinely delicious. (Jacob Stringer)
Ferragosto @ St. Ambrose Parish, 1929 S. 2300 East, 801-485-9324, Aug. 23, 5-9 p.m. & Aug. 24, noon-9 p.m., free. ItalianInUtah.com
Aki Matsuri @ Japanese Church of Christ, 268 W. 100 South, 801-363-3251, Aug. 24, 11 a.m. to 5 p.m., free. JCCSLC.org


UMOCA Art Truck: Impact Proof
Impact Proof sounds like the title of a theatrical summer thriller blockbuster. But instead of a vehicle for an action hero, this one is a different kind of vehicle—one that actually has four wheels. It's the upcoming project by Calder Kamin for the Utah Museum of Contemporary Art's Art Truck.

It's a marriage of art and scientific observation: an investigation into the world of birds. The artist and arts administrator from Kansas City has organized the project into two parts. The first segment began Aug. 17, with participants creating paper decals from Kamin's designs to prevent birds from crashing into windows. The second part encourages local communities to combine their efforts via crowdsourcing to help conservation efforts, recording their observations of local birds at EBird.org. For those desiring to contribute data, the Ebird username is Art Truck, password: ACOMHATU. The project runs through the 2013-2014 school year.

The Art Truck brings art into the community, at schools and other local venues—including this weekend's Magna Main Street Arts Festival—accompanied by a museum educator and lesson plans for schoolteachers; it's sort of a bookmobile of art. Impact Proof combines art and science, with illustrated listening stations and PSAs inside the truck, and Kamin's Synanthropic Mandala on the outside.
Synanthropic creatures like raccoons, rodents and sparrows share the urban environment with humans, and we impact their survival. It just might help participants become more observant of the everyday marvels of the natural world. (Brian Staker)
UMOCA Art Truck: Impact Proof @ Magna Main Street Arts Festival, 9125 W. Main (2700 West), Magna, Aug. 24, 10 a.m.-8 p.m., free. UtahMOCA.org/art-truck


Christina Dymock: Young Chefs
Frightened that her children would suffer from malnutrition when they left the house to survive in the world without her, Christina Dymock decided to make the kitchen her classroom and teach each of her children a different skill or how to use a particular cooking tool with a recipe. That a-ha moment not only catapulted her into teaching her kids some basic cooking skills, but also inspired her to help other parents do the same by writing Young Chefs.

Young Chefs is a children's cookbook that helps kids learn to take charge in the kitchen with step-by-step instructions and easy recipes. Dymock gives parents tips in the book, and gradually increases the recipes' challenge levels so kids continue to learn beyond the basics. Kids will learn the simplest tasks of opening boxes and dumping things into a bowl and move to cracking eggs and making dinner. Your young chef just may become the next Food Network star. (Aimee Cook O'Brien)
Christina Dymock: Young Chefs @ The Kings English Bookshop, 1511 S. 1500 East, 801-484-9100, Aug. 24, 2 p.m., signing free with book purchase. KingsEnglish.com


---

SUNDAY AUG. 25

Plan-B Theatre Company Script-in-Hand Series: Ghosts
Eric Samuelsen is looking at a busy year with Plan-B Theatre Company. The entire 2013-2014 season is going to be a showcase for the local playwright's work, including multiple world premieres. But to get things started, he's going to give local audiences a new look at an old classic.
Henrik Ibsen's 1882 play Ghosts—receiving an all-new translation from the Norwegian by Samuelsen—follows widowed Helene Alving as she plans to have an orphanage built in the memory of her dead husband. As the details of their marriage unfold, it becomes clear that Captain Alving was no saintly figure, and that there's more to Helen's actions than preserving her husband's memory. Jason Bowcutt, Topher Rasmussen, Christy Summerhays and Jason Tatom are among the talented actors who will be sharing this great work in a free script-in-hand reading. Get a taste of the Samuelsen magic you'll be seeing all year long. (Scott Renshaw)
Plan-B Theatre Company Script-in-Hand Series: Ghosts @ Rose Wagner Center, 138 W. 300 South, Aug. 25, 4 p.m., free but tickets required, reserve at PlanBTheatre.org