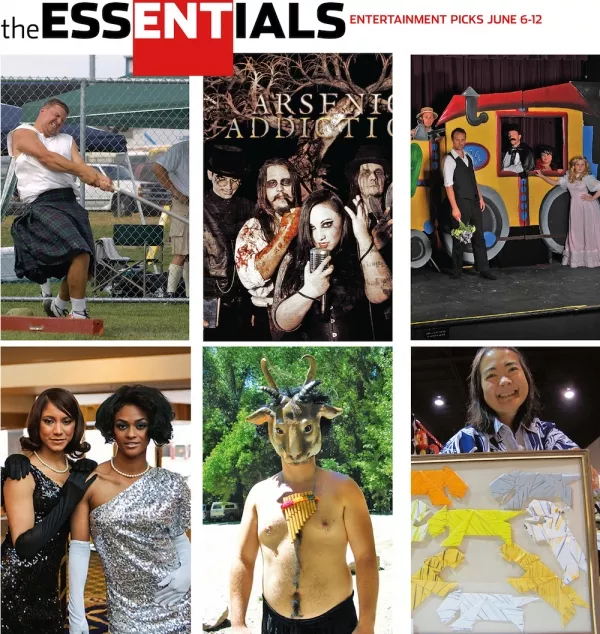 THURSDAY JUNE 6

PechaKucha Night SLC Vol. 9
Get a sneak peek into creative minds and works at the ninth session of PechaKucha Night at the State Room. Like a TED talk but for artists, the PechaKucha format allows each of the 10 local presenters 20 slides and six minutes and 40 seconds to share their creative projects. More inspiring than a concert and less stodgy than an academic lecture, this evening is designed for all, artist or not, and should get everyone's creative juices flowing.
You can hear Modern Union founder and furniture designer Jaren Habertson talk about his precision-loving ethos, and view a display of his creations' sleek lines and rich finishes. Nathan Florence will take a step back from his work as an oil painter to preview his documentary about the creative and spiritual lives of four Utah artists. From Bowen Studios, architectural illustrator Brent Bowen presents his latest work in 3-D computer imaging, while Tracy O'Very Covey will trace her evolution from graphic designer to fine artist. (Katherine Pioli)
PechaKucha Night SLC Vol. 9 @ The State Room, 638 S. State, 800-501-2885, June 6, 6 p.m., $10. TheStateRoomSLC.com
Robert Keiter: To Conserve Unimpaired
One of the highlights of living in Utah is always having national parks just a drive away. However, different people have different ideas about what a national park should be. A park could be viewed as a playground, an opportunity to see wildlife, a chance for scientific discovery, an island of pristine wilderness or a commercial opportunity to cater to visitors.
Robert Keiter looks at what the parks were intended to be and can be in his new book, To Conserve Unimpaired: The Evolution of the National Park Idea. He explores how the original goal of the national parks system, "to conserve unimpaired," has changed since it was first put forward in 1916. Keiter, a law professor and founding director of the Wallace Stegner Center for Land, Resources & the Environment at the University of Utah's S.J. Quinney College of Law, traces the history of the idea of conserving unimpaired and looks at where it is heading in the future. (Geoff Griffin)
Robert Keiter: To Conserve Unimpaired @ The King's English Bookshop, 1511 S. 1500 East, 801-484-9100, June 6, reception at 6 p.m., reading at 7 p.m., free. KingsEnglish.com
Suite: Women Defining Space
Sugar Space's annual production, Suite: Women Defining Space, is now in its fifth year of bringing much-needed attention and support to local female talent by showcasing emerging women choreographers. The structure of Suite is simple: Choose several female choreographers from the community and help them develop their artistic voice by providing them with rehearsal space, subsidized production and technical expenses, marketing assistance and crucial mentoring by previous participants.
This year's choreographers include Courtney Norris, Katherine Adler, Krista di Lello and Aleisha Hamilton Paspuel, and the program will showcase a wide array of new works featuring everything from a couple of "dance for the camera" films to dances that explore themes such as inter-gender dissonance. According to Sugar Space founder and director Brittany Reese, Suite is the perfect program for her organization because it supports an underappreciated and underserved portion of the local arts community, while simultaneously fostering new and innovative talent. (Jacob Stringer)
Suite: Women Defining Space @ Sugar Space, 616 Wilmington Ave. (2190 South), 888-300-7898, June 6-8, 8 p.m., $10. TheSugarSpace.com
---
FRIDAY JUNE 7
Utah Scottish Festival & Highland Games
There's only one time of the year when it isn't a visual shock to see a horde of men in skirts flinging stones about a large, grassy knoll in the small hamlet of Lehi. It's time for the annual Utah Scottish Festival and Highland Games, where they actually require men to be fully kilted, with appropriate sporran to boot, in order to participate in traditional Celtic "heavy events"—such as the Braemar stone, open stone, hammer (pictured), sheaf and, of course, the caber toss, in which athletes try to turn an 18-foot-long, 100-pound felled tree end over end with the utmost precision.
It's a festival full of people proud of their clan heritage. In the middle of the grounds, you'll find St. Andrew's Cross flying high above the fields. Surrounding the Scottish flag will be the coveted Clan Circle—a series of tents filled with historical information on each of the 30 or so clans that have now planted part of their Scottish family tree in Utah, from Clan Armstrong and Clan Farquharson to Clan Rose and the House of Stuart.
Members of each clan are there to proudly represent their family in many ways, including those storied strongman games or the other competitions geared more toward artistic pursuits, like highland dancing or piping and drumming. If all that competition doesn't provide enough entertainment during the festivities, there will also be music provided by bands such as the Wicked Tinkers, Molly's Revenge, Men of Worth and a special performance by Glenfiddich Fiddle Champion, Rebecca Lomnicky. (Jacob Stringer)
Utah Scottish Festival & Highland Games @ Thanksgiving Point, 3033 N. Thanksgiving Way, Lehi, June 7, 5-10 p.m.; June 8, 8 a.m. to 10 p.m., $15 for both days, $10 students, free for military. UtahScots.org
Dark Arts Festival 2013: Carnival Macabre
It may come as a surprise, but the Dark Arts Festival is entering its third decade, having started in 1993. It wasn't held every year since then (skipping a few early years), but it has gradually built interest among a sizeable segment of the Utah population—a cross-section of goth, dark metal, alternative spirituality and artistic communities—until it evolved into as an alternative to the more mainstream Utah Arts Festival, held the same month. Ten years ago, the Dark Arts Foundation of Utah gained nonprofit status as an arts organization.
Highlights of this year's fest include a full lineup of bands like local favorites Tragic Black and Arsenic Addiction (pictured), a performance by the Apocalypse Theatre and the Revolution Circus, an art gallery, vendors, dance performances, a fashion show and Joe Lyon, the "Magician of the Living Dead." The festival is not just an acknowledgement of the darker sides of human nature as they express themselves in art; it's a celebration.
In two decades, much of what the Dark Arts Festival celebrates has entered the mainstream of culture or become seen as much more "normal." A band like Zombiance—using visual stylings out of zombie movies—doesn't seem as far "out there"; horror films aren't dismissed as genre movies; scary books aren't dismissed as pulp novels, but can be an elevated art form. The Dark Arts has come into its own as a means of expression. (Brian Staker)
Dark Arts Festival 2013: Carnival Macabre @ Area 51, 451 S. 400 West, 801-531-0819, June 7, doors open at 8 p.m.; June 8 & 9, doors open at 5 p.m., three-day pass $25 at the door; single-day pass $10 at the door. DarkArtsFestival.com
Heritage Theatre: The Lightning Bug
Though the success of Glee and films like Les Misérables in recent years suggests a resurgence in the popularity of musicals, there's still a sense that tales in which characters burst into song are relics from a bygone, less-cynical era. Perhaps that makes it all the more appropriate that a brand-new, locally created musical sets itself in the world of an artistic form that's trying to survive even as a changing world makes it potentially obsolete.
The Lightning Bug, by Kamron Klitgaard and Derek Myler, makes its world premiere at Perry's Heritage Theatre, telling a story set at the turn of the 20th century. A Pittsburgh, Pa., melodrama company—Curses Foiled Again Theater—has been thriving for decades sharing romance and intrigue with audiences in broad live-theater strokes. But this is the dawn of the age of cinema, and when a nickelodeon called The Lightning Bug opens right next door, the company is forced to decide how much it's willing to change its traditional way of putting on a show—maybe even mouthing the words and showing the audience title cards—to compete with the flickering images captivating the nation.
Complicating matters even more—and adding a touch of The Shop Around the Corner/You've Got Mail—the owner of The Lightning Bug, Nick (Trenton Fordham) has fallen in love with the owner of the melodrama, Anna (Dawn Allen). But in order to woo her, he must pretend to be something besides the rival entrepreneur who may drive her out of business. (Scott Renshaw)
The Lightning Bug @ Heritage Theatre, 2505 S. Highway 89, Perry, 435-723-8392, June 7-29, $9-$10. HeritageTheatreUtah.com
The Motown Sounds
A theatrical and musical tribute to Motown legends, The Motown Sounds has all the music, choreography and costumes that originally defined Berry Gordy's groundbreaking record label and the subsequent Motown sound.
The revue, which focuses on Gordy's legendary vision of the music industry, features live performers and musicians who highlight Motown hits while guiding the audience through the history of Motown music and culture and its journey to crossover success through the politically precarious climate of the '60s.
Integrating pop and soul and highlighting the inspirational music that once promoted social and cultural change, The Motown Sounds features the music of Diana Ross & the Supremes, Gladys Knight & the Pips, Stevie Wonder, The Temptations, Marvin Gaye, The Four Tops and many more. (Kate Ayer)
The Motown Sounds @ Egyptian Theatre, 328 Main, Park City, 435-649-9371, June 7, 8 p.m.; June 8, 5 & 8 p.m.; June 9, 6 p.m., $29 in advance, $34-$50 day of show, EgyptianTheatreCompany.org
---
SATURDAY JUNE 8
Crone's Hollow's Fairy Fest
There's something about certain times of year that seems to give them a magical quality. To the Wiccan and followers of other earth-based religions, midsummer is one of those times, one that brings together the Court of the Fairy Kingdom.
The third-annual Fairy Fest will include vendors, psychic readings using a variety of different oracles, massage therapists, live music from Prydydd ap Donn and Windwood, and, as the festival wends on into the evening, there'll be Dark Moon Drumming outside, with fire dancing and opportunities for pagans to mingle.
Midsummer, technically falling on the summer solstice, marks the time of year when the days are longest, and there's a kind of intensity as well as tenderness embodied in the fairy mythologies—originating in Anglo-Saxon, Celtic and other cultures—in which midsummer plays an important role. Even as the summer heat seems to bring life to a fever pitch, there is an awareness of change, and that the light of summer will gradually fade and the season will blend into autumn. The activities of Fairy Fest embrace both the joyful, playful quality of the season and a kind of wisdom in the role the season plays in the whole of life.
Attendees dressed as fairies can have their photos taken for a contest, and the winner will receive an overnight stay for two at Mystic Hot Springs, in Monroe, Utah. SteamHead Coffee, in the adjacent space in the building, will be open during the fest. (Brian Staker)
Crone's Hollow's Fairy Fest @ Crone's Hollow, 2470 S. Main, 801-906-0470, June 8, noon-10 p.m. free, donations accepted. CronesHollow.com
Utah Asian Festival
According to the Chinese calendar, 2013 is the Year of the Snake. As such, many of the happenings and decorations at this year's 37th-annual Utah Asian Festival will indeed be appropriately themed—including 75 giant serpents by origami master Judith Iwamoto (pictured). Although the theme acknowledges the Chinese calendar, the Asian Festival features participants from cultures as diverse as Hawaii, Indonesia, Japan, Philippines, Korea, Thailand and Vietnam. For entertainment, enjoy the 23 members of the Kenshin Taiko drum troupe, or the 25-member Katutubo Philippine Folk Ensemble performing the epic Singkil.
There will also be plenty of kite-making (especially those featuring snake tails); food options from groups including the Korean American Federation of Utah, Andaman Kitchen Thai Cuisine, Moki's Hawaiian Grill and Mt. Fuji restaurant; and a mobile Dragon Boat that attendees can take for a "float." If all that isn't enough, the evening includes a couple of special showcases called Asians Think They Can Dance and Asians Got Talent. (Jacob Stringer)
Utah Asian Festival @ South Towne Expo Center, 9575 S. State, June 8, 10 a.m. to 7 p.m., free. UtahAsianFestival.com
More Entertainment & Music Picks: Events.CityWeekly.net