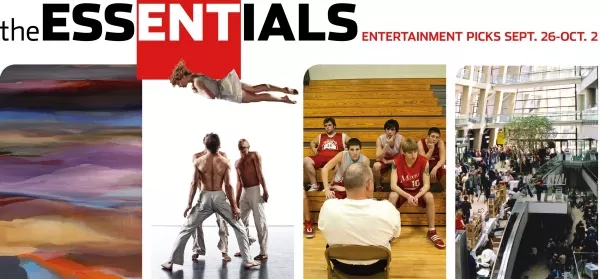 THURSDAY SEPT. 26

Phillips Gallery: The BIG Show
After a seemingly endless routine of summer group shows, it's exciting when September sees the launch of several engaging events. This year, Phillips Gallery is leading the pack with The BIG Show, which lives up to its name in more ways than one. It's about monumental scale, but even more than that, it's about monumental talent, featuring some of Phillips' most popular artists. According to the gallery, "Art of this scale conveys a personal statement, all the while enhancing color, style and vitality, setting a powerful tone for an entire milieu."

"South Rim Grand Canyon" by Frank Huff is a massive work, which creates a dramatic experience for the viewer that's "enhanced" with a vista created by both warm and cool colors, used harmoniously to draw the viewer into the vastness. The otherworldly landscape "Upper Loveland Rd." by Deborah Hake Brinckerhoff finds trees churning with varied rich greens like a Gauguin, and the land swirling in waves of motion like a van Gogh; the village has an earthy, folkish charm of a Chagall, and the sudden burst of color has the energy of a Kandinsky.

Hyunmee Lee's "Der Red," when compared to the equally enormous "Untitled" by Lee Deffebach, allows the starkly minimal forms of Lee's to resonate boldly against the cornucopia of color found in Deffebach's abstract manner. In "enhanced" grandeur, seen comparatively, one finds the magnificence of both. (Ehren Clark)
Phillips Gallery, 444 E. 200 South, 801-364-8284, through Oct. 11, free. Phillips-Gallery.com

Ririe-Woodbury Dance Company: The Start of Something Big
Ririe-Woodbury Dance Company is not simply just one of Utah's cultural stalwarts; having reached its 50th birthday, it's also among the longest-lived performing-arts organizations in the state. To properly mark that milestone, Ririe-Woodbury's upcoming season will take a look back at its celebrated legacy while simultaneously aiming squarely at an innovative future.

"Legacy has to do with leaving a mark on the world—imprinting a memory of something that is meaningful and worth remembering," says RWDC's new artistic director, Daniel Charon. "In dance, I believe that the legacy of great artists offers a perspective into our own humanity as a way to further understand our own existence. … RWDC offers a legacy that includes an understanding that dance is for everybody, and has always nurtured it to be a thought-provoking and accessible art form."

This new beginning is designed to do the same with a mix of choreography exploring the foundation of the company, including 1970-era works by founders Shirley Ririe and Joan Woodbury, with a little Alwin Nikolais and Murray Louis thrown in for tribute. Rounding out the bill is a world premiere by Charon himself.

"In so many ways, the piece reflects the way the company has changed over the years, how there are always new dancers, and how time is a relentless driving force that becomes the only constant," Charon says. "One of the reasons I was drawn to this opportunity was because a lot of what I believe in is aligned with what the company already represents." (Jacob Stringer)
Rose Wagner Center, 138 W. 300 South, 801-355-2787, Sept. 26-28, 7:30 p.m., $35. Ririe-Woodbury.com, ArtTix.org

Salt Lake City Film Festival
With so many film festivals worldwide (Toronto, Cannes, Venice), not to mention the local mountains come January, it's surprising that there's still space left for the burgeoning Salt Lake City Film Festival to program in.

"For us, it's less a question of filling a niche as much as it's … of putting Salt Lake City proper on the world stage," says Matt Whittaker, festival co-founder with Chris Bradshaw. "Our arts community, specifically with regard to film, has grown exponentially over the past 10-plus years. … Still, if I absolutely had to define a niche, we are very much a festival for filmmakers by filmmakers, helping filmmakers in continuing this dialogue about storytelling and the ever-changing business that supports it."

In its five years, Salt Lake City Film Festival has experienced a few growing pains while trying to remain both accessible and innovative. But every year comes with the opportunity for introspection and evolution. A point of pride for the young upstarts is the fact that the fest is still staffed by 100 percent volunteers, even though the festival is now spread over four days and three venues.
Meanwhile, the programming itself continues to get better, more diverse and more international.
This year, Whittaker is particularly excited about the slated documentary screenings. "There is very much an overarching theme tackling the difference between human ideology and the actual human experience," he says. "I think it's exciting to see these films and make those connections … ideas, peoples and cultures, distinct in every way, yet so similar." (Jacob Stringer)
Broadway Centre Cinemas, 111 E. Broadway; Tower Theatre, 876 E. 900 South; Brewvies, 677 S. 200 West, Sept. 26-29, see website for schedule, $5 matinees, $10 evenings, $50 festival pass. SaltLakeCityFilmFestival.org

Ringling Bros. and Barnum & Bailey Circus: Built to Amaze!
Even though they've been on the road for more than 100 years, Ringling Bros. and Barnum & Bailey circuses still promise something new every time. At this year's circus—with the theme "Built to Amaze!"—audience members will be treated to innovative spectacles as the circus acts are constructed before their very eyes.The circus is truly The Greatest Show on Earth: the best parts of a well-behaved zoo crossed with a family-friendly version of Las Vegas, and then crammed into one accessible stadium. In addition to lights, music, comedy, trapeze artists, trampoline tumblers, food vendors and people wearing ridiculous amounts of facial makeup, you'll also get your fix of very coordinated animals, cannons that fire people instead of ammunition, magic and all the unicycles that your heart has been longing for. (Julia Shumway)
EnergySolutions Arena, 301 W. South Temple, 801-355-7328, through Sept. 30, see website for times, $20-$25, VIP tickets $45, front row $60, Circus Celebrity floor seating $90. Ringling.com

That Thing You Hate
For an artist, it's easier to stick with the subjects or styles for which one already has an affinity. But staying within one's comfort zone can be stagnating.

Namon Bills, who has organized and curated a number of notable group shows at various local venues, came up with the idea for the exhibit That Thing You Hate at Alice Gallery, taking a look at the opportunities for growth that can occur in work for which one doesn't initially have an affection.

Bills first found his own "discomfort zone" in an undergraduate landscape painting class at BYU, so he chose that genre to explore here, mentoring Jeff Pugh. Two other artist/mentor teams are included: Linnie Brown—her "Figure #11 (Cut Away Here)" is pictured—doing figurative work mentoring Casey Childs; and Justin Wheatley chose still-life, with Chris Terry being mentored. In a world where people generally locate their niches and stick with them, the lessons learned in this exhibit are uncommon ones. (Brian Staker)
Alice Gallery, Glendinning Mansion, 617 E. South Temple, 801-236-7555, through Oct. 4, free. ArtsAndMuseums.utah.gov
---
FRIDAY SEPT. 27

Salt Lake Acting Company: Venus in Fur
Salt Lake Acting Company's fondness for playwright David Ives is evident in the number of his plays produced over the years, including Polish Joke, Mere Mortals and All in the Timing. For its 2013-2014 season opener, SLAC has returned to Ives for the time-twisting comedy Venus in Fur.
The setup for the two-person show finds a young actress named Vanda landing an audition for a play with its young writer and director, Thomas. The show-within-the-show is set in the 19th century, and the production bends itself back and forth from the sexual and power dynamics between the determined actress and the man with the ability to cast her, to the similar interplay between the play's two central characters. The result is an erotically charged comedy of manners in which it's sometimes hard to find the line between playing a role and playing for keeps. (Scott Renshaw)
Salt Lake Acting Company, 168 W. 500 North, 801-363-7522, through Oct. 27, see website for times, $15-$42. SaltLakeActingCompany.org

Escalante Canyons Art Festival/Southern Utah Everett Ruess Days
In 1934, a young artist from Los Angeles named Everett Ruess left the small town of Escalante. He wandered out into the barren wilderness, palette in hand, aiming to capture the natural magnificence that is the red-rock desert landscape. Although his pack mules were found grazing in a box canyon days later, 20-year-old Ruess was never heard from again.

The legend of Ruess is a story that the Escalante Canyons Art Festival, known unofficially as the Southern Utah Everett Ruess Days, seeks to embody. Not only does the small central Utah town embrace the bold and adventurous vision of Ruess, it produced an arts festival designed for the working artist. To that end, festivities started with a weeklong plein-air painting competition that ultimately produced works for sale during the actual arts exhibition. There are also featured lectures—this year including Craig Childs and Wayne Geary—as well as featured artist Royden Card, who is best known for his colorful portrayals of the same southern deserts that captivated Ruess years ago. (Jacob Stringer)
Various locations in Escalante, 760-424-6401, Sept. 27-28, free. EscalanteCanyonsArtFestival.org

Iliza Shlesinger
Local comedian/impressionist Marcus became a national name when he made it to the finals of 2008's sixth season of Last Comic Standing. But the eventual winner of that season—Iliza Shlesinger—made her own reputation as both the youngest comedian at the time to win the competition, as well as the only woman.

The Dallas native has parlayed that victory into a busy career that has her on the road from comedy clubs to big comedy festivals to USO tours, in addition to a full slate of television credits including her own Comedy Central Presents special. But she's gotten perhaps the most mileage out of her onstage jokes about the dating life and being single, which she has explored in the online comedy dating show Excused.

Catch her live, where her discussions of relationships include the difference between her ideal fantasy breakups and those that actually happen, like "drunkenly texting [a guy] something to the effect of, 'You don't even watch Breaking Bad, how can we ever be together?' " (Scott Renshaw)
Wiseguys Comedy Café, 2194 W. 3500 South, West Valley City, 801-463-2909, Sept. 27-28, 7:30 & 9:30 p.m., $15. WiseguysComedy.com
---
SATURDAY SEPT. 28

Utah Humanities Book Festival
For many years, October has been designated as National Book Month. Though the National Book Foundation no longer sponsors the event, many bookstores, libraries and schools across the country still celebrate it, and the Utah Humanities Council continues the tradition by sponsoring the 16th-annual Utah Humanities Book Festival with events all over the state.

Readings and signings started earlier in the month, but the official kickoff weekend is Sept. 28-29, and that's when most of the Salt Lake City centerpiece events will occur. Kickoff highlights include former Utah Gov. Michael Leavitt and Rich McKeown discussing their book on organizational strategies, Finding Allies, Building Alliances; Clifton Spargo talking about his book Beautiful Fools, about F. Scott and Zelda Fitzgerald's struggle to try to save their marriage; young-adult author Jay Asher discussing his best-selling titles and the life of a writer; and a rare-book roundup with Ken Sanders and Weller Book Works owner Tony Weller.

The rest of the two days are filled with readings, poetry slams, games, discussions, live music and panels, covering books about everything from barns to fanfiction, and from national parks to "grandmother power." As the weather starts to cool off and autumn sweaters are donned, the urge to pick up a book seems like a natural impulse—and the Utah Humanities Book Festival seems to offer something to entice just about any book lover. (Brian Staker)
Various Utah locations through Oct. 31; Salt Lake City kick-off weekend events, Salt Lake City Main Library/Library Square, 210 E. 400 South, 801-359-9670, Sept 28-29, free. UtahHumanities.org/BookFestival.htm

More Entertainment & Music Picks: Events.CityWeekly.net