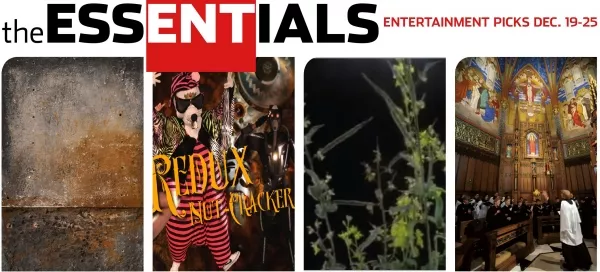 THURSDAY DEC. 19
Phillips Gallery Winter Group Show
This exceptional display of fine paintings from a collection that's vast in volume and scope is one of the most important of all the many December group and holiday shows. Phillips Gallery focuses on the quality of art: This is no conventional December show, but a fine focus on remarkably fine art from gifted artists—the raison d'être for Phillips this season and every season.
"His Times"—a collaborative effort by Liberty Blake and Shawn Rossiter—is a special piece with involved dynamics. It's not hard to see that the austere, minimalist left half multimedia paper appliqué is the work of Blake. The right half is undeniably Rossiter, demonstrating strength of structure, intensity and depth of hue and tone— broad gestural strokes with the more precise and exacting form. Together there is equilibrium in balance of contrasts, complements of structure both minimal yet richly expressive.
Phillips' own Claire Wilson, having proven herself a leading abstractionist conceptual artist, works from the "less is more" philosophy. In "Pursue" (detail pictured), crude, exposed, coarse and gritty concrete—rusted, without iconography or any painterly flourishes—encourages sophisticated reading of the slabs to register ideas ranging from exposure to exhibitionism. There's an acknowledgement of honesty in the rustic, unashamed coarseness, recognizing beauty and humanity in the irregular. In any case, the excellence of the Winter Group Show allows the art to speak for itself. (Ehren Clark) Winter Group Show @ Phillips Gallery, 444 E. 200 South, 801-364-8293, through Jan. 10, free. Phillips-Gallery.com
Odyssey Dance Theatre: ReduxNut-Cracker
In the classic version of The Nutcracker, little Clara is gifted a nutcracker by her mysterious uncle, Herr Drosselmeyer, and is later carried off to a magical dream world complete with sugar plum fairies and a handsome prince. In Odyssey Dance Theatre's ReduxNut-Cracker, Clara is given an iPhone, which in turn becomes the catalyst to her being carried off to a technological wonderland.
"I wanted the story to be relevant to the times, as the iPhone provides a portal to good and bad things," says Derryl Yeager, founder and artistic director of the contemporary dance company. "In the end it becomes overwhelming for her, and she decides to come back to reality with her family."
Filled with gangsta mice and robot soldiers, this holiday rehash should still be mostly recognizable to anyone familiar with the original. It's even set to Tchaikovsky's classic score—albeit one that's definitely been remixed here and there with touches like hip-hop beats, helping to propel the modern narrative.
"As an example," Yeager says, "I found a Waltz of the Flowers that is peppered with bird sounds! Strange, I know—but really funny to listen to. Connecting that with the iPhone experience, I realized I could make it current by adapting it to a very popular video game and it is now the Angry Bird Waltz. ... We've played around a bit—haven't taken ourselves or the ballet too seriously—but have managed to create a narrative that has a strong moral backbone as a technology cautionary tale for all of us." (Jacob Stringer) Odyssey Dance Theatre: ReduxNut-Cracker @ Kingsbury Hall, 1395 E. Presidents Circle, University of Utah, 801-581-7100, Dec. 19-21, 7:30 p.m., Saturday matinee 2 p.m., $20-$40, OdysseyDance.com, KingTix.com; limited no-fee tickets available at CityWeeklyStore.com
Suzanne Tornquist
After a long enough time exploring the local art scene, you might think you've seen it all. Recently, however, while walking through downtown Salt Lake's City Creek Center, I was stopped short by impressive works of art that were completely unfamiliar to me. My focus was caught by intensity of color, fluid line and surrealism unlike any convention. The artist is Suzanne Tornquist, and her oeuvre is something uniquely eye-catching.
There is an elegant beauty to the unique subject featured in "All That Jazz/Triptych" (pictured).
Beginning at the left panel, a magnificently rendered trumpeter blows his horn. Above him is a cool blue moon; from the bell of the trumpet is emitted a beauty so fine, one might just hear it. Ribbons of glorious color materialize in a churning, flowing, streaming pattern. The result is complete tangible atmosphere—smooth rhythms of energizing revitalization, a jubilant zest for living. These endearingly human qualities make this triptych of artistic creativity come alive. (Ehren Clark) Suzanne Tornquist @ Harmons City Creek, 135 E. 100 South, 801-428-0366, Mezzanine Level, through January, free. HarmonsGrocery.com
CUAC First Anniversary: Chris Purdie
In a year that saw as many local galleries go under as any period in recent memory, CUAC— originally the Central Utah Art Center, established in Ephraim—saw itself uprooted from its home of 20 years when it was evicted by the city. But the nonprofit arts organization put down roots in Salt Lake City's downtown arts district, and mounted some of the most challenging and memorable exhibits during the past year.
CUAC'S final opening of the year celebrates the one-year anniversary at the new space. It also serves as the opening for the exhibit "… the indefinite continued progress of existence and events …" by installation artist Chris Purdie.
The five works by Purdie—who is also artist-in-residence at the Utah Museum of Contemporary Art—take on the overarching theme of time. These kinetic works, including film and sculpture, involve the perception of the viewer as they depict the passage of time, sometimes at differing speeds and scales (detail from "Fast Plant" is pictured).
At the Dec. 19 opening, Diane Stewart will be awarded the first CUAC Visionary Award, an annual honor by the organization "to a person in the community who demonstrates significant influence and vision in promoting the sustainability and growth of contemporary art in Utah." (Brian Staker) CUAC First Anniversary: Chris Purdie @ CUAC, 175 E. 200 South, 385-215-6768. Dec. 19-March 15, opening reception Dec. 19, 7-9 p.m., free. CUArtCenter.org
Clark Burbidge: The Prodigals
Plenty of artists have taken a circuitous path on the way to eventually finding their bliss—sometimes out of necessity, sometimes out of needing just a little more time to figure out what they want to be when they grow up. For Clark Burbidge, that meant spending 30 years in finance, accounting and even serving as a company CFO before turning his attention to writing—both spiritually oriented nonfiction, and fantasy tales of giants.
Burbidge follows up his first Giants in the Land novel—2012's The Way of Things—with The Prodigals, returning to a place called The Land, where humans and giants work and live in harmony. An aging Forest Ward and his two teenage grandchildren must set aside the distractions of their life when a dark threat emerges that could destroy their land. Burbidge continues his allegory for a world of people in need of something bigger, with vivid illustrations by Karl C. Hepworth. (Scott Renshaw) Clark Burbidge: Giants in the Land: The Prodigals @ Weller Book Works, 607 Trolley Square, 801-328-2586, Dec. 19, 6 p.m., free. WellerBookWorks.com
---
FRIDAY DEC. 20
Dwayne Perkins
Over the past few years, comedian Dwayne Perkins has made several appearances on Wiseguys Comedy Club stages. And there's a reason he keeps coming back: The guy is just plain funny. Then again, it shouldn't be surprising that one might get the hang of performing as a standup comedian after nearly 20 years in the business, paying the dues of touring before making his way to Star Search, commercials and multiple late-night talk show appearances.
But Perkins has certainly evolved with the times, collecting his sharp observations not just into a CD of his performance (Dwayne Perkins to the Rescue), but an e-book collection of his very funny blog entries (Hot Chocolate for the Mind). And he knows how to take the modern world down a peg, noting that "no matter how dumb you are, you're dumber on Facebook. … And we collectively encourage this behavior. Just go home and type anything in Facebook, like, 'I like almonds.' And eight other people will like it." (Scott Renshaw) Dwayne Perkins @ Wiseguys West Valley, 2194 W. 3500 South, 801-463- 2909, Dec. 20-21, 7:30 & 9:30 p.m., $12. WiseguysComedy.com
The Sting & Honey Company: This Bird of Dawning
'Tis the season for annual performing-arts productions. Nearly every ballet company worldwide buckles down for their version of The Nutcracker and theater companies gear up for any number of apropos shows—Santaland Diaries, Elf and A Christmas Carol, to name a few.
Then, there's always the original biblical nativity. Mostly done as a still life or relatively short restaging, the nativity is a hard story to actually stage with any originality. But The Sting & Honey Company has accomplished just that with its annual production called conception, holy angels, a trio of wise men and the birth of a savior in a manger—but Sting & Honey is able to bring new life to the piece though projecting emotion onto the blank masks by utilizing provocative physicality and a stylized movement vocabulary. The unique combination of verse and staged imagery results in a whole new way of experiencing the tried and true nativity. (Jacob Stringer) The Sting & Honey Company: This Bird of Dawning @ Rose Wagner Center, 138 W. 300 South, 801-355-2787, Dec. 20-21, 7 p.m., Saturday matinee at 2 p.m., $10. ArtTix.org, StingAndHoney.org
---
TUESDAY DEC. 24
Cathedral of the Madeleine Christmas Eve Carols Service
Every year at Christmastime in Salt Lake City, a unique choir sings carols at a downtown, historically significant, spiritual center.
Yes, the Mormon Tabernacle Choir will belt out tunes at Temple Square, but one can also head three blocks east on South Temple on Christmas Eve to the Cathedral of the Madeleine for the annual Christmas Carol Service. The service features the Cathedral Choir—which includes members of the Madeleine Choir School, an elementary school for children in pre-kindergarten through eighth grade with a focus on choral performance.
While the service features the choir performing, there are also familiar songs that the audience gets to join in on for certain verses. Getting to sing along with an expert choir while being accompanied by a 4,000-pipe organ is a rare experience, made all the more memorable by the neo-Gothic surroundings of the Cathedral interior. The Diocese of Salt Lake City began construction on the Cathedral in 1900, and it was completed in 1909. It is the only cathedral in the United States under the patronage of Saint Mary Magdalene.
Admission is free, but plan to arrive early to get seats. The 4 p.m. start time allows you to enjoy the event and still get home in time for Christmas Eve activities and to bed before Santa shows up.
For those who want to ring in Christmas later in the evening, the Cathedral is holding "midnight" Mass at 10:30 p.m. (Geoff Griffin) Christmas Carol Service @ The Cathedral of the Madeleine, 331 E. South Temple, Dec. 24, 4 p.m., free. UTCOTM.org
Salt Lake Film Society: It's a Wonderful Life
Among the more long-standing American holiday traditions is making fun of Frank Capra's 1946 classic It's a Wonderful Life. Oh how wonderfully cheesy this heaping helping of "Capracorn" is, with its angels getting their wings and everyone smiling beatifically around the Christmas tree at the end.
It's also an annual tradition for the Salt Lake Film Society to remind us that A. the community spirit captured in the film is not dead, and B. It's a Wonderful Life isn't nearly the sentimental ode you remember it being. The SLFS's annual free screenings of the film take place once again on Christmas Eve (3 p.m.) and Christmas Day (7:30 p.m.), bringing us the story of George Bailey (Jimmy Stewart) and his suicidal musings that the world might be better off without him. Watch it again—or for the first time—to discover the true meaning of making peace with letting your dreams die. (Scott Renshaw) It's a Wonderful Life @ Broadway Centre Cinemas, 111 E. 300 South, 801-321-0310, Dec. 24 @ 3 p.m. & Dec. 25 @ 7:30 p.m., free. SaltLakeFilmSociety.org