THURSDAY 12.31
Watchtower Café New Year's Eve Game Night
New Year's Eve is overflowing with events for any interest. Some will partake of adult beverages at one of the many clubs; others will savor the cold, counting down under a disco ball; still others will be at home avoiding both, just enjoying whatever may be on TV as the clock hits midnight.
But for those seeking a night of fun that doesn't require six shots or three scarves, the Watchtower Café offers an alternative that's hard to pass up. From 7 p.m. to midnight, the geeky-themed coffee shop will host a five-hour gaming session. Bring whatever you'd like, or take part in the many board games available inside. Join a giant group of people playing Cards Against Humanity (or one of its 30 knockoffs), challenge someone to Simpsons Chess, or find out who the werewolves might be in One Night: Ultimate Werewolf.
Or perhaps board-gaming isn't your thing. No worry, the lounge will have a TV ready to go with whatever gaming systems you'd like to bring to the night's pleasures. Hook up an SNES and go head-to-head in old school Mario Kart, or bring in a PS4 and show off your Metal Gear Solid 5 skills. The staff will be serving drinks and food choices all the way until midnight. Then, much as the old Semisonic song goes, "You don't have to go home, but you can't stay here." (Gavin Sheehan)
New Year's Eve Game Night @ Watchtower Café, 1588 S. State, 801-477-7671, Dec. 31, 7 p.m.-midnight, free, all ages. Watchtower-Cafe.com
THURSDAY 12.31
Hale Centre Theatre: Beau Jest
Sarah is a kindergarten teacher, a nice Jewish girl who still very much wants to please her parents. So, when Sarah's mother and father invite her boyfriend home for the holidays, Sarah needs to do some quick thinking. Her parents are expecting a Jewish doctor, but in reality, he's Chris Kringle, a WASP executive.
Written by James Sherman, Beau Jest premiered at the Victory Gardens Theater in Chicago in 1989 and was quickly grabbed up by a producer in New York, where the show had a two and a half-year run off-Broadway, despite bad reviews. But, since that New York debut more than two decades ago, the comedy continues to find appreciative audiences around the country—including at Hale Centre Theatre, where it returns following a 2014 run.
Beau Jest certainly uses a timeless formula to produce laughs, and that isn't necessarily a bad thing. After all, mixed-up identities and false suitors have made for great comedy since the time of Shakespeare, and Sarah's situation seems particularly desperate. After promising to bring home her nonexistent Jewish boyfriend, she employs an escort service to get a Jewish date for the trip home. Instead, they send aspiring actor Bob Schroeder. Bob knows nothing about celebrating the Seder but is willing to play along. Whether or not he's a convincing actor, the parents will get to decide. (Katherine Pioli)
Beau Jest @ Hale Centre Theatre, 3333 S. Decker Lake Drive, West Valley City, 801-984-9000, Dec. 31-Jan. 30, Monday through Saturday, 7:30 p.m.; Saturday matinees, 12:30 p.m. & 4 p.m.; $16-29. HCT.org
FRIDAY 1.1
Taylor Williamson
There are a lot of ways a performer can deal with a tough audience. It's particularly tough, however, when that audience is literally judging you. But that didn't stop comedian Taylor Williamson when, during the 2013 season of America's Got Talent, judge Heidi Klum remained unimpressed, saying that she was "looking for an act that I can go and see with my family." He came back for the semi-finals with material he told Klum was specifically tailored to be "child-appropriate"—like, "Anyone here ever go to grade school? ... You know how they call them 'number two' pencils? That's disgusting."
Williamson may only have been the runner-up in that competition, but he has taken that same sensibility—a meek and nervous demeanor mixed with a somewhat demented sense of humor—and turned it into a thriving stand-up career. He can take a riff on online dating—as he did on his 2012 debut CD Laughter? I Hardly Know Her!—and turn it into a bizarre tale of a woman plunging off a cliff into water filled with piranhas. And he can take the story of finding a mouse in his apartment, and let it evolve into a twisted lesson in making sure you get your money's worth from a mousetrap.
If the key to comedy is surprise, Williamson understands how to keep his audience on their toes. This delightfully inappropriate humor may not be what you'd expect from an innocent-looking guy in a hoodie. Just ask Heidi Klum. (Scott Renshaw)
Taylor Williamson @ Wiseguys Downtown, 194 S. 400 West, 801-532-5233, Jan. 1-2, 7:30 p.m. & 9:30 p.m., $20. WiseguysComedy.com
SATURDAY 1.2
Utah Symphony New Year's Celebration
Every year, there are savvy souls who opt to delay their Christmas celebration until a day or two after Dec. 25. Sometimes, it's because that's the only time a family can be all together. Sometimes, it's a way to get post-Christmas bargains. And sometimes, it's just to take the pressure off and allow for more enjoyment when you don't have to race the rest of the world to the stores.
If you've ever had similar thoughts about New Year's Eve and New Year's Day, the Utah Symphony has you covered. In 1939, a New Year's Day tradition began at the Vienna Philharmonic, with the popular music of Johann Strauss II migrating from private homes to the symphony hall. This week, the Utah Symphony honors that tradition, but does so a day later, allowing for a party after all the other parties.
The program highlights the polkas and waltzes of Strauss the younger, including such beloved works as The Blue Danube (perhaps most popularly known for its inclusion in the film 2001: A Space Odyssey) and the overture to Die Fledermaus. The Feuerfest polka by Strauss's brother, Josef, will also be featured, along with Prokofiev's "New Year's Eve Ball" from War and Peace. And then there's Franz Lehár's Merry Widow waltz and the "Meine Lippen, sie küssen so heiss" aria from Giuditta—the latter performed by Utah native soprano Celena Shafer (pictured). Spread out your New Year's festivities, and start 2016 off with a one-two-three, one-two-three. (Scott Renshaw)
Utah Symphony New Year's Celebration @ Abravanel Hall, 123 W. South Temple, 801-355-2787, Jan. 2, 7 p.m., $18-$80. UtahSymphony.org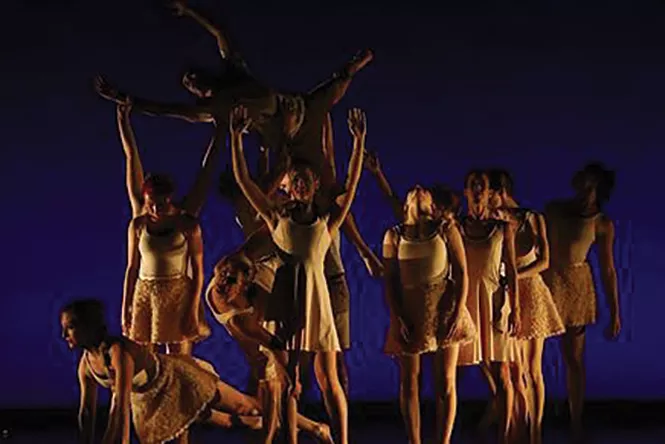 MONDAY 1.4
Jr. Underground: The Next Gen
The start of a new year, for many of us, is a time to look forward, to think about the future and all it may hold. And maybe that can include supporting the future of the arts.
Jr. Underground—a new project created and mentored by United We Dance's Underground Crew (pictured)—makes its public debut with The Next Gen, an 70-minute program of new works created by the youth dancers, thematically connected to "the light and strength of the youth today." The 40-member group is made up of dancers ages 8-17 from a variety of cultures, brought together with a goal of teaching them a variety of dance techniques and styles, and preparing them to perform in a professional setting. Just like this one.
Emerge from your post-holiday cocoon, and look toward the next generation. (Scott Renshaw)
Jr. Underground: The Next Gen @ Rose Wagner Center Black Box Theater, 138 W. 300 South, 801-355-2787, Jan. 4, 7:30 p.m., $10 general admission. ArtSaltLake.org